Host of the Matty in the Morning Show on KISS 108, Boston, Massachusetts, Matt Seigel, walked off his show after being told he can't make jokes about child actress and pop singer Demi Lovato's non-binary identity.
On May 19, 2021, Demi Lovato posted a heartfelt video to Twitter, sharing their non-binary identity with their fans and supporters.
You can watch it here:
In Lovato's video, they explain:
"I want to take this moment to share something very personal with you."
"Over the past year and a half I have been doing some healing and self reflection work."
"And through this work, I have had the revelation that I identify as non-binary."
"With that said, I will now be changing my pronouns to they/them."
"I feel that this represents the fluidity I feel in my gender expression, and allows me to feel most authentic and true to the person I both know I am and still am discovering."
Lovato added the influence fame had on their personal journey.
On Matt Seigel's morning show—where he discusses pop culture and current events with Billy Costa, cohost Lisa Donovan and producer Rebekah "Bex" Maroun—he complained about being told to stop mocking Demi Lovato, non-binary identity and coming out by his boss.

Seigel launched a rant claiming he "told it like it is."
He said:
"I was just told, and it's nothing personal because I like my boss, but he just called and said I have to stop talking about what I've been talking about this morning."
"This is why I got rich. Ok. Because I told it like it is to my listeners for 40 bleeping years. They pulled the plug on me and said you can't talk about what you're talking about. I like my boss personally, I do. I'm very fond of him. He's been very nice to me."
"It's not personal, it's professional. He said he doesn't want me talking about this."
"Today I was 'anti-wokeness' and I can't do that, so basically, what I'm told is, I can talk about light, funny things like where the Jonas Brothers are going to be but I can't do what I really want to do, which is just be a funny comic and tell it like it is."
"So I'm ending my portion of the radio show right now. It has been a hell of a run, but I think it's coming to an end."
You can hear Seigel here:
In a follow-up interview with Boston.com, Seigel doubled down on his transphobic statements during his radio show.
"I'm against her binary thing; I think she's a troubled woman and a lot of young people are taking her seriously and it bothers me."
"But of course, it's a comedy show, so I did it in the context of jokes."
"We were having fun with it, and my boss called up and said that I'd crossed the line and they didn't want me talking about it anymore."
"I responded by saying, 'If I can't talk about what I'm thinking at this point in my career, I don't want to be on the radio anymore'."
He also disclosed this wasn't the first time he's been asked to not talk about certain topics.
Regardless of Seigel's outburst, Lovato received an outpouring of love and support.
Seigel however...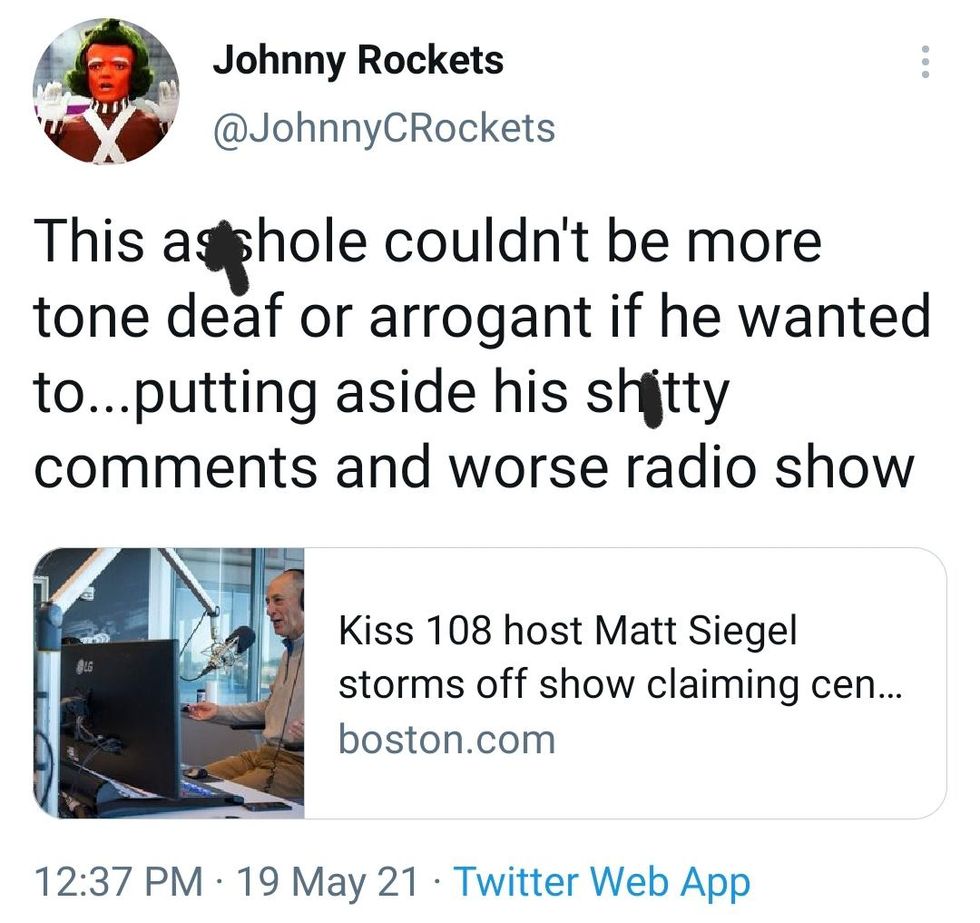 @JohnnyCRockets/Twitter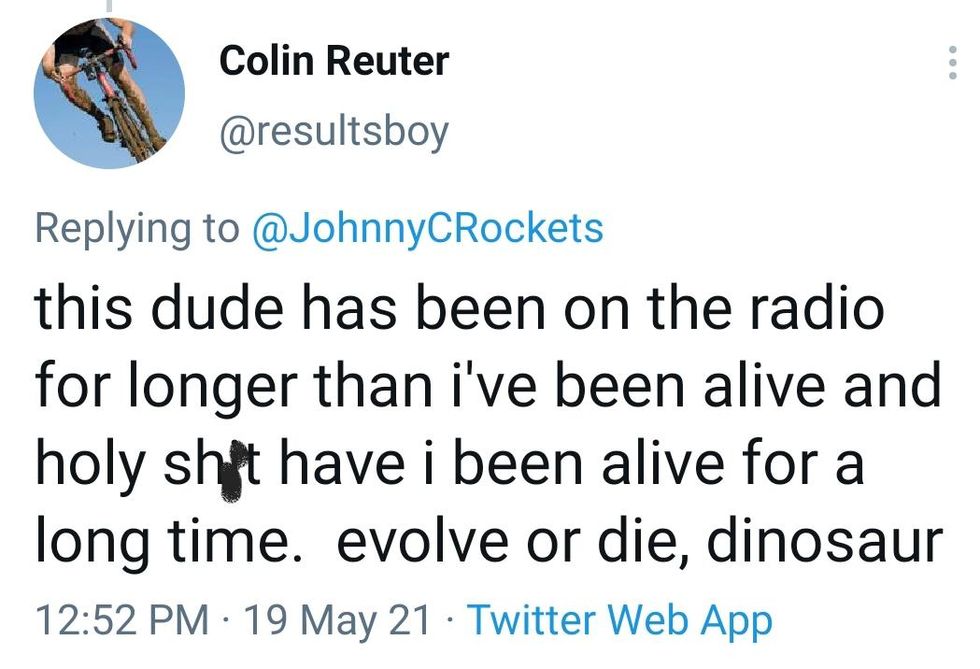 @resultsboy/Twitter
Seigel returned to the radio and apologized to his producer on Thursday.

It's unknown if Seigel will remain on the air.
iHeart Radio has not commented on the situation.