Celebrity gossip-hounds seem to think that Kim Kardashian and her new boyfriend, SNLstar Pete Davidson, will be imminently boarding the baby train. And among those excited about that possibility seems to be none other than Davidson's mom.
After a fan responded to a post by an Instagram account focused on all the latest Kardashian news with a baby-centric prediction, another fan commented with their excitement at the prospect. Except it wasn't just any fan--it was Davidson's Mom, Amy Waters Davidson.
See the post that started it all below.
The post, from Instagram account @kimandpeteupdates, shows a screenshot a photo of Kardashian and Davidson driving together. A user posted their prediction in the comments below the photo:
"She will be pregnant with his child by the end of the year."
Another user, amyymarie118--Davidson's mother, Amy--commented in return "yayyyy!" Someone's ready to be a grandma, it seems! Or at least she was--Amy Davidson has since deleted her reply, presumably due to the scrutiny it has caused.
Kardashian and Davidson began dating in October, and their relationship has seemed to quickly grow more serious as the weeks and months have gone on--particularly in light of Kardashian's alarmingly messy divorce with rapper Ye (also known as Kanye West).
Where many partners would leave amidst the drama--especially since Ye has repeatedly threatened Davidson with violence and asked his fans to harass Davidson--Davidson and Kardashian have seemed to only grow closer, with Davidson frequently coming to Kardashian's defense in private conversations that Ye has made public.
But while their rapidly escalating relationship may seem ripe for having a child together, Kardashian, who is 41, has been warned previously that having more children may put her life at risk, after extremely dangerous complications in her first two pregnancies while married to Ye. Because of this, the former couple's second children were born via surrogate.
So is Amy Davidson going to be grandmother soon or not? Who knows, but fans are certainly enjoying the discussion.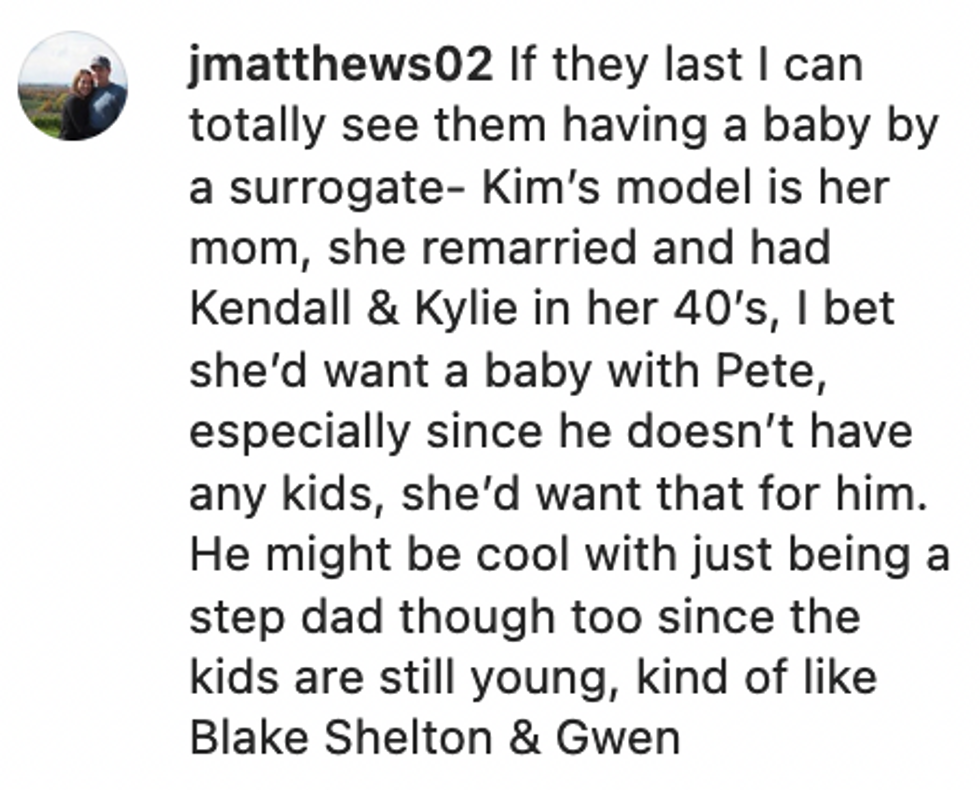 One thing is probably certain: Amy Davidson is going to me more careful with her Instagram comments going forward!