From the looks of it, Pete Davidson has been having one heck of a dating life.
From singer Ariana Grande to actor Kate Beckinsale to reality TV star Kim Kardashian and now reportedly model Emily Ratajkowski, Davidson has dated some of the most beautiful and famous women of our era.
The comedian has been having no shortage of luck with the ladies but has left many with one big question.
How is he getting all of this action?
Well, according to body language expert Judi James there might be a simple explanation for it all.
Before getting into James' theories on Davidson's "fatal attraction" it's worth noting Ratajkowski, practically predicted Davidson's big "Alpha" energy.

On an episode of Late Night with Seth Meyers last year, Ratajkowski explained her own hypothesis on the appeal of a certain SNL comedian.
You can see the November 2021 interview here:
Emily Ratajkowski on Why Women Find Pete Davidson Attractiveyoutu.be
The model/actress said Davidson was charming, good looking, vulnerable, lovely and had awesome nail polish.
What a dream boat, but there were some still nauseous from the epic waves generated by the comedian so an expert stepped in to settle the seas.
Sure, there are rumors Davidson is well endowed—with jokes of course—and an all-around nice guy but James wanted people to know there's more to the story.
She shared her assessment with The Daily Mail.
In the expert's expert opinion, the comedian's appeal can be traced to his willingness and fearlessness to be the butt of his own jokes, which is a trait hard to come by especially in a business full of extreme ego and borderline narcissists.
Davidson brings these famous women the down to earth realness they've been searching for.
James went on to tell admirers about the comic's "powerful Alpha vibe" and reputation.
According to James, these Hollywood A-listers are all cats waiting to nibble on his nip and Davidson definitely knows how to serve it up.
She wrote:
"Pete Davidson's powerful Alpha vibe and reputation as a rebound date who happily measures his relationships in months instead of years makes him like catnip to Hollywood A-listers."
James' continued it's all in his teenage zest and his boyish charm.
"Pete is the guy with the goofy grin and the body language and fashion finesse of a party-loving teenager. Not only does Pete look like a man who is continually punching above his weight, he acts like it too with his body language."
"He tends to look star-struck in a very flattering way. The more beautiful a woman is the more she tends to attract the arrogant narcissist."
"Pete looks like the opposite."
James added it also may be Davidson's "one liners" that really land the winning punch solidifying his "perfect bf" track record.
After all, who doesn't love a funny guy.
People had definite opinions on James' explanation for his appeal.
Some people returned to a familiar narrative however.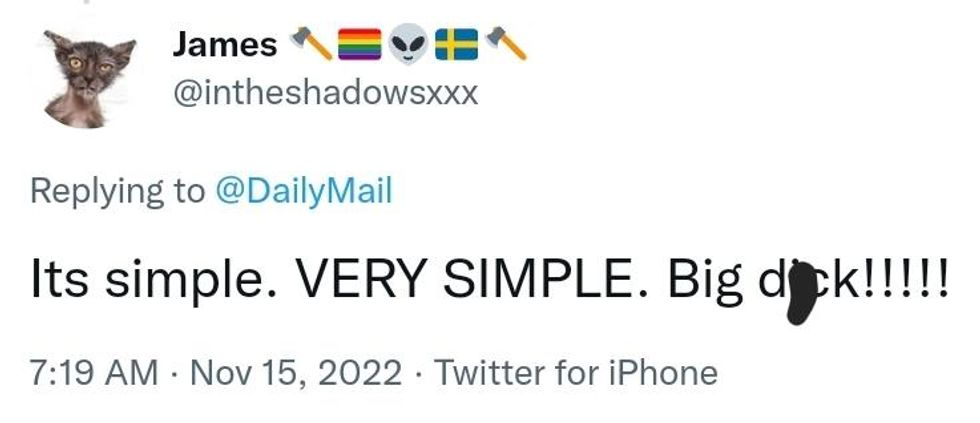 @DailyMail/Twitter
While at least one person picked up on the use of the phrase "fatal attraction" by James.

Fans and various celebs have had some strong opinions on the charms of the 29-year-old—as of November 16—but most are impressed by his popularity.

And once a relationship ends, people are anxious to know just who will get the opportunity to date the comedian next.
Sorry to all the hopefuls out there, but it looks like Davidson is back off the market again.
For now.