The dramatic saga between Kim Kardashian, her new boyfriend Pete Davidson, and her ex rapper Ye (formerly know as Kanye West) seems far from ending.
Ye has been publicly harassing Kardashian and Davidson since the two got together late last year. Ye has taken to Instagram several times to critique Kardashian's parenting, and to insult and threaten Davidson.
After months of not addressing the issue publicly, Davidson has finally clapped back at the rapper.
As reported by Today, Ye first took to Instagram to complain about Davidson sending him "antagonizing" text messages.
He said in the now deleted video:
"The boyfriend text me, antagonizing me, bragging about being in bed with my wife."
"I thought publicly for a year and a half I've been dragged (about) how she's not my wife. She doesn't have my last name."
"Now, he's texting me bragging about how he's in bed with my wife."
Shortly after Ye's video, Davidson's friend comedian Dave Sirus posted screenshots of the text messages allegedly shared between Davidson and Ye.
Sirus has since deleted the screenshots, but they are easy to find online.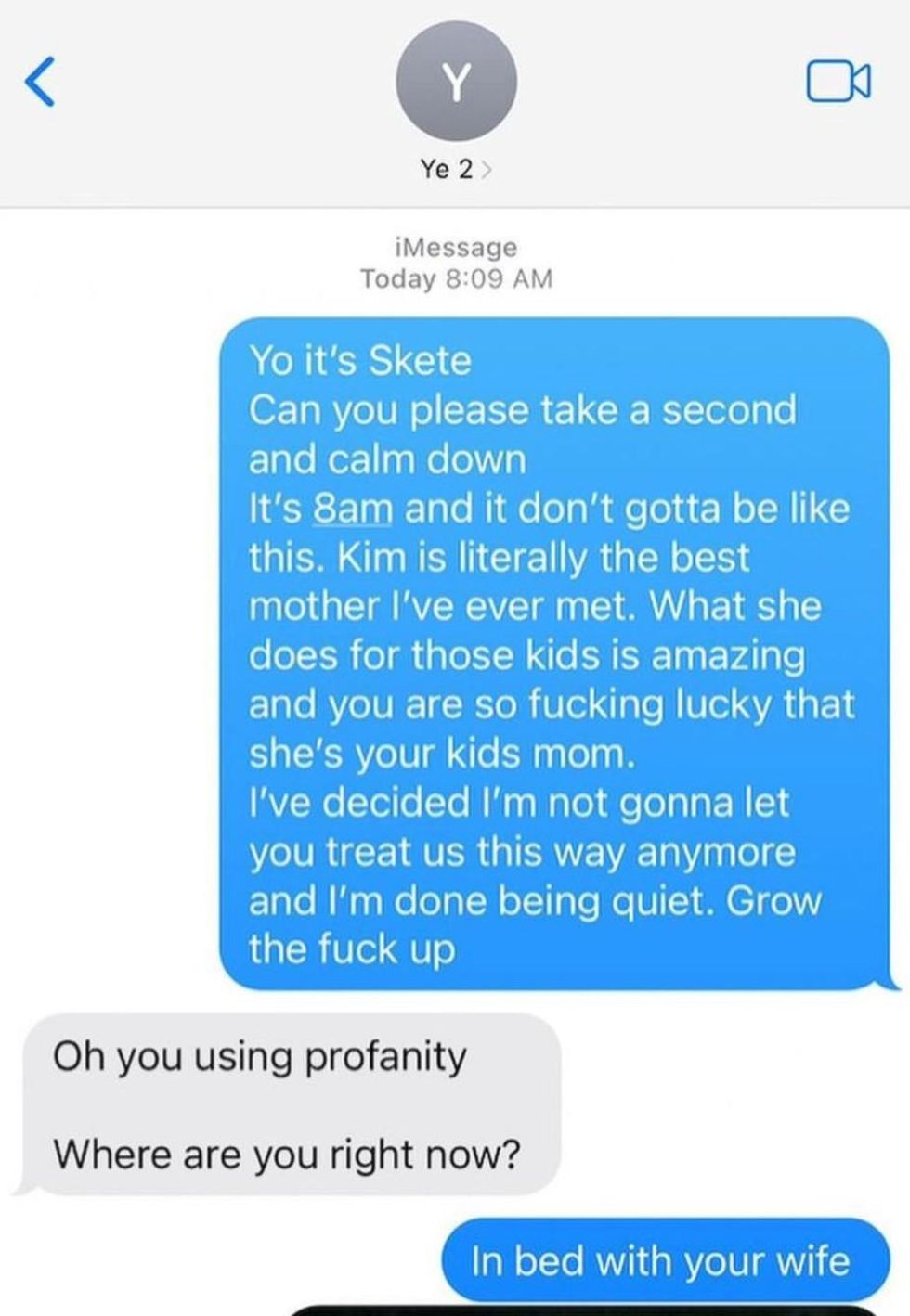 Dave Sirus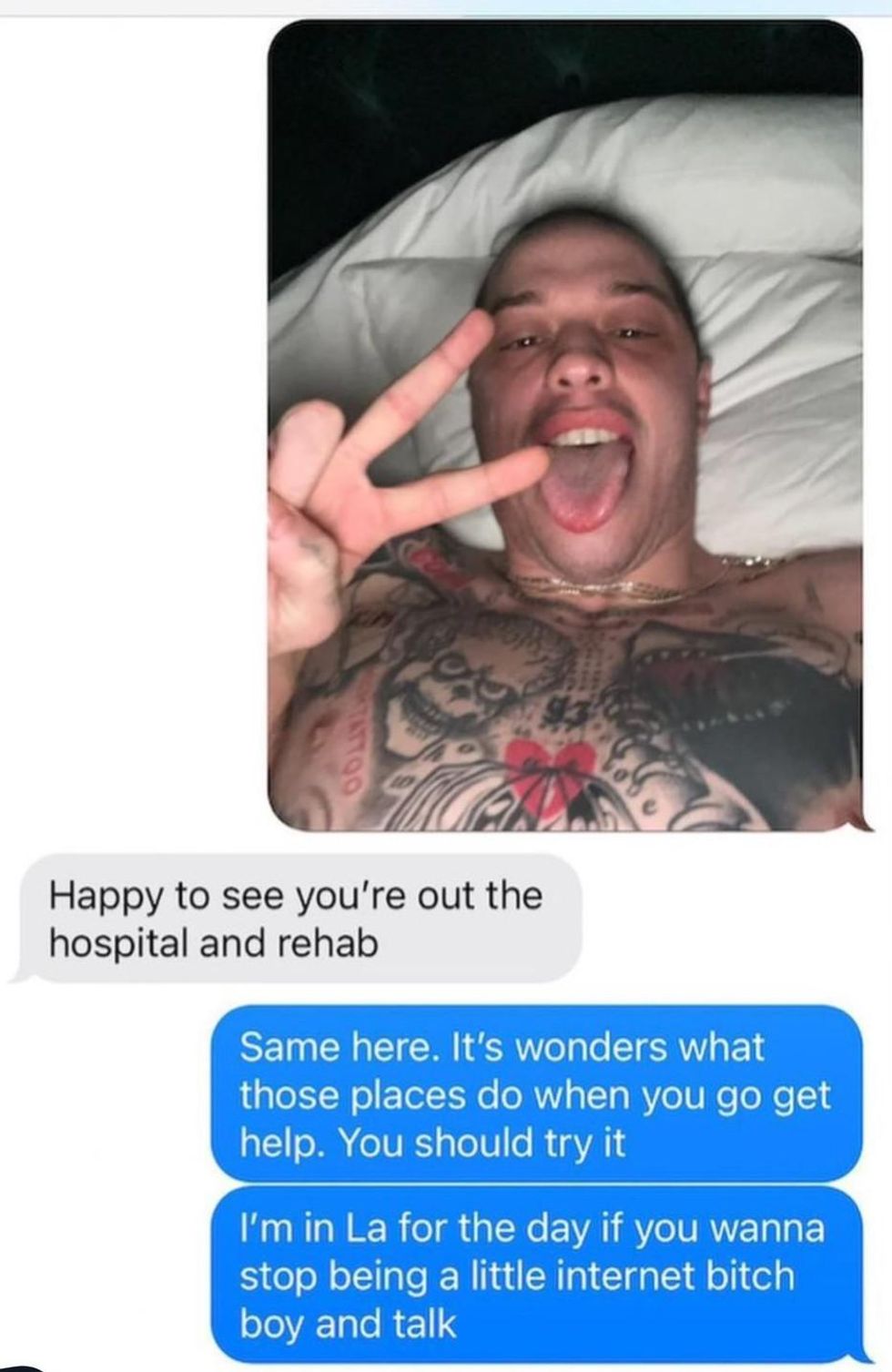 Dave Sirus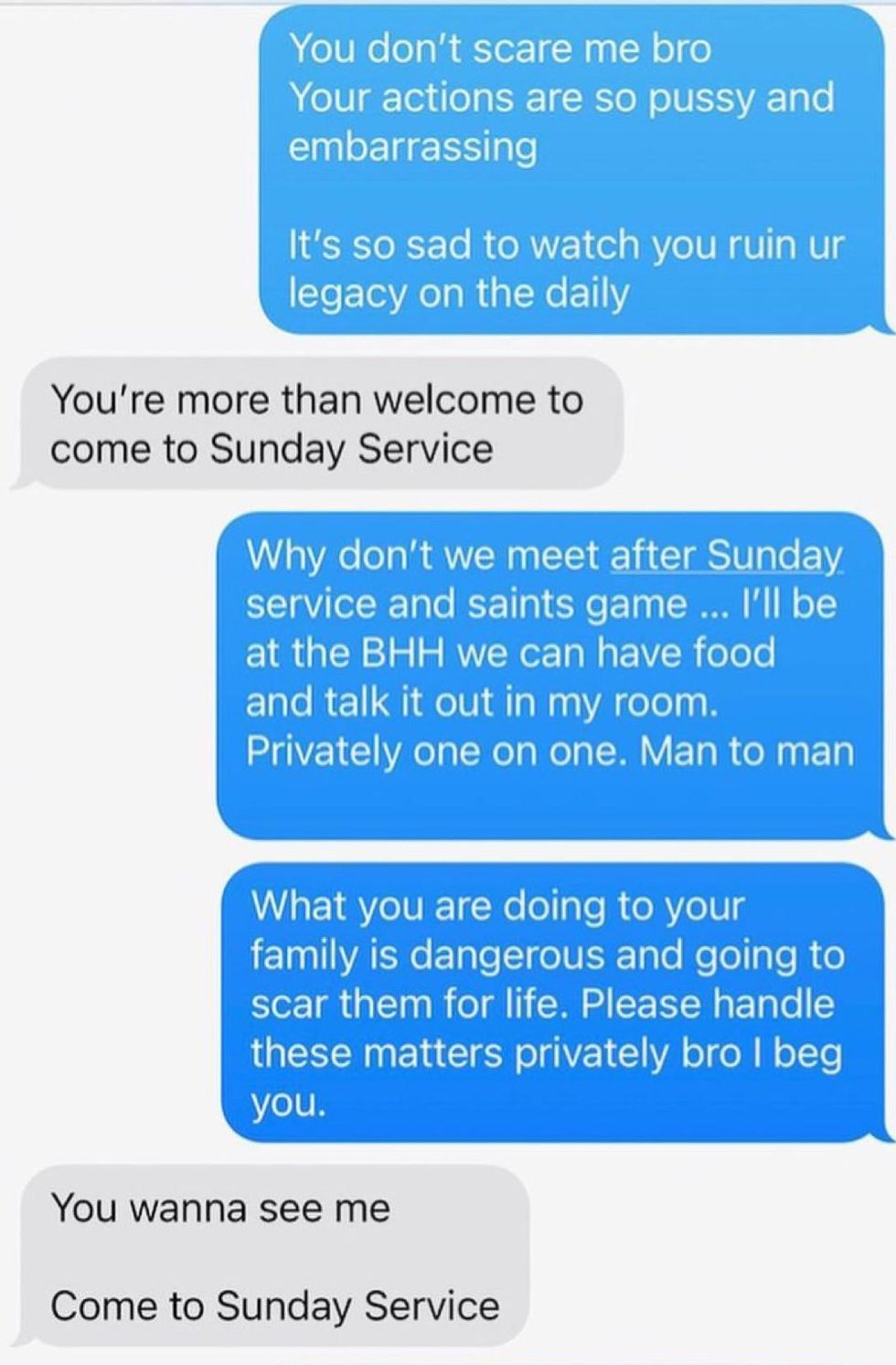 Dave Sirus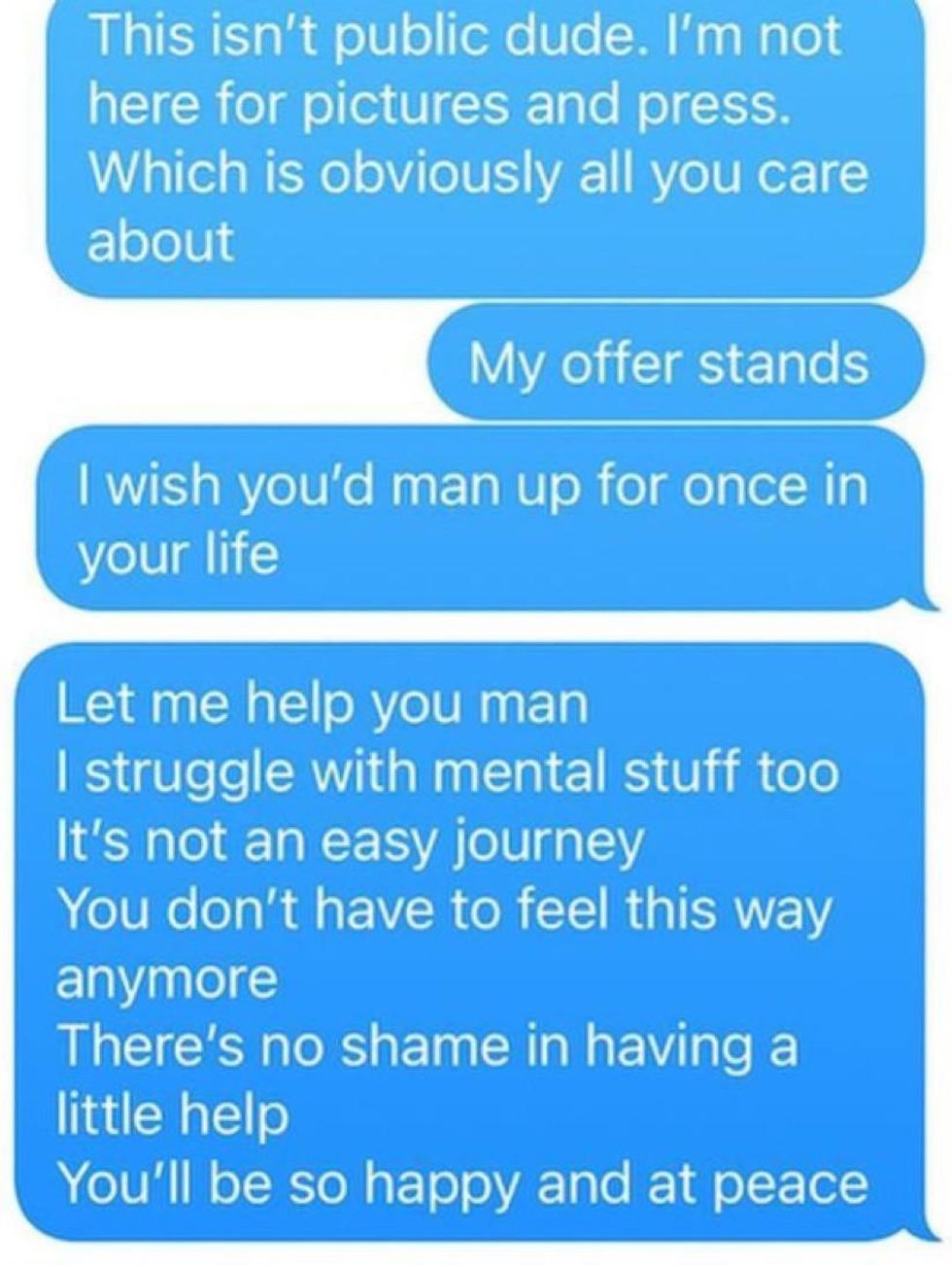 Dave Sirus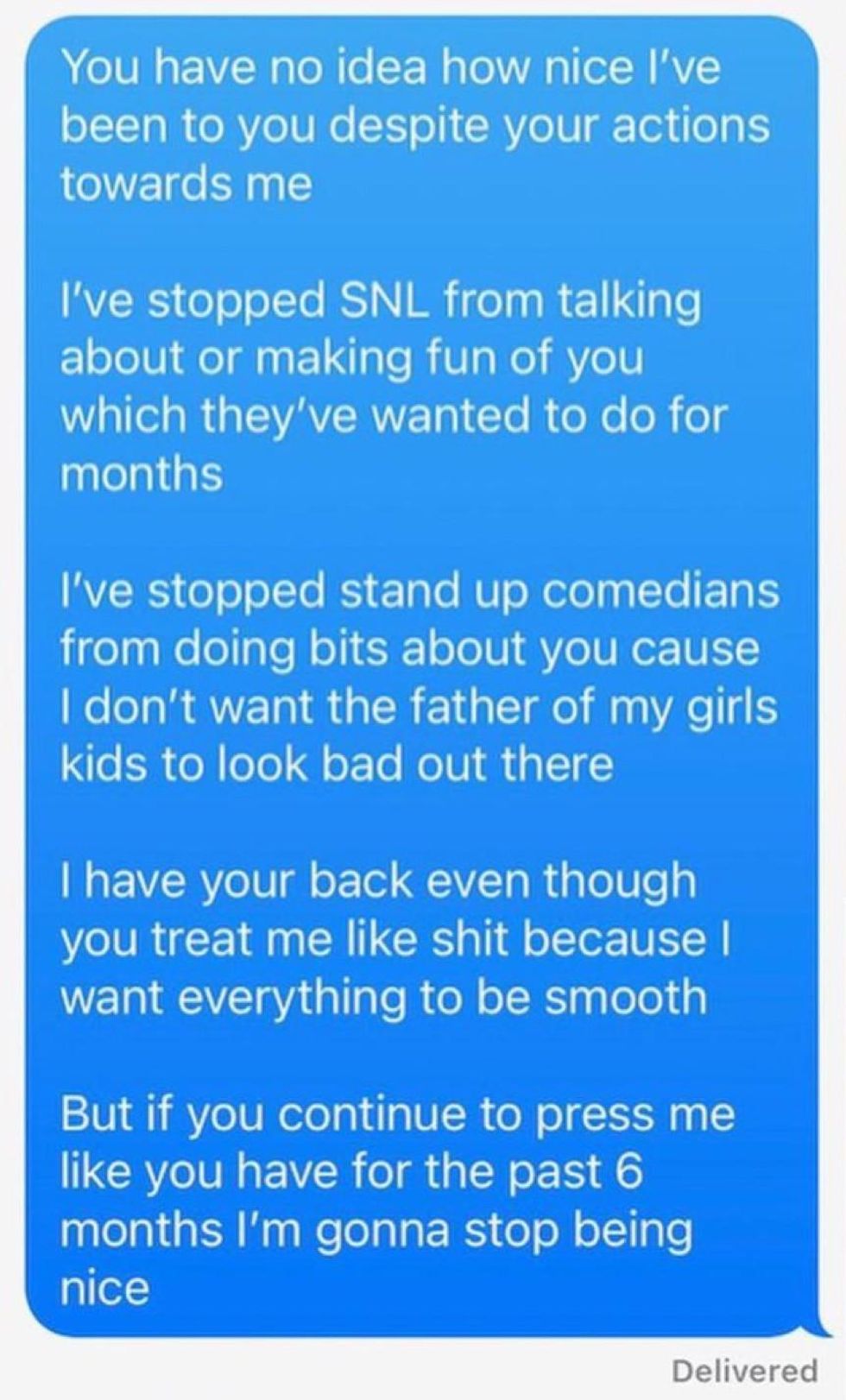 Dave Sirus
To start his messages, Davidson first defended Kardashian.

"Yo, it's Skete"
"Can you please take a second and calm down It's 8am and it don't gotta be like this."
"Kim is literally the best mother I've ever met. What she does for those kids is amazing and you are so f**king lucky that she's your kids mom."
He then said that he was over Ye treating them so poorly.
"I've decided I'm not gonna let you treat us this way anymore and I'm done being quiet."
"Grow the f**k up"
Ye asked Davidson where he was at the moment, and Davidson replied "In bed with your wife" along with a selfie as proof.
The two men went back and forth before Davidson suggested they handle their problems privately.

"Why don't we meet after Sunday service and saints game ... I'll be at the BHH"
"We can have food and talk it out in my room."
"Privately one on one. Man to man"
Ye insisted they meet publicly at his Sunday Service, but Davidson declined and suggested.
"Please handle these matters privately".
Davidson went on to offer Ye help with his mental health, but also threatened to start fighting back if Ye continued to harass him and Kardashian.
Twitter users reacted to the latest news of Ye's conflict with his ex-wife.
Many felt Davidson won this round.
Fans also felt—given Ye's behavior—Davidson had every right to send him the messages.
Kardashian has been in the news a lot lately.
Some joked the viral text exchange was concocted by her mother, the notoriously cunning Kris Jenner.

Kardashian, Davidson and Ye have yet to publicly comment on the exchange.
Hopefully, that means Ye is taking Davidson's advice.