Saturday Night Lives' Michael Che has issued a response to rapper Ye's request he stop working with Pete Davidson.
Ye spent a chunk of his weekend ranting in now deleted Instagram posts about ex-wife Kim Kardashian and her new flame, SNL star Pete Davidson.
Ye also targeted people associated with Davidson, such as musicians Machine Gun Kelly and Kid Cudi.
The posts were so wild, West posted pictures of himself holding a yellow notepad with the written message, "My account is not hacked 2 13 2022," as proof it was truly him running the account.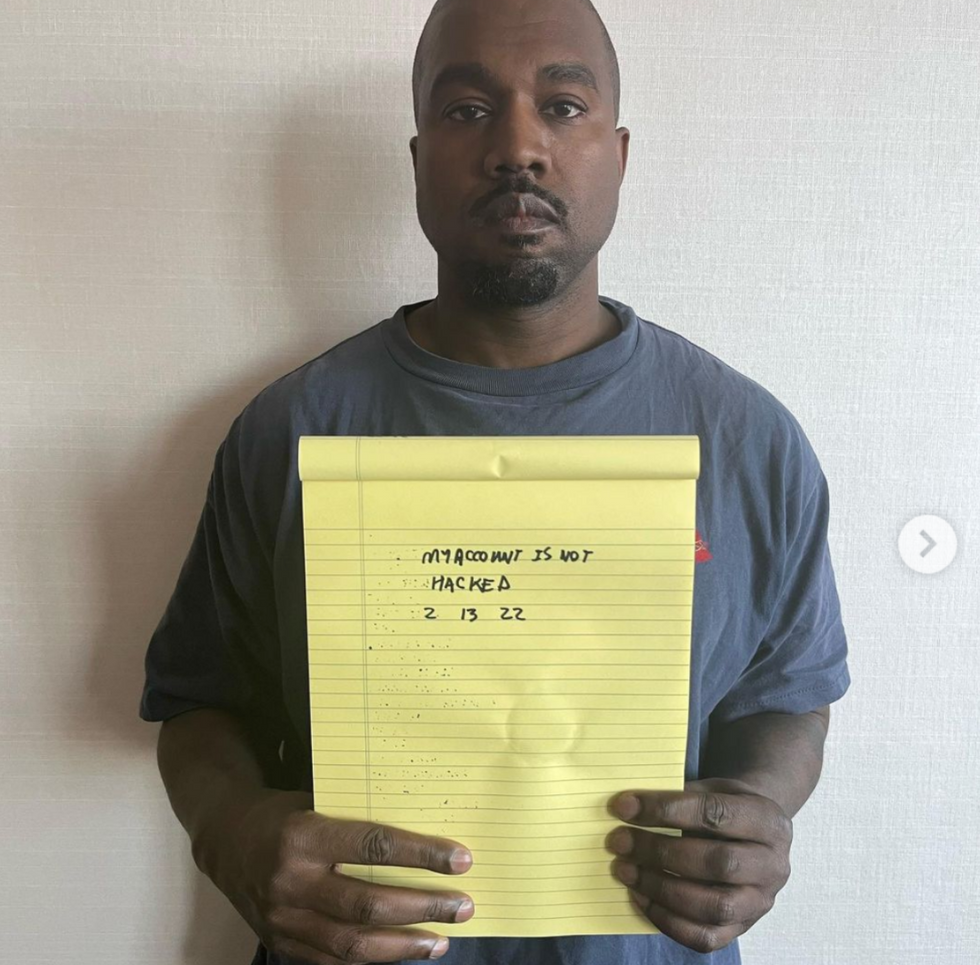 @kanywest/Instagram/showbiz411
As reported by Mediaite, Ye captioned the picture, calling out Davidson's SNL co-star Che:
"MY ACCOUNT IS NOT HACKED I WILL BE AT SUNDAY SERVICE AT NOON AND WILL BE TAKING NORTH AND SAINT TO THE SUPERBOWL SHORTLY AFTER @chethinks [Che] I'LL DOUBLE WHATEVER THEY PAYING YOU JUST SO YOU DONT HAVE TO LOOK AT THAT PAWN EVER AGAIN BIG LOVE"
But Che wasn't going to take the bait... just yet.
He responded on Instagram with his own messages written on a similar notepad to the one Ye was holding.
Che wrote:

"Sorry Ye, but I would never betray my friends"
"For anything less than triple salary."
He then began to negotiate his terms:
"That's right, $90k a year!"
Full medical, full dental, 4 weeks vacay, corner office
Plus, a pair of Red Octobers
Size 12
And you gotta make some beats for my band "The SlapButts"
What else what else
And you gotta tell me what you're gonna wear to work the night before so we can look like twins!
"You do that for me, I'll Rambo that whole building!"
People thought the response was hysterical:


@julexa/Instagram

@notastrapper_zee/Instagram

@nevnemesis/Instagram

@_ash_godfrey_/Instagram

@ih8instuhgram/Instagram
Fans are excited to see Che further address the situation on his SNL news segment, Weekend Update.

@atxceleste/Instagram

@amaniqueinnea/Instagram

@delanyycriswell
Others couldn't help but praise Che's negotiation skills.


@nemavand/Instagram

@ana_jtm/Instagram
We'll have to wait and see if Ye is willing to meet Che's demands.