New York City councilman and Congressional candidate Ritchie Torres is all out of patience for homophobic nonsense directed at him by NYPD officers who hide behind the anonymity of the Sergeants Benevolent Association's Twitter account.
A tweet, which referred to the councilman as a "first class whore," has since been deleted but—like many problematic things on the internet—several people got a screenshot first.
"He we go America this is what a first class whore looks like RITCHIE TORRES. Passes laws to defund police, supports criminals, & now because he's running for office he blames the police to protect what he voted for. Remember Little Ritchie? Meet LYING RITCHIE."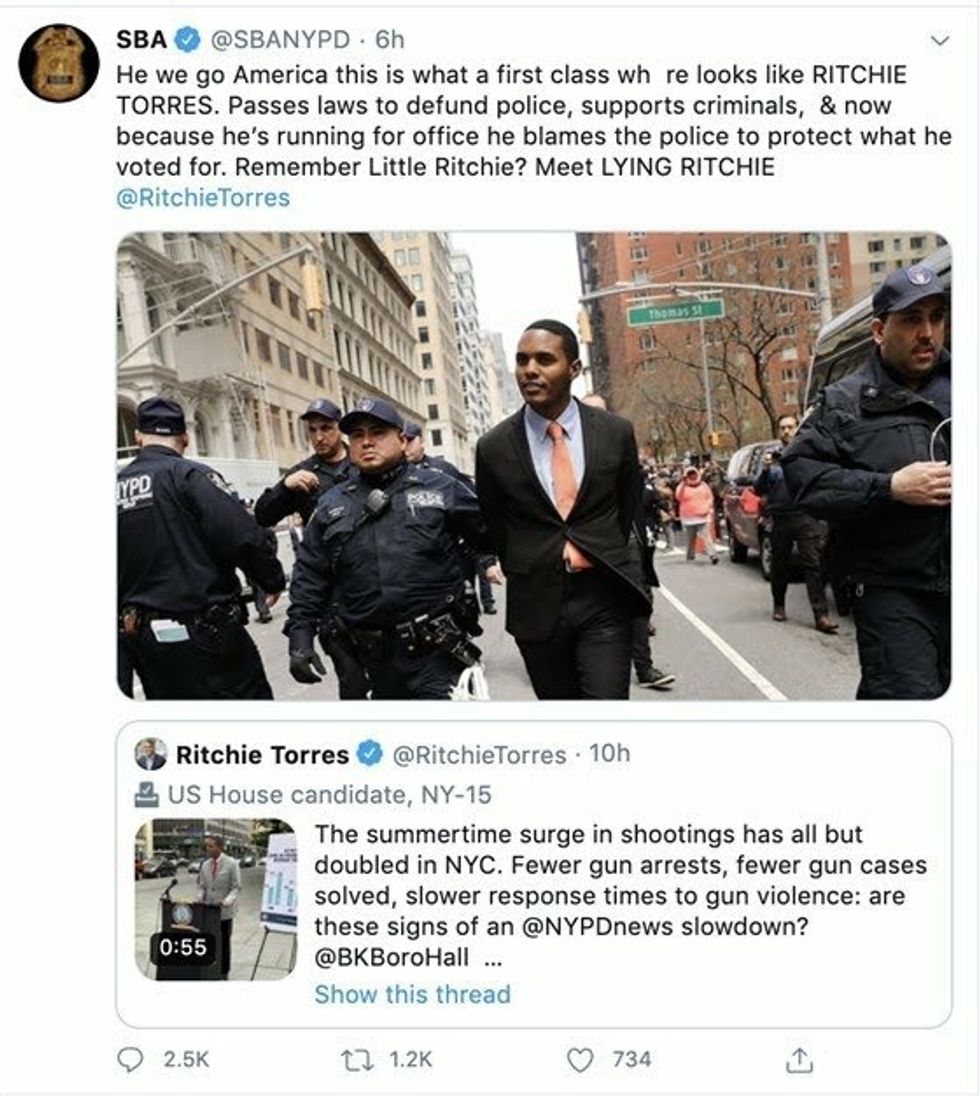 @SBANYPD/Twitter
This feud is nothing new.
Councilman Torres has been critical of the Sergeants Union in the past—referring to the group as "a bona fide hate group masquerading as a union." The union has also accused Torres of supporting anti-police violence, according to NBC News.
Torres didn't take the SBA's most recent abuse lying down either, replying on Twitter:

He went on to highlight the multitude of transgressions that the SBA has committed on Twitter, and called for Mullins' resignation.
Councilman Torres was far from the only person to criticize Mullins' tweet.
Others had criticisms of Mullins' other transgressions.
Unsurprisingly, Mullins and the SBA have refused to accept any responsibility whatsoever.

Mullins event went so far as to claim that referring to the Councilman as he did "had nothing to do with his race, ethnicity or sexual orientation."
He then made an appearance on a local radio show where he boldly claimed that he couldn't possibly be homophobic because he grew up in Greenwich Village, widely known as a largely LGBTQ+ community.
Councilman Torres wasn't buying it, though, tweeting sarcastically:
Election forecasts predict that Torres will win his Congressional race in November, despite Mullins' apparent disdain for his performance on the city council. This would make him the first openly gay Black or Latinx member of congress.