As Mi'kmaw fishermen in what is now Nova Scotia, Canada exercised their treaty rights dating back to 1752, they were met with escalating attacks from commercial fishermen who claimed honoring treaties signed with the Mi'kmaq—plural of Mi'kmaw—was unfair. Indigenous leaders are citing White supremacy as a factor in the escalating dispute.
The mostly White commercial fishermen began by organizing—via social media—targeted harassment with flairs and fireworks.
After the initial attacks went unchallenged by the RCMP—Canada's law enforcement agency—the violence escalated to laying spike strips on roads, vandalizing vehicles, cutting trap lines, dumping lobster catches, fires and physical assaults.
The Mi'kmaw community used video and social media to get the word out to the rest of Canada and the world to try to force a response from the government.
Videos, photos and screenshots of online comments include suggestions to burn Mi'kmaw boats and vehicles, to inflict physical harm in graphic details, racial slurs like "wagon burners" and suggest "natives go back where they came from." One TikTok video from October 14 shows a crowd of White men making racist comments about a Mi'kmaw woman "casting a f'king spell" on them and "smoking the peace pipe."
Several hundred commercial fishermen even stormed two facilities where Mi'kmaw process lobster, dumping live lobsters out in an act of vandalism that took time to commit, however no arrests occurred.
Video footage showed Sipekne'katik First Nation Chief Mike Sack being assaulted by one of the commercial fishermen. Sack stated only a small portion of the lobster the mob destroyed belonged to Mi'kmaw fishermen. The facilities raided buy and store from commercial and Mi'kmaw fishermen.
Eventually some arrests occurred.

But Indigenous leaders in Canada and the United States and their allies say it's not enough.
Many referred to the attacks as a "racist hate crime."
It all comes down to treaty rights.

When Europeans arrived in North America with the intent to colonize the continent, they encountered people who had lived there for tens of thousands of years. Various tactics were used by early European settlements to establish colonies where an Indigenous population lived.

But as colonies became their own governments—separate from Europe—the genocide employed previously wasn't always feasible. In such cases, colonial and eventually national governments negotiated legally binding treaties with the tribes living on land they wanted.
While most treaties were broken in both the United States and Canada, the terms are still binding. The courts in both countries have awarded large settlements to compensate tribes for unceded lands.
Unceded means that tribal nations never sold ceded or legally signed away their treaty lands to the government. In addition to land, many treaties included hunting, fishing and water rights.

In the treaty with the Mi'kmaq, they may fish outside the timeframes set up by the government for the commercial fishermen to earn a "moderate income." It is this right that the commercial fishermen are protesting.
They claim the reason they cannot fish year round, conserving the fishery, should apply to the Mi'kmaq as well.
But how large of a bite do the Mi'kmaw take out of the fishery?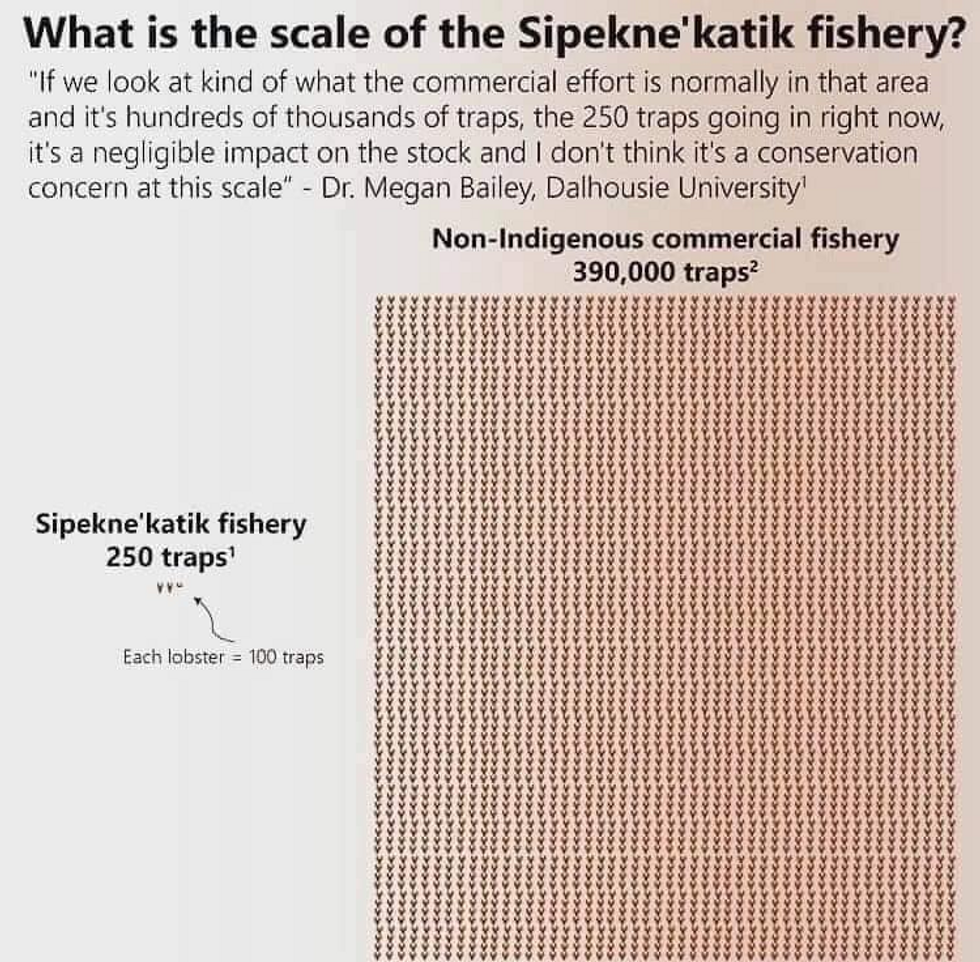 @Mimiges/Twitter
The Mi'kmaw were allotted 7 fishing licenses with each license for 50 traps. Of the 350 lobster traps allotted to them, Mi'kmaw have used only 250.
The commercial fishermen were licensed for 390,000 traps.
According to Indigenous Services Minister Marc Miller:
"It is and remains a tiny portion of the industry."
Perry Bellegarde, national chief of the Assembly of First Nations, stated it's time for the RCMP, as well as federal and provincial governments, to intervene before someone is badly injured or killed.
Bellegarde added:
"This has never been a commercial disagreement, and the actions of the non-Indigenous fishers are meant to harass and intimidate the First Nations with whom they share the waters and the resources within them."
The 21-year-old Supreme Court of Canada ruling—the Marshall decision—affirmed the Mi'kmaw right to operate a moderate livelihood fishery. The court said the federal government could regulate the Mi'kmaw fishery but must justify any restrictions it placed on it.
No such restrictions have been defined by Ottawa. Mi'kmaw fishermen in Nova Scotia continue to call for the federal government to define and protect their treaty right to fish.
They still await a substantive response from Prime Minister Justin Trudeau.