A recent Fox News panel took an informal turn when one guest burst into laughter as another guest defended Donald Trump's latest attempt to undermine the results of the presidential election.
The exchange occurred during the Fox News show America's News Headquarters when Gayle Trotter, a conservative attorney and political analyst, spoke up in defense of what she called Donald Trump's willingness to be "a man who fights" when he recently pressured the Georgia Secretary of State to "find" some more Trump votes.
It was then RealClearPolitics editor and columnist A.B. Stoddard threw her head back to laugh.
Right-Wing Attorney Laughed at on Fox News for Defending Trump's Callyoutu.be
Stoddard chuckled once again only moments later when Trotter accused Joe Biden of pushing a "radical leftist agenda."
The panel was discussing Donald Trump's recorded phone conversation with Georgia Secretary of State Brad Raffensberger, which TheWashington Post obtained and had published not long before the Fox News panel.
That audio recording captured Trump, who has already dismissed the results of the presidential election for about 8 weeks, as he accused Democrats of voter fraud and then blatantly pressured Raffensberger to manipulate the state's voting results—which have been confirmed and certified—to give Trump an electoral victory in Georgia.
"You know what they did and you're not reporting it. That's criminal—that's a criminal offense. And you can't let that happen.
"That's a big risk to you and to Ryan, your lawyer. That's a big risk."
Then, later in the call:

"So look. All I want to do is this. I just want to find 11,780 votes, which is one more than we have because we won the state."
Plenty of people fully supported Stoddard's cackling response when it made the rounds on the internet.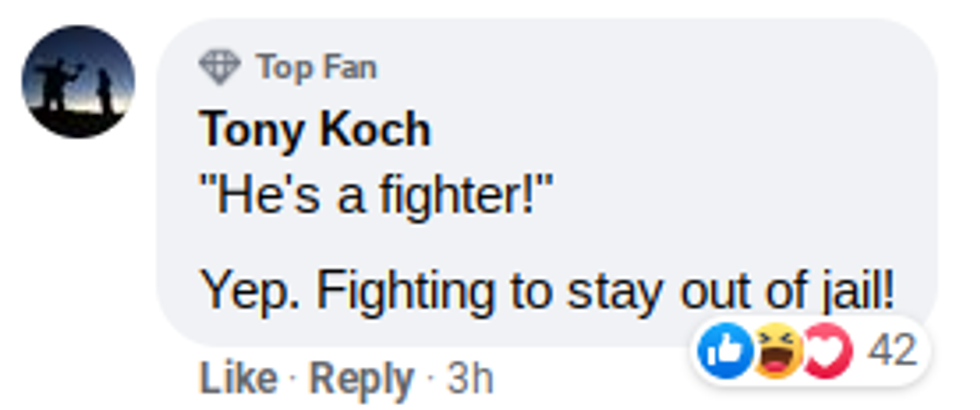 Tony Koch/Facebook

Kayla Imhoff/Facebook

Lindiwe Ngwevela/Facebook
It seems Trump's phone call with Raffensberger has taken off as one of the bigger stories of 2021. Only time will tell what other defenses we'll hear in the next few days.