More than 300 MAGA supporters are facing charges for storming the U.S. Capitol on January 6 in an attempt to overturn the certification of President Joe Biden. Now, the wife of a detective who works with FBI is suffering additional consequences. She was served with divorce papers after she was identified in a photo with another man.

Detective Michael Heinl, an officer in Shaler Township, Pennsylvania, who also works for the FBI's Pittsburgh-area violent crimes task force, filed for divorce from his wife, Jennifer Heinl, who was photographed with another man on the day of the deadly siege.
The man with the soon-to-be-ex Mrs. Heinl was Kenneth Grayson. The pair allegedly got acquainted on Facebook and had planned to meet in person at the Capitol.
The FBI retrieved from Facebook messages Heinl's detailed plans to meet Grayson on the day of the riot.
In text exchanges spanning November 12, 2020, to January 11, 2021, the pair discussed travel arrangements to Washington, D.C., including car and hotel rentals.
Heinl claimed she and Grayson fell out of touch the day before the riot and said she did not stay with him in a hotel room.
She went on to claim she happened to run into Grayson at the rally.

Court documents said the 55-year-old claimed she went to Washington alone the day before the riot and returned the next day.
Heinl also said she never went inside the Capitol building.

Yet authorities identified her from a photo on Grayson's iPad that showed Heinl and Grayson together inside the Rotunda in the midst of the chaos.
Agents also recognized Heinl, who was wearing a black hat and a red "Trump 2020" jersey, from Capitol security footage.
She was seen in the Capitol Crypt and other restricted areas, as well.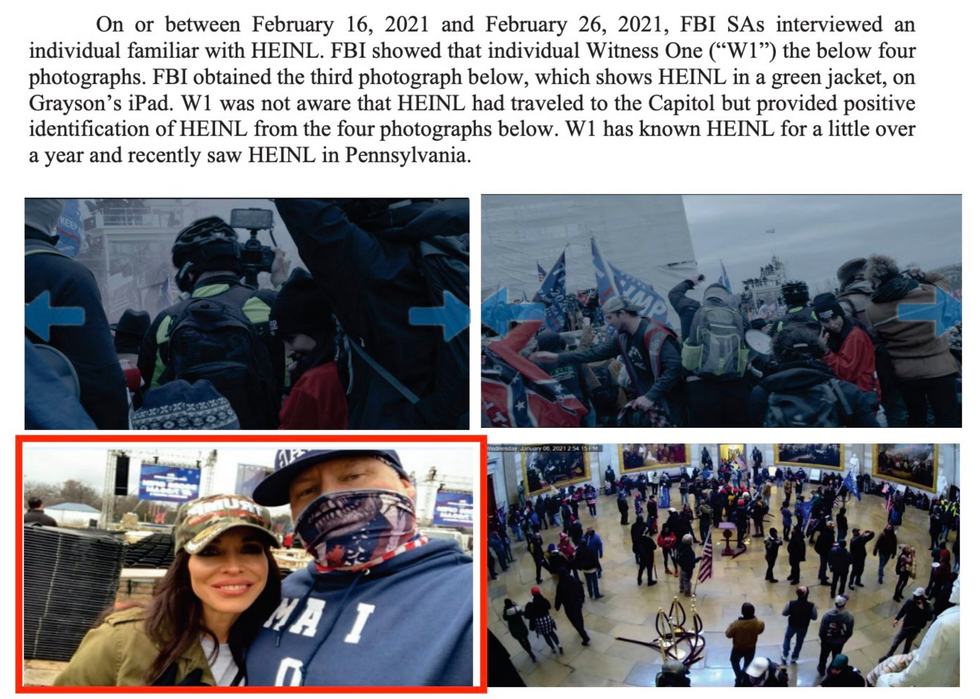 @emptywheel/Twitter
According to Queerty, Grayson, who was wearing a QAnon T-shirt at the riot, told detectives he stormed the Capitol to help satisfy his "need to kill people"―including President Biden. He was arrested on January 26 in Pennsylvania.
Detective Heinl admitted he was fully aware of his wife's plan and requested for her not to participate in the rally incited by former President Donald Trump's unfounded claims of a stolen election.
The detective, however, was unaware of his wife's relationship with Grayson.
After the insurrection, court documents showed Heinl was arrested and charged with disorderly and disruptive conduct in a restricted building and violent entry on Capitol grounds, among other violations.
She was released on a $10,000 bond.
Her attorney, Marty Dietz, maintained in a statement that Heinl was "not a criminal" and added she was "deeply embarrassed" by the situation.

Detective Heinl filed for divorce in February, according to Allegheny County Court of Common Pleas.

He was not part of the investigation of his wife's connection to the Capitol riot.
Chief Sean Frank of the Shaler Police force where Detective Heinl works, confirmed:
"His wife was a part of that situation. He didn't condone it. He didn't ask her to go there. He wasn't there. He was here working."