Photographer Ricki Beason came up with a genius idea to boost pet adoption awareness by making a calendar.
But she wasn't going to make just any ordinary calendar. Her gimmick would not only feature dogs in the monthly photos, but she would also pair man's best friend with men.
---
The theme for her calendar is called "Dad Bods and Dogs," and it's a collaboration with Dallas area animal shelters, including, The Love Pit, Rescue Row, and Astasia's Angels Animal Rescue.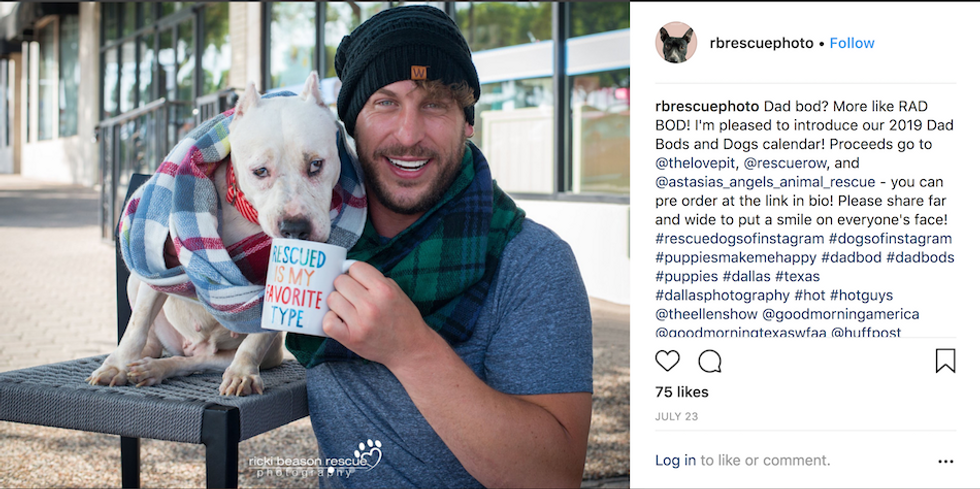 (@rbrescuephoto/Instagram)
Dad bod? More like RAD BOD! I'm pleased to introduce our 2019 Dad Bods and Dogs calendar! Proceeds go to… https://t.co/dZqZdbzxke

— RB RescuePhotography (@RB RescuePhotography) 1532458880.0
Beason told Today that the calendar will feature various dogs up for adoption along with men doing fatherly tasks like prepping for a BBQ party.
I wanted to pair rescue dogs with guys doing your typical dad activities, like going to the grocery store, grilling out for the Fourth of July or having a pool party.
The animal lover photographer wanted to differentiate "Dad Bods and Dogs" from her previous calendar project, called, "Heartthrobs and Hound Dogs," in which the calendar featured conventionally hunky men.
With "Dad Bods and Dogs," she wanted to feature men with a more relatable approach.
(The guys) are more relatable because they're doing day-to-day activities versus being super big and buff, like they can bench press a piano. You look at them and see your average awesome guy.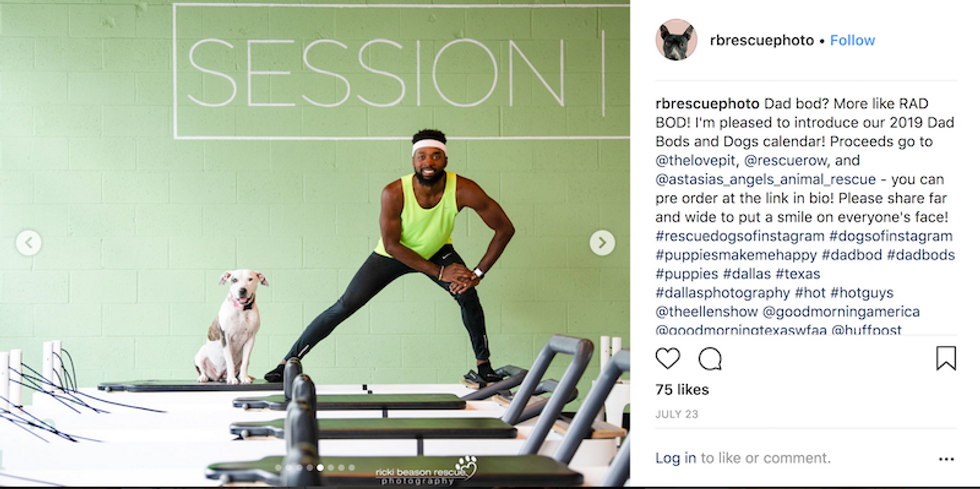 (@rbrescuephoto/Instagram)
She enlisted models through "friends of friends of friends of friends," and said they were all game for the fun concept.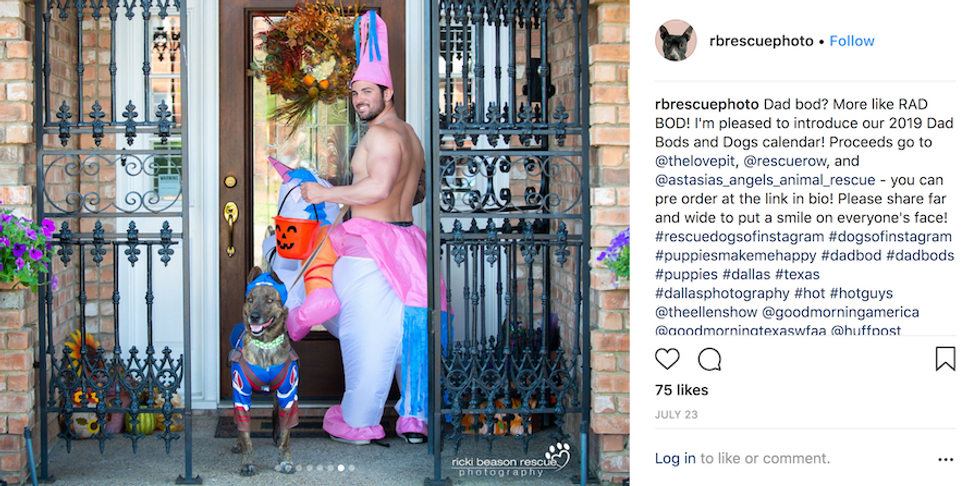 (@rbrescuephoto/Instagram)
Through her photography specializing in rescue animals, she hopes the dogs' personalities really speak to potential adopters
One of the reasons I got into rescue photography was you see all these pictures of dogs behind shelter bars, and they look so sad and rejected.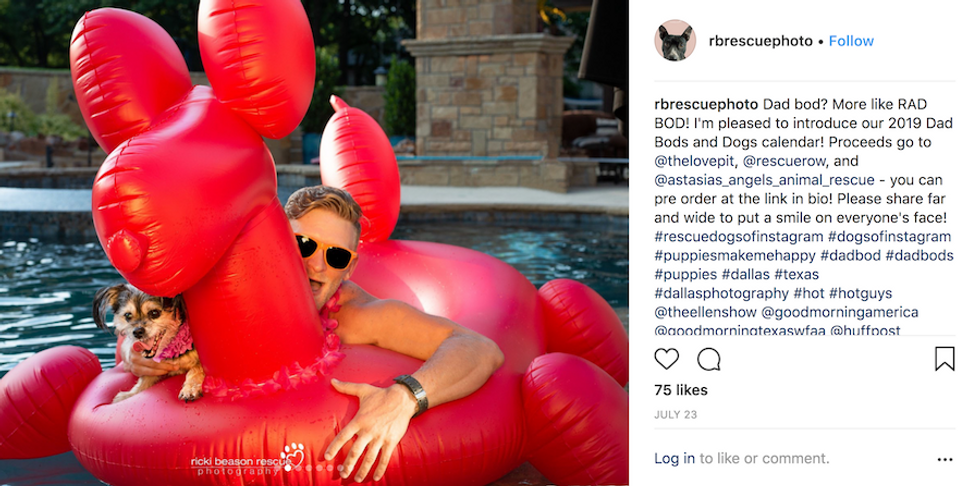 (@rbrescuephoto/Instagram)
And while you get peoples' sympathy and you get their pity, you don't want them to constantly view the dog like that. That was the before, now look at the after. They've been saved. They're happy. Look at that smile. I wanted people to see the after.
Here's the photographer in action at a photo shoot in Houston.
The calendars are priced at $15 and will be shipping out in September. 100% of all proceeds will go directly towards the three animal shelters.
We have so much negativity and there's so much reason to not smile. I want to bring lightheartedness back into peoples' lives and I'm hoping (the calendar) does that.
Beason is accomplishing just that, with the gift that will continue to give all year long.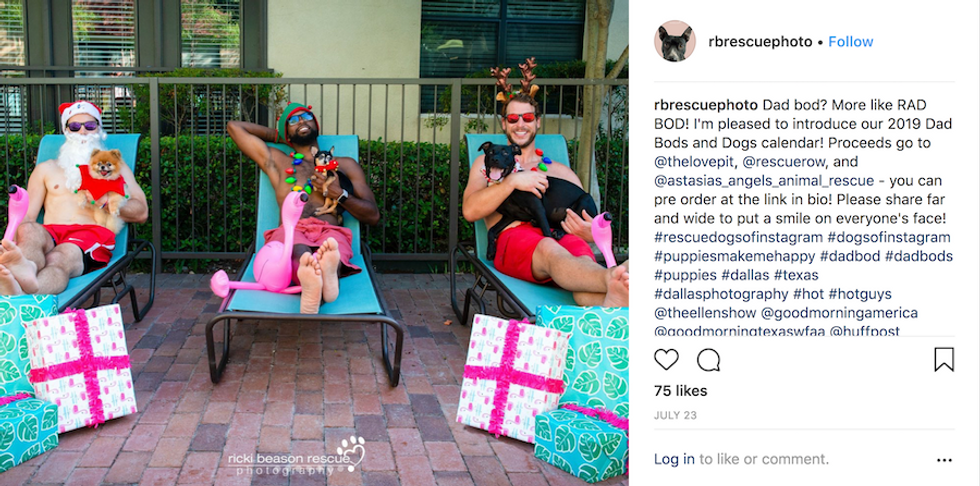 (@rbrescuephoto/Instagram)
Order yours now!
Don't forget to order your 2018 Heartthrobs and Hound Dogs Calendar before the new year starts!! Calendars are... https://t.co/6hZo6YYTd6

— RB RescuePhotography (@RB RescuePhotography) 1514511085.0