You might remember Bill Bush as the Extra host who had his career derailed by his involvement in the infamous Trump Access Hollywood tapes.
If you thought Bush must have learned his lesson about making crude remarks about another human being, you'd be wrong.
51-year-old Bush is back in the spotlight after making sexual jokes about 27-year-old Kendall Jenner.
Bush was caught on the set of Extra joking about Jenner's Toy Storyinspired Halloween costume.
"Kendall goes as Jessie and, believe me, there were a lot of woodies."
The comment from Bush came as he stood in front of a wall of images of celebrities in various Halloween costumes.
At the center of the images was Jenner dressed as a highly sexualized Jessie, the female cowgirl from the Toy Story franchise. Bush's remark is a double entendre based on one of the main characters in the movie, Woody.
When asked for a comment, a representative for Telepictures—Extra's production company—said the comment was just part of the show's creative banter.
The representative added some comments are too edgy to broadcast on television.
"As with many forms of production in the entertainment industry, the show's creative process allows the flexibility to try different jokes and banter."
"In the end, some material lands on the cutting room floor, including remarks that may be too edgy to air on broadcast television."
When the show aired, Bush toned down his comment when reporting on Jenner's costume.
"It's going to be hard to see Toy Story the same way ever again."
Kendall posted the pictures of her costume to Instagram.
The post has over nine million likes and almost 20 thousand comments.

You can see the post here:
The comments on Jenner's post are mixed.

Her sister complimented the look.

@kendalljenner/Instagram
But some people had a serious problem with Jenner's version of the beloved cartoon character.


@kendalljenner/Instagram
Others didn't see an issue with sexualizing the character.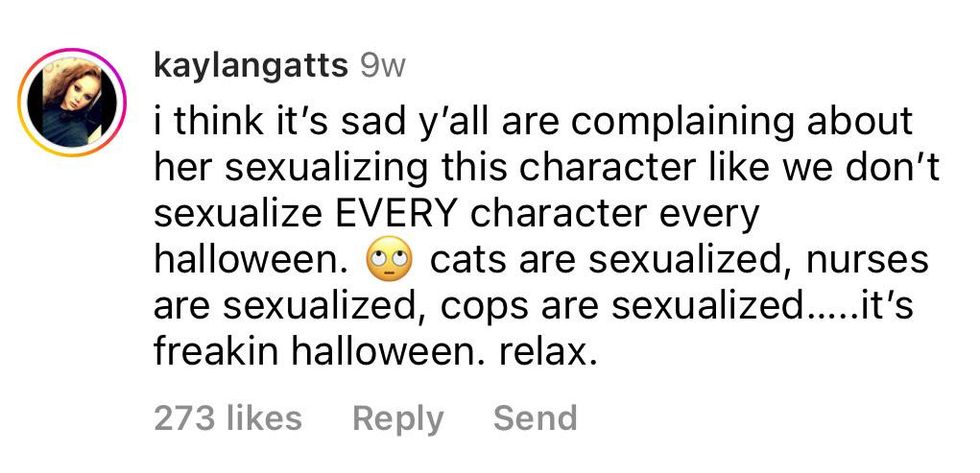 @kendalljenner/Instagram
Whatever the thoughts on Jenner's Halloween costume, many felt making sexual comments about another human being was just flat out rude and crude.
@Rian_BlackOnyx/Twitter
How a woman chooses to dress doesn't make her fair game.

While people are free to have opinions on her outfit, no woman is "asking for it" based on how they dress.