Hunting for jobs has always been stressful and involved putting yourself out there for potential rejection.
Experts agree the current market is unlike anything they have seen before. Potential employees have more options than ever before—corporate culture, work/life balance, autonomy on your personal time, and an ability to be authentic in the work place are all high on people's lists.
Recruiters are advising people to show up as themselves, bringing their full energy to the table.
Unsavvy employers who missed that memo are missing out on quality candidates - like Zanaya Jones. Zanaya has TikTok stunned after sharing an incredibly rude rejection message she got from a potential employer.
The employer was calling presumably to schedule an interview, but after hearing Zanaya's voice message—during which she playfully sings a greeting to her callers—the employer left her this rejection.
The hiring manager who left the message essentially scolded her for her voice greeting. Then he told her there was no need to call back.
The voicemail system automatically transcribed the message, but we will write it out here as well.
"Yes, Miss Jones, I recommend if you apply for a job and you expect somebody to call you, that you have a more appropriate, um, response on your, uh, voicemail. So, uh, thank you for applying and no need to give us a call back here at Harris Teeter. Thank you."
People were shocked. How unprofessional could her voicemail possibly be?

Turns out, it's a pretty average voice greeting from someone who sounds like they have a fun personality.
Listen for yourself.
For those of you unfamiliar, as I was when I first started writing this article, Harris Teeter has the sort of name that could be a financial institution, government agency, etc. The man who called Zanaya certainly sounded serious enough to be calling from a major investment firm on Wall Street.

It's a grocery store.
Harris Teeter is a supermarket and Zanaya Jones is a teenager applying to work as a cashier/bagger.
TikTok had a lot to say about this one.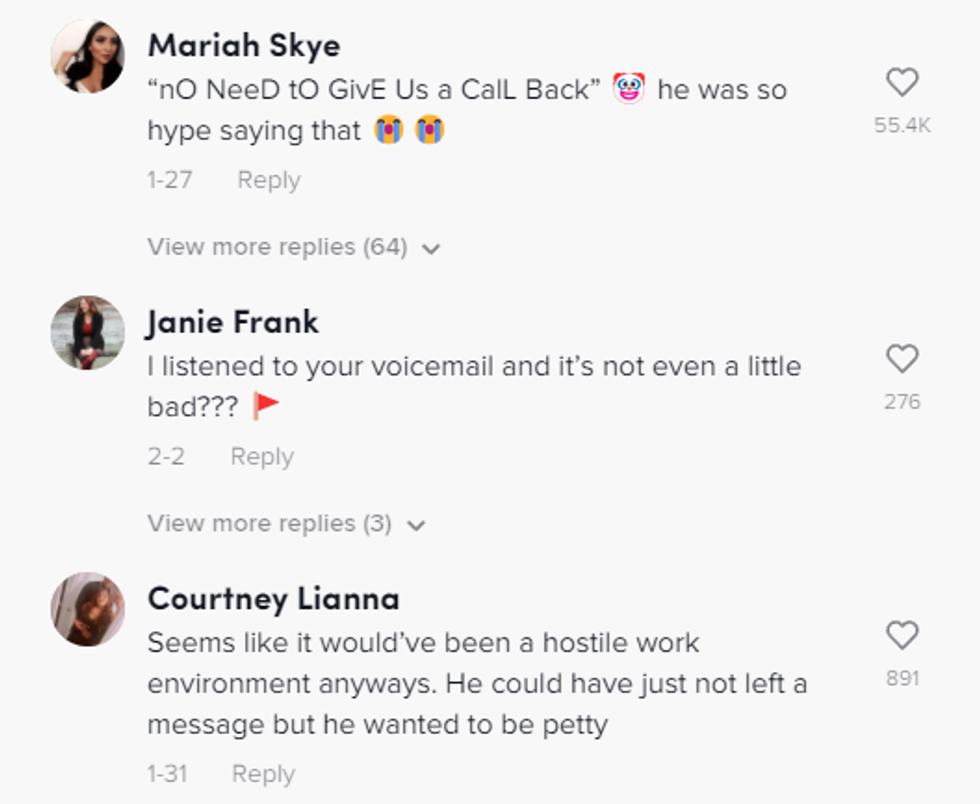 @zanayajones8/TikTok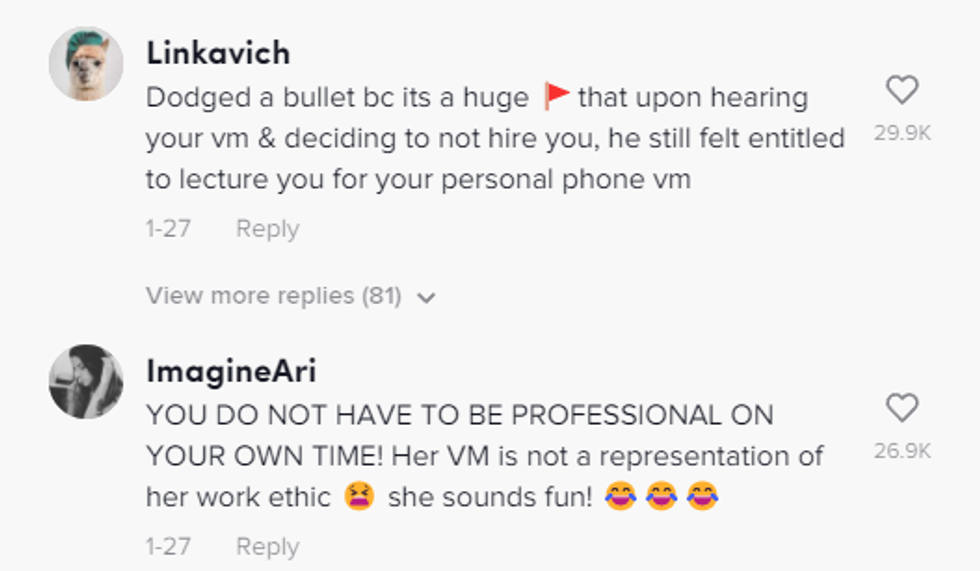 @zanayajones8/TikTok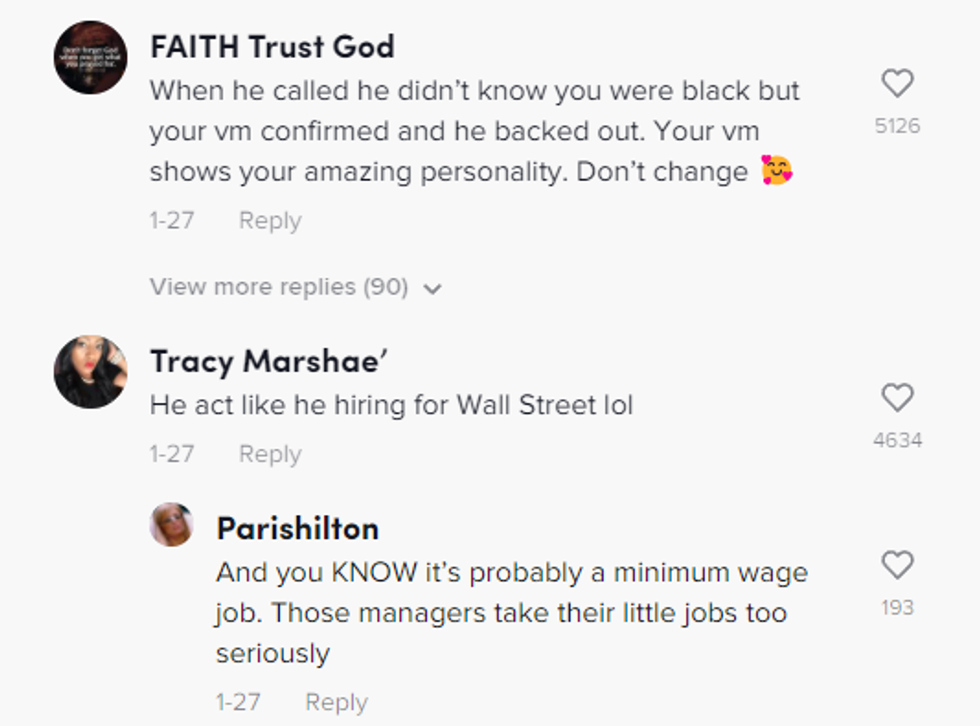 @zanayajones8/TikTok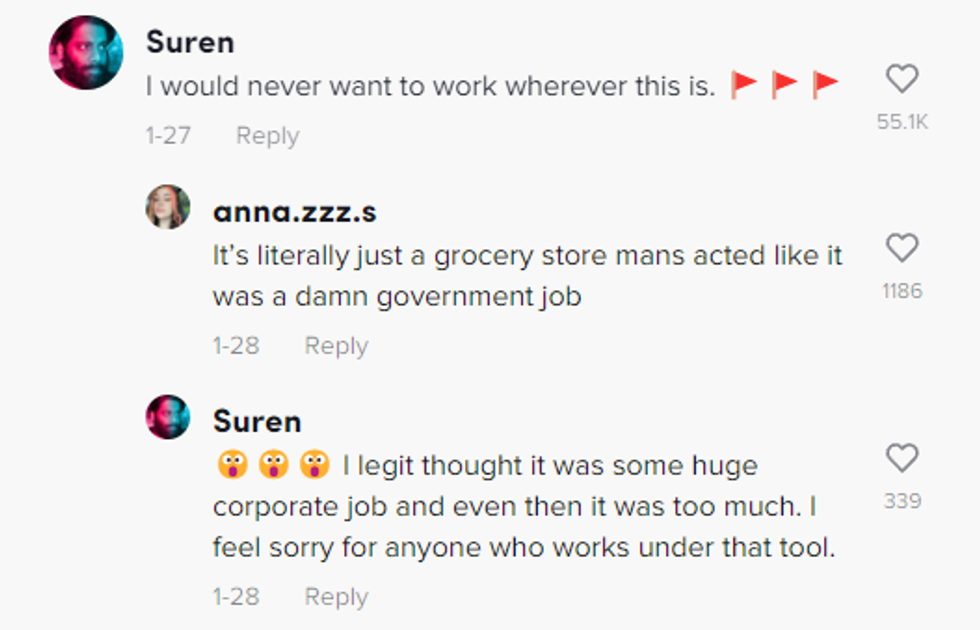 @zanayajones8/TikTok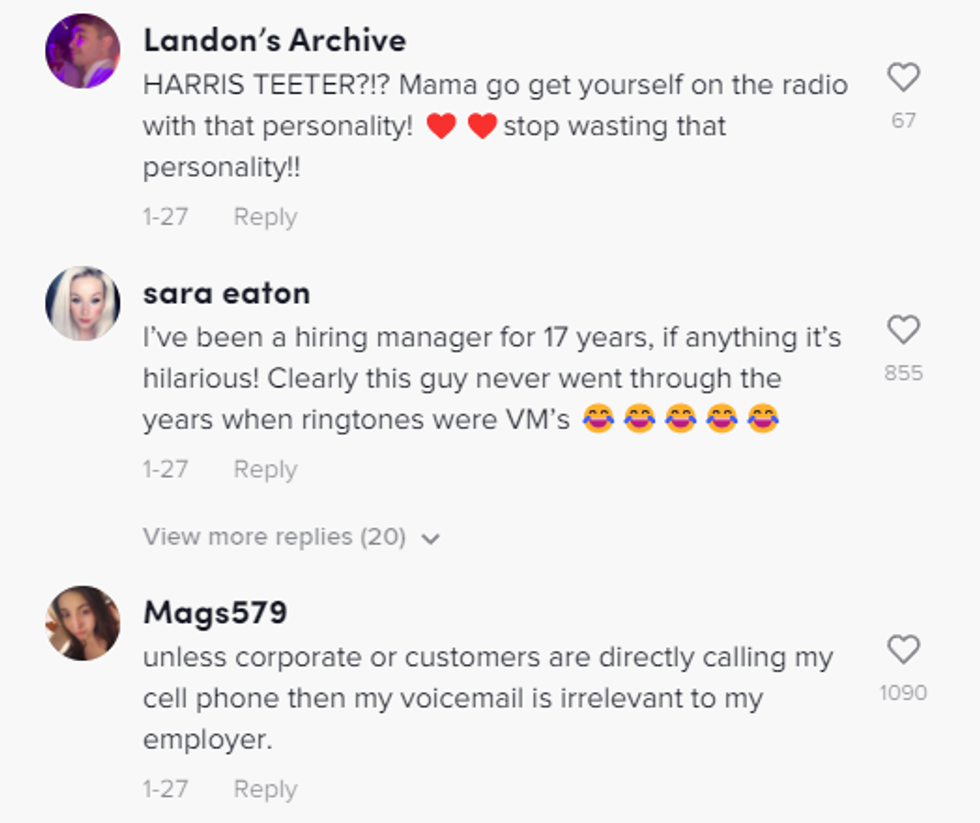 @zanayajones8/TikTok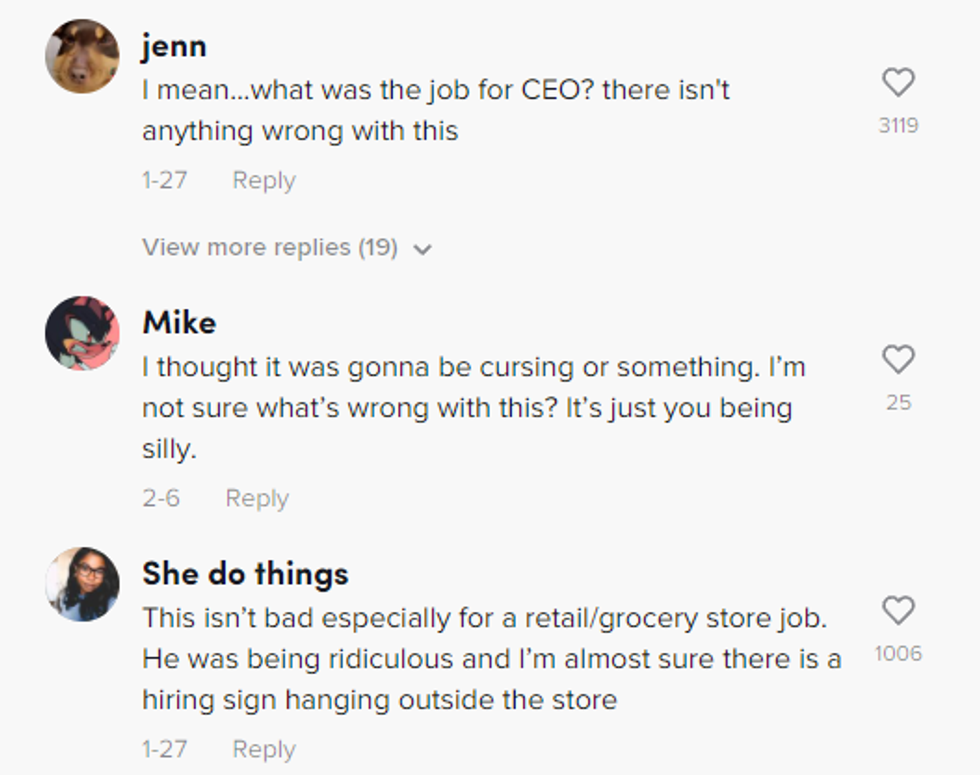 @zanayajones8/TikTok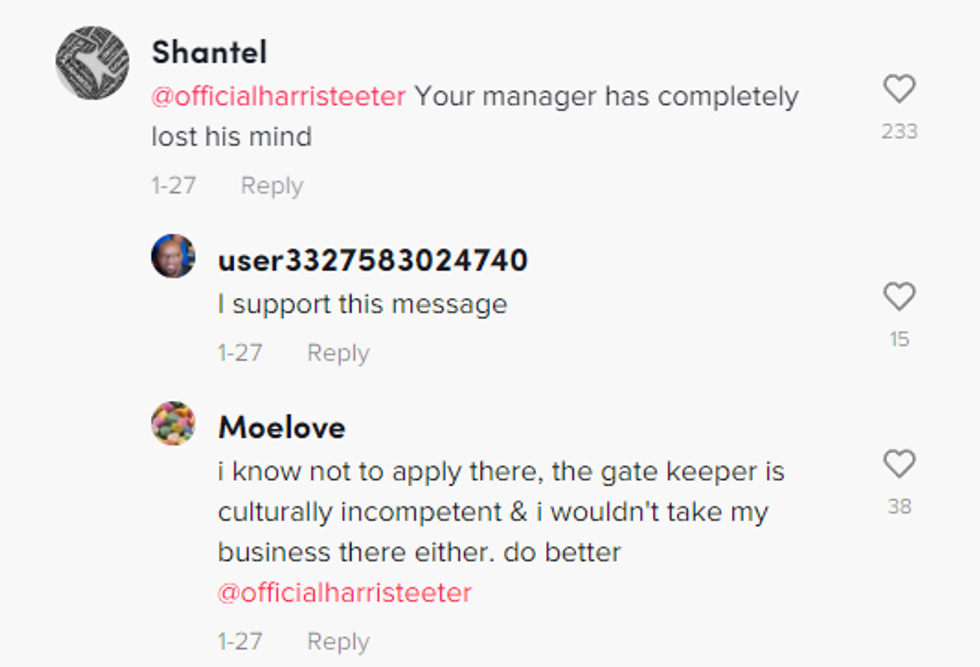 @zanayajones8/TikTok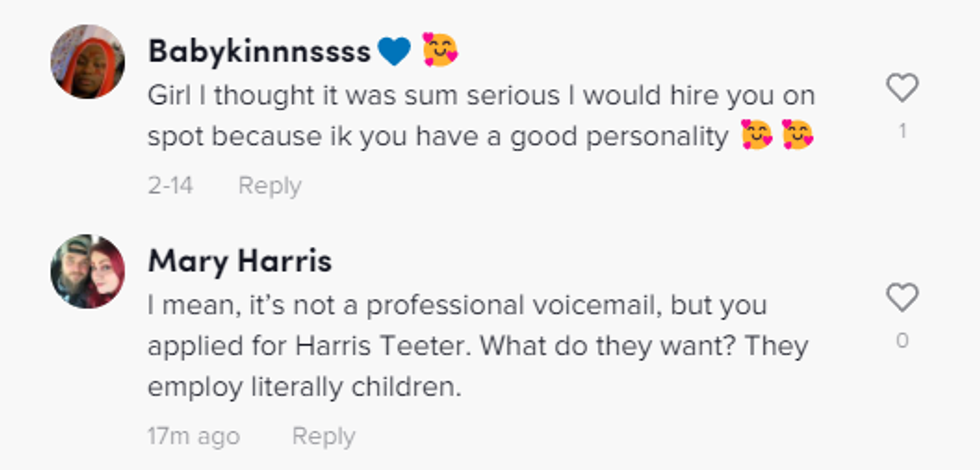 @zanayajones8/TikTok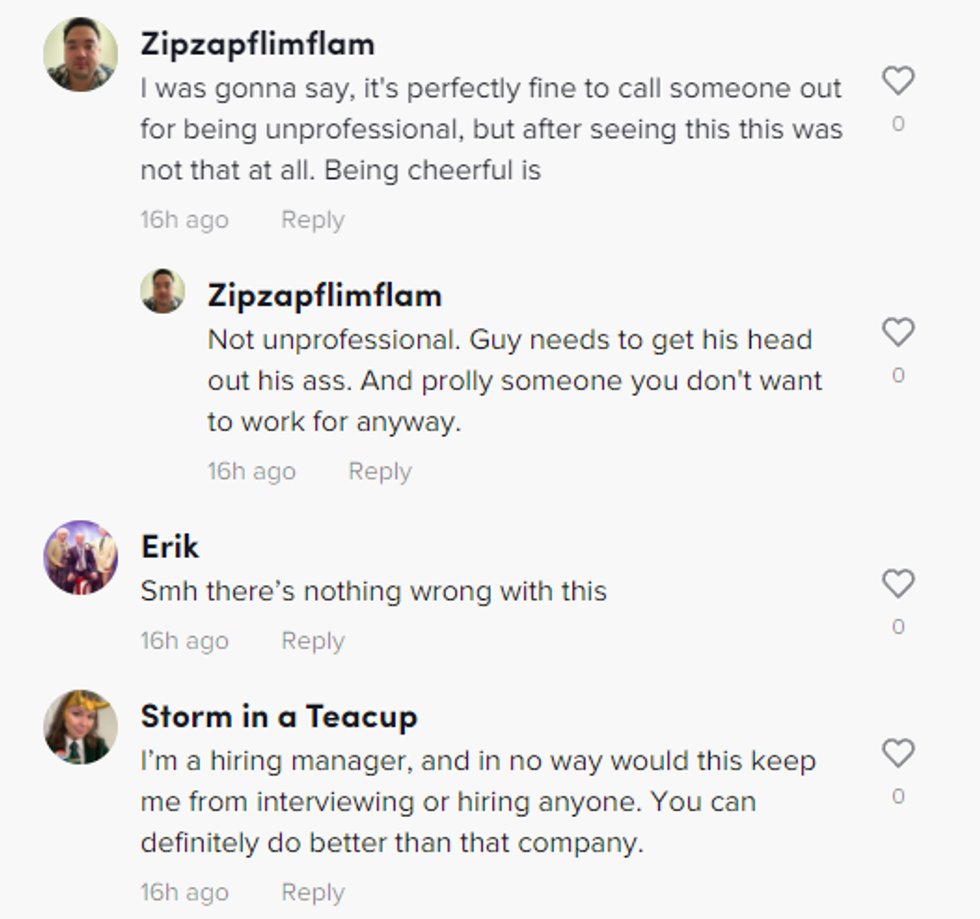 @zanayajones8/TikTok
So we clearly know where TikTok stands on this—let's talk about your thoughts.
Would Zanaya's voice greeting get her crossed off your list if you were hiring? Does it matter that the position is an entry-level job at a grocery store and that Zanaya is a teenager?
Did that hiring manager over-step bounds with that message?
We'll see you in the comments.