When President Donald Trump entered the 2016 presidential race he campaigned as a Christian candidate who loved his Bible.
Those familiar with Trump the braggart, playboy, millionaire businessman were skeptical.
---
In 2015, Bloomberg Politics decided to see what Trump's favorite parts of the Bible were. They shared the results on their Facebook page.
Oh, Donald...
The plug for Art of the Deal was on brand though.
That video recently resurfaced as a rebuke to Trump's continued appeal among Evangelical Christians who excuse his behavior because Trump is "the modern King Cyrus."
He is also apparently the modern King of Israel, but that's a different story.
The Caring Atheist (@Caring_Atheist) shared Bloomberg's video on Twitter with a list of their own takeaways.
1. You mention that the Bible is your favorite book !!! 2. What are your favorite Bible verses ? - I don't want to… https://t.co/B118yaCZEj

— The Caring Atheist (@The Caring Atheist) 1566415120.0
People quickly shared their own thoughts on the President's deep love of the Bible.
@Caring_Atheist He's like a kid trying to give an oral book report on a book he's never read. What an embarrassmen… https://t.co/UWk3jmduuW

— Elisebeth (@Elisebeth) 1566498903.0
@cspamus1 @Caring_Atheist I totally read that in his voice & wanted to vomit. Why do ppl love this fool....

— Piper (@Piper) 1566525918.0
@cspamus1 @Caring_Atheist "Lots of WATER in the Bible in terms of WETNESS...Oh! And LOTS of WIND, in terms of AIR..… https://t.co/Yt4zRnbwVJ

— Stay Calm & VOTE! 👊 (@Stay Calm & VOTE! 👊) 1566512288.0
@ChubCity @LizzShep @cspamus1 @Caring_Atheist I love how there's no coherent thought process 😂

— pray tell (@pray tell) 1566507944.0
@DjHeermans @Caring_Atheist They don't hate President Obama as much as they hate the idea that his being elected pr… https://t.co/p3mpf6QQci

— Patricia Kelly Adams (@Patricia Kelly Adams) 1566553487.0
@Caring_Atheist @realdonaldtrump: If Ivanka wasn't my daughter, I'd probably try to screw her. Also, I used to snea… https://t.co/z7IbvFjxp2

— Jim'sJunkBox (@Jim'sJunkBox) 1566499217.0
@cspamus1 @Caring_Atheist Ah ... what are you saying??? He WROTE the bible, with tremendous bigly words.

— Zimt (@Zimt) 1566503577.0
@Caring_Atheist Trump's the guy in high school who didn't read "Hamlet", and then says things like "Hamlet...great… https://t.co/tX8kReQrQE

— Sapient Hominid (@Sapient Hominid) 1566498073.0
@wedietz @catherine_toran @Caring_Atheist Perfect choice! 👏 https://t.co/cyyuipfk0m

— Malachy (@Malachy) 1566554200.0
The President held several gatherings exclusively for Evangelical Christians at the White House and recently pushed policies to legalize discrimination for religious reasons.
Whether he has ever read the Bible or not, pushing Evangelical Christian agendas in a secular government is for many people far worse than his lack of Biblical knowledge.
You shouldn't still need an explanation for evangelical Trump support, but if you do... This thread of horrors repr… https://t.co/Z1OOakO3Ei

— Chrissy is fully vaccinated (@Chrissy is fully vaccinated) 1558789295.0
The 1st Amendment allows both freedom of religion and freedom from religious oppression. President Trump doesn't need to read the Bible, but he should study the US Constitution.

Say it again for the people in the back with this shirt, available here.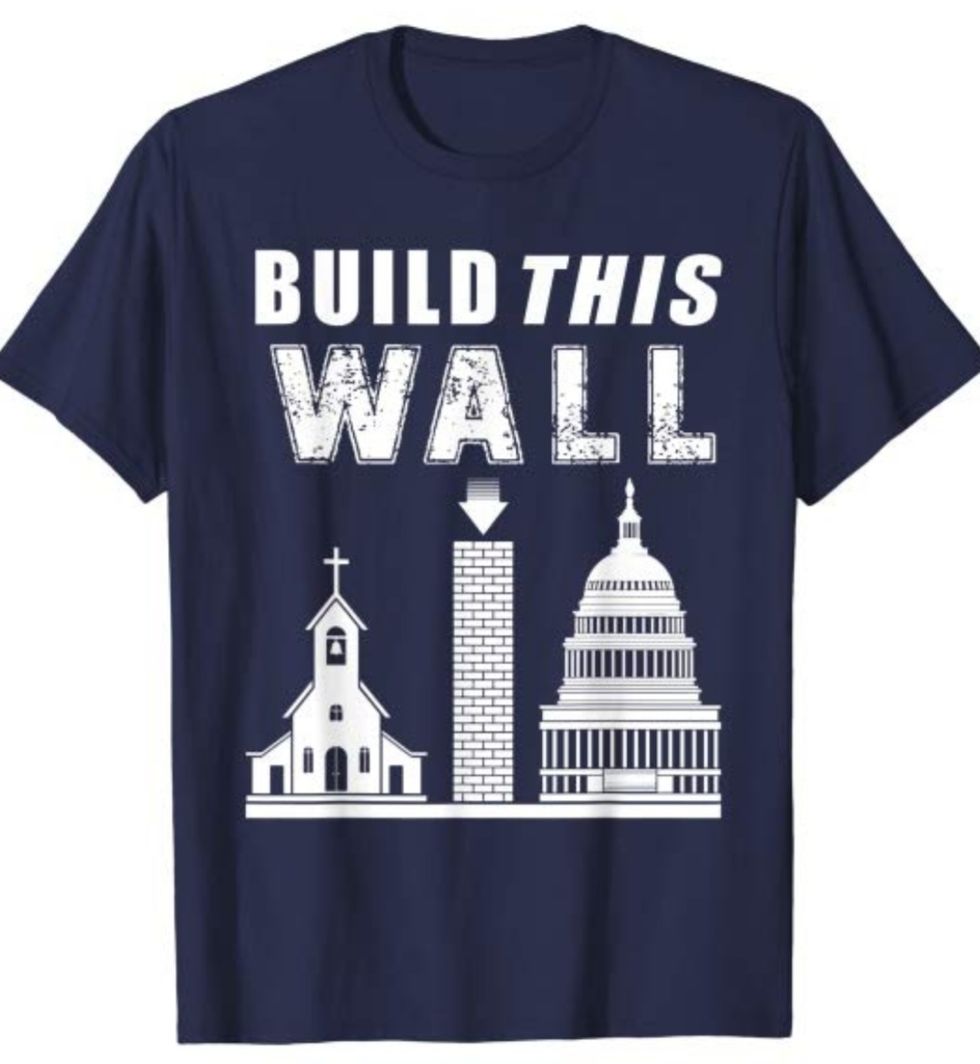 Amazon
********

Listen to the first episode of George Takei's podcast, 'Oh Myyy Pod!', where we explore the racially charged videos that have taken the internet by storm.
Be sure to subscribe here and never miss an episode.