After racist attacks from President Donald Trump against progressive women of color in Congress, video resurfaced of the President's history with Native Americans.
For those of us in Indian Country, racist attacks from Trump are old news going back to the 1990s.
---
Why did the video resurface now?
Lashing back at his critics Tuesday, Trump tweeted he did not have a racist bone in his body and the real problem, according to the President, was the women he attacked.
Trump went on an all out offensive, but people checked him at every turn.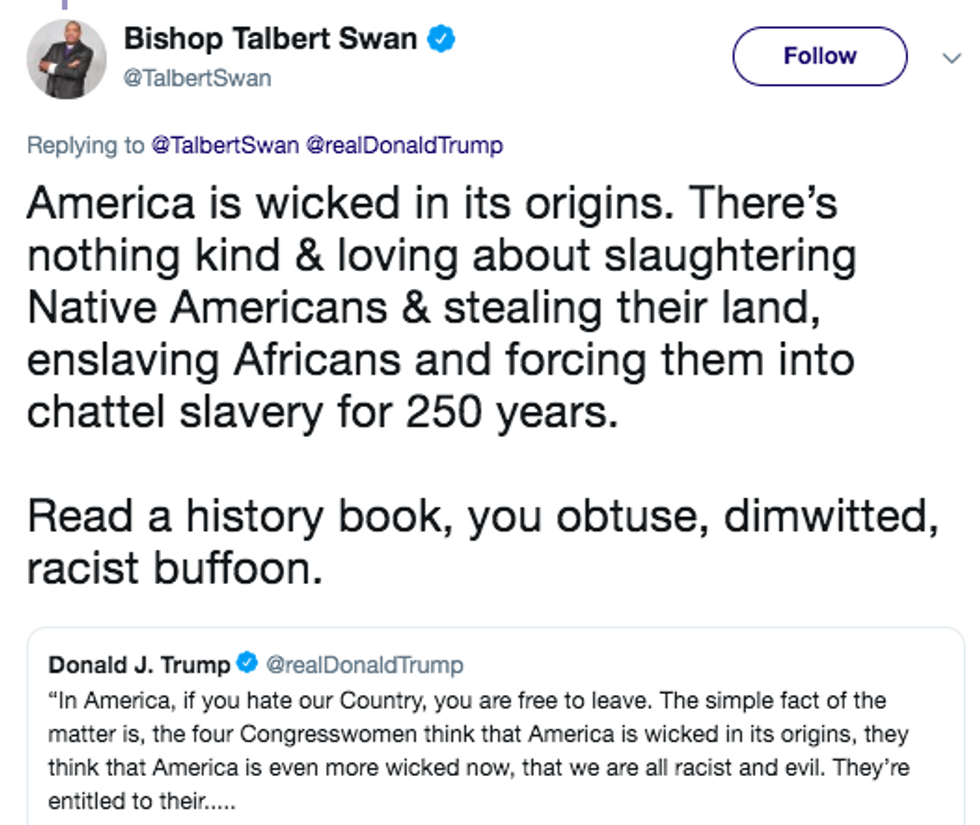 @TalbertSwan/Twitter
The House of Representatives moved to condemn Trump's racist comments. A handful of Republicans in the House crossed the aisle and voted in favor of condemning racism from the executive branch.

In response to Trump's latest "I'm not a racist" claims—which sorry, but if you have to repeatedly say "I'm not a racist" you just might be racist—MSNBC resurfaced video from Trump testifying before Congress in 1993 regarding Native owned casinos.
Jesus, this 1993 clip (via @DeadlineWH) https://t.co/5HAMxhxRQJ

— Andrew Lawrence (@Andrew Lawrence) 1563310675.0
Cut off from the beginning of the clip is Democratic Representative George Miller asking Trump about a comment then competing casino owner Donald Trump made:
"Is this you discussing Indian blood:"
"'We are going to judge people by whether they have Indian blood whether they are qualified to run a gaming casino or not.'?"
Trump responded:
"That probably is me, absolutely. Because I'll tell you what, if you look—if you look at some of the reservations that you have approved—you, sir, in your great wisdom, have approved—I will tell you right now, they don't look like Indians to me, and they don't look like Indians—"
"Now maybe we say politically correct or not politically correct."
"They don't look like Indians to me, and they don't look like Indians to Indians, and a lot of people are laughing at it, and you're telling how tough it is, how rough it is, to get approved."
"Well, you go up to Connecticut, and you look. Now, they don't look like Indians to me, sir."
NEWSFLASH: with a country the size of the United States and over 560 diverse geographically separated recognized tribes, we do not all look alike! With a Plains tribe from my Father and an Eastern Woodlands tribe from my Mother in my family, I barely look like my own Sisters.
Representative Miller, clearly admonishing Trump for the inherent racism in his remarks, replied:
"Thank God that's not the test of whether or not people have rights in this country, whether or not they pass your look test."
"You know where we've heard this discussion before?"
"'They don't look Jewish to me. They don't look Indian to me. They don't look Italian to me'."
"That was the test for whether people could go into business or not, whether they could get a bank loan."
"'You're too black, you're not black enough'."
In 2016, Indian Country Today ran an article titled "Donald Trump and Federal Indian Policy: 'They Don't Look Like Indians to Me'." In it, transcripts from an appearance by Trump on the shock jock Don Imus Show during the same time (June 18, 1993) as his fight against Native owned casinos was included.
Watch the full Trump testimony here, where he also claimed to have a list of organized crime at Native casinos, but could not produce any list.
*** 🇺🇸 DONALD TRUMP'S VIEWS ON INDIAN MOB LIKE CASINOSyoutu.be
It demonstrated Trump's longstanding practice of relaying stories from "many people" or how some never identified "someone" told him something that conveniently pushed his own narrative. On Imus, Trump claimed to have visited Native reservations.

Oddly, no photos have surfaced of Trump's many visits to Native reservations during the early 1990s.
Trump told Imus:
"Well, I think I might have more Indian blood than a lot of the so-called Indians that are trying to open up the reservations [casinos]."
"I looked at one of them—well, I won't go into the whole story, but I can tell you, I said to him, 'I think I have more Indian blood in me than you have in you'."
"And he laughed at me and he sort of acknowledged that I was right. But it's a joke. It's really a joke."
100% totally believable story!
Right‽‽
Maybe?
...no?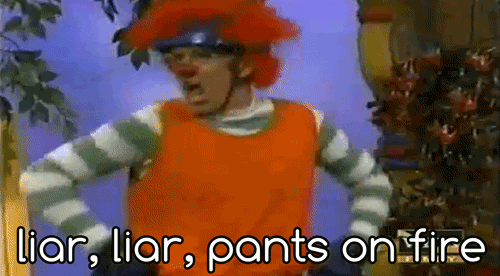 Giphy
The 1993 clip was also featured in a Huffington Post "greatest hits of Trump Native American racist remarks" video in November of 2017 along with his many references to Pocahontas—including at a ceremony to honor Navajo Codetalkers standing in front of a picture of President Andrew "Indian Killer" Jackson.

You can watch the compilation here:
The Atlantic did a comprehensive look all the way back to the 1970s when Trump and his father were cited for housing discrimination. They also included Trump's congressional testimony as well as the attacks he launched to try to discredit Native casinos to try to bolster his own sagging profits.
9) When he was running his casino business, Trump deployed a series of newspaper and broadcast branding a potential… https://t.co/M5MAZDeUXT

— Tim O'Brien (@Tim O'Brien) 1563289472.0
Despite his public record of repeated racist acts or comments, Trump told The Washington Post in 2016 that he was "the least racist person that you've ever encountered."

If you have to keep saying "I'm not a racist..." about things you've said and done, it's possible...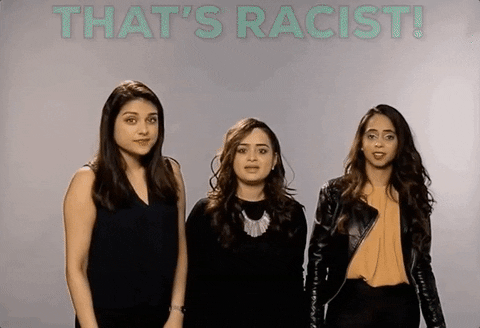 Giphy
The event that many think set off Trump's latest Twitter storm was a panel discussion over the weekend.

On Saturday a panel billed as "Making Herstory: The women who are shifting the balance of power in Washington" at Netroots Nation in Philadelphia, Pennsylvania convened with five female members of Congress.
By Sunday, President Donald Trump posted his first racist statement on Twitter about the "countries" the women came from and urging them to "go back" to their own countries to fix them then come back to the USA to show us how it's done before criticizing the state of the US under Trump.
All of the women are US citizens; four of them were born in the United States.
Much attention has been given to four of the five women people assume Trump referred to: Democratic Representatives Alexandria Ocasio-Cortez of New York, Rashida Tlaib of Michigan, Ilhan Omar of Minnesota and Ayanna Presley of Massachusetts. All five panel members became historic firsts in the 2018 midterm elections: the youngest woman elected to Congress, the first Muslim women elected to Congress, the first African-American woman to represent Massachusetts and...

Lost in the mass media coverage was the fifth panel member: New Mexico Democratic Representative Deb Haaland, Laguna Pueblo, one of two to become the first Native American women elected to Congress in the 230 years since the first Congress in 1789.

But surely President Trump, whose mother was born in Scotland and whose paternal grandparents were born in Germany would not be telling a Native American to go back... where exactly?
Are the Trumps leaving Manhattan so Natives can reclaim the land under Trump Tower?
Do we get to pick where we go back to?
Can I have a condo on a beach in California or Florida?
Indian Country Today reported on Haaland's response to the President's racist attacks against her fellow Netroots Nation panel members.
Trump is doing everything he can to divide our country. I refuse to let him. I stand with my sisters. #TrumpMustGo https://t.co/M2uUuDvCmd

— Deb Haaland (@Deb Haaland) 1563408420.0
The politics of division is how this Administration works. We are here to serve our country. Our families are here.… https://t.co/uMJn46afcC

— Rep. Deb Haaland (@Rep. Deb Haaland) 1563161859.0
Her fellow Native woman in Congress, Kansas Democratic Representative Sharice Davids, Ho-Chunk, also responded to Trump's racist tweets.
The President has a long history of using rhetoric that dehumanizes and disrespects people, esp. women, people of c… https://t.co/DdltEHL5NA

— Rep. Sharice Davids (@Rep. Sharice Davids) 1563317941.0
Is President Trump racist?
That will always remain a matter of opinion because no one but Trump knows the reasons why he does what he does.
Has President Trump said and done racist things?
That's an easier question to answer. Discrimination charges are handled as civil cases where beyond a reasonable doubt is not the benchmark. Discrimination law involves prime facie or "if it walks like a duck and talks like a duck, unless you can definitively prove it is not a duck, it's a duck.
And Donald?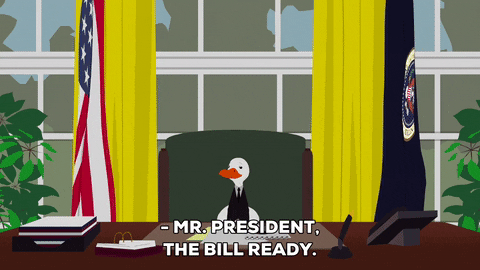 Giphy
To learn more about the Native American experience, Dee Brown's award winning book, Bury My Heart at Wounded Knee: An Indian History of the American West, is available here.

Also available, here, is the HBO film based on Brown's book, also titled Bury My Heart at Wounded Knee, starring Adam Beach, Aidan Quinn, Anna Paquin and August Schellenberg.
Vine DeLoria Jr.'s book, Custer Died for Your Sins: An Indian Manifesto, available here, originally published in 1969 includes an updated preface by the author.
"In his new preface to this paperback edition, the author observes, 'The Indian world has changed so substantially since the first publication of this book that some things contained in it seem new again'."
"Indeed, it seems that each generation of whites and Indians will have to read and reread Vine Deloria's Manifesto for some time to come, before we absorb his special, ironic Indian point of view and what he tells us, with a great deal of humor, about U.S. race relations, federal bureaucracies, Christian churches, and social scientists. This book continues to be required reading for all Americans, whatever their special interest."