People across the United Kingdom were dismayed, though unsurprised, that Conservative Party members elected former Foreign Secretary and avowed nationalist Boris Johnson to Prime Minister by a wide margin.
Johnson promises that the United Kingdom will finally leave the European Union by the end of October, three years after UK citizens voted "leave" in the infamous Brexit referendum of 2016.
---
With his consistent nationalist rhetoric and stoking of Islamophobic fears (not to mention his hairstyle), many have compared him to American President Donald Trump—including Trump himself.
But a recent Instagram post from Game of Thronesstar Lena Headey is shining a whole new light on the resemblance.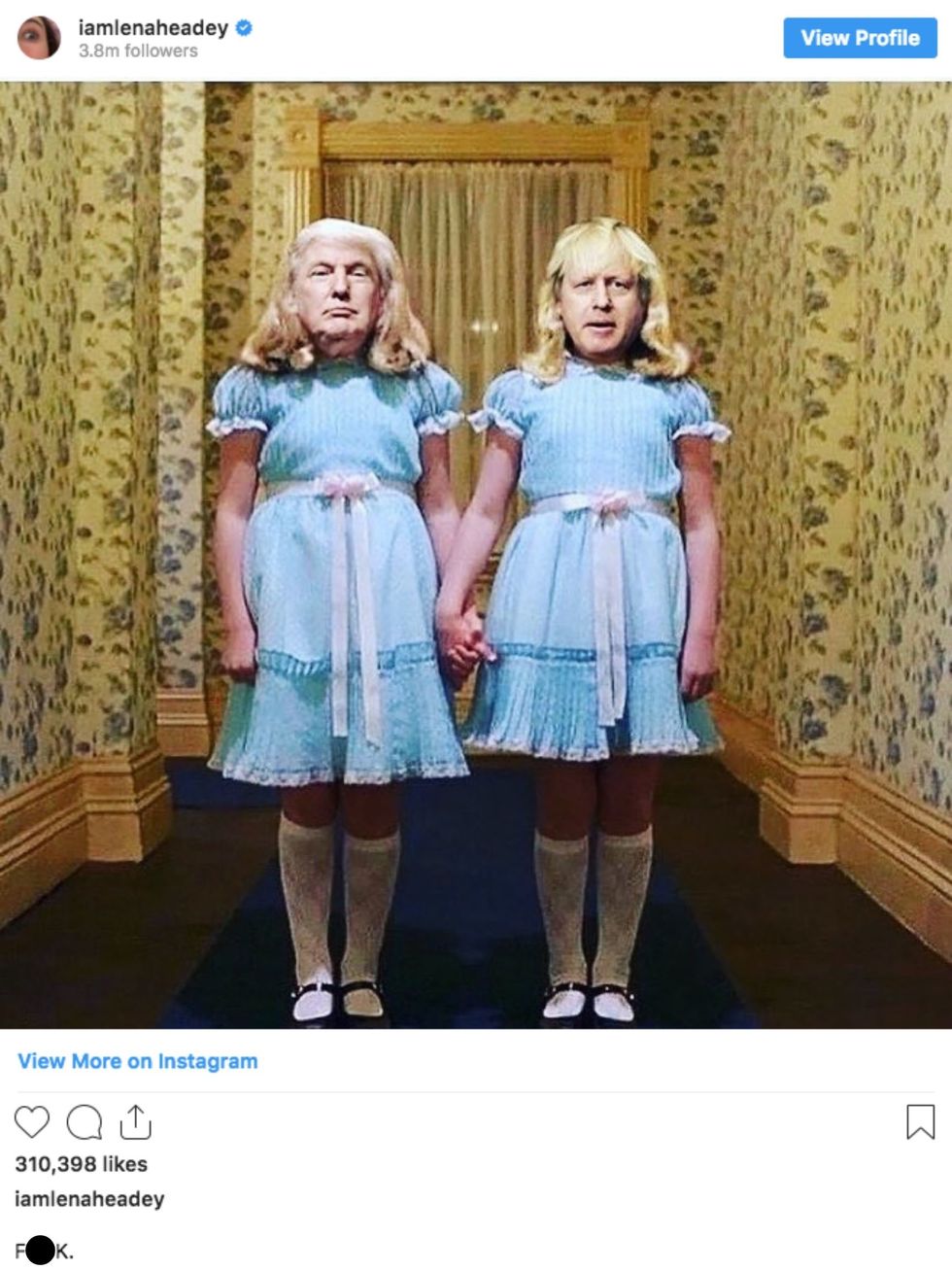 @iamlenaheadey/Instagram
Headey used one of the creepiest moments in Stanley Kubrick's seminal horror film The Shining to mock the two nationalists and a special relationship that's about to get a whole lot scarier.
Without revealing too much, the scene Headey refers to feature's a little boy riding his tricycle through a labyrinth of creepy hotel halls before encountering the ghosts of twin girls.
Here's the original scene for reference (there are some graphic images).
The Shining (1980) - Come Play With Us Scene (2/7) | Movieclipswww.youtube.com
Many found Headey's comparison of the chilling scene and the terrifying reality of Johnson's election perfectly apt.

c4llm3meg/Instagram

kiberstriker/Instagram

baciano/Instagram

divajulia.brink/Instagram

jesstandi/Instagram

deangoins88/Instagram

pauledwardoc/Instagram

lunenborg/Instagram
Terrifying.
Although, some wonder, who did it best?
Stanley Kubrick's interpretation of Stephen King's horror novel, The Shining, is available here.

No dictators were harmed in the filming of the movie.