A woman on TikTok shared a screenshot of a man's Hinge profile which had a photo of him and her deceased father skydiving together.
Her video has gone viral.
The TikToker who goes by Zoe (@zoeee369) received 1.7 million views and 237.2 thousand likes. She decided to answer a few questions about the 12 second clip that left a lot of people wondering.
The video had text overlaid that said:
"The time a guy on Hinge had a pic posted with my dead father."
Zoe captioned the video with:
"By far ummm the trippiest moment of my life to say the LEAST."
Many people thought this might be a sign from Zoe's dad from the beyond.

@morganperes/TikTok

@makemesmileale/TikTok

@lilc0n/TikTok

@yourfriendlymarxist/TikTok
Zoe was asked what happened when she found the photo of her dad on the man's Hinge profile, but unfortunately it didn't go anywhere as many speculated.
"We didn't match. I did message him."
"I was like, 'Oh my god, it's my dad', because I wanted to know if he had a good story or anything."
"He never messaged me back."
"And that was a year ago so we didn't match, we didn't get married, my dad didn't 'send him'."
She also said she wouldn't date anyone who had an interest in skydiving because she didn't want to go through that loss ever again.
Even though she wasn't able to connect with this person, TikTok connected her to a few people who knew her dad.

@abigailcope96/TikTok; @zoeee369/TikTok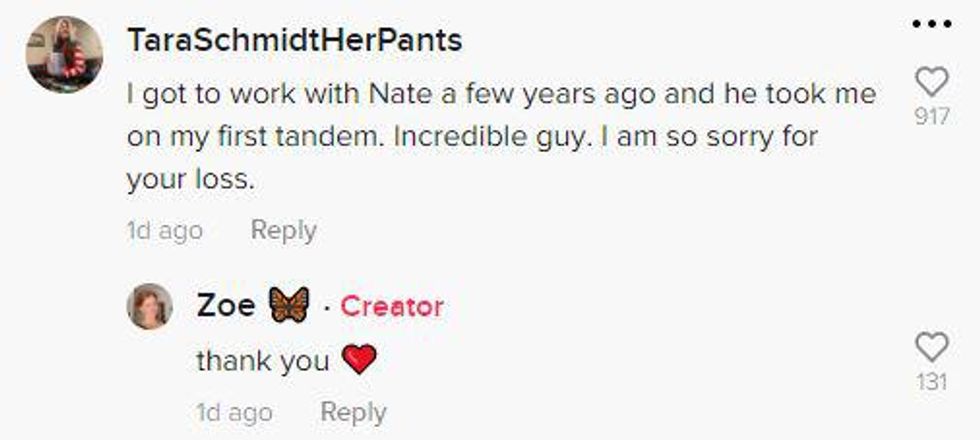 @taraschmidtherpants/TikTok
Zoe explained further about her dad's death.
"There are definitely always risks involved in something like skydiving."
"He had been doing it his whole life so the more and more you do something you get put into smaller pools so statistically he was more likely to get hurt."
"He wasn't even the only one out of his friend group who had died from skydiving."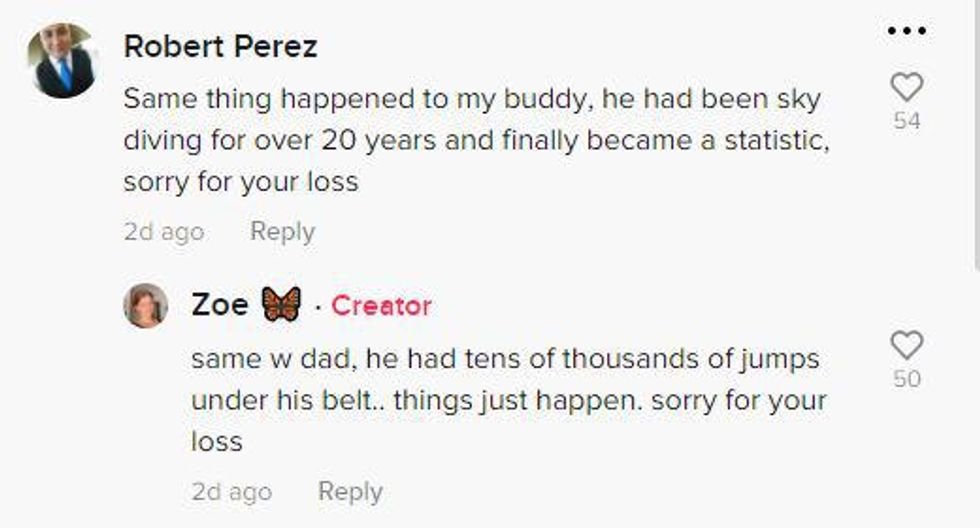 @theofficialrobertp/TikTok; @zoeee369/TikTok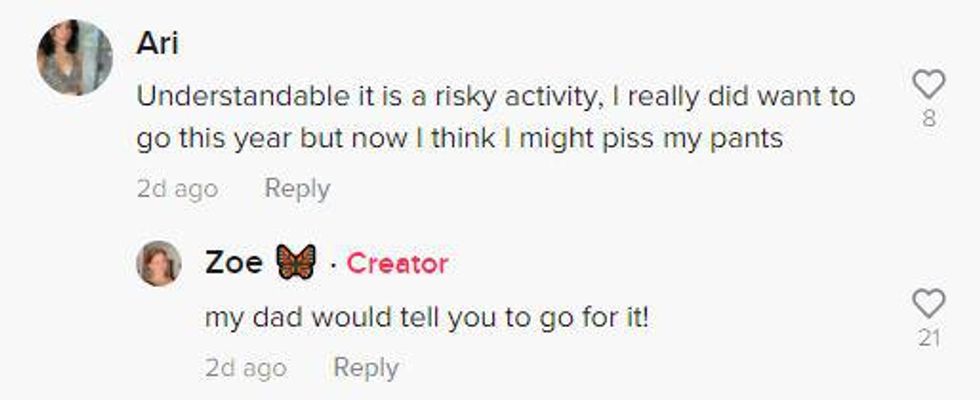 @arisoliss/TikTok; @zoeee369/TikTok

@jensenior/TikTok
Zoe also explained what was involved in the accident.
He had a parachute malfunction and skipped three times upon impact. All of the bones in his body were broken.
Her dad spent several weeks in the hospital and due to COVID restrictions at the time her family couldn't visit him.
Zoe said she isn't a professional so she wont speak about the risks of skydiving.
She also put together a compilation of old photos and videos of her and her dad.
Zoe thanked everyone for their kind words and condolences.