Tourists on a celebrity home and lifestyle tour bus got more than they had ever hoped for when they witnessed an unplanned celebrity sighting.
Dwayne "The Rock" Johnson happened to be cruising around the neighborhood when he spotted the bus packed with unsuspecting tourists.

"Alright this is kinda funny, but there's a tour bus here that always tours through my neighborhood," The Jungle Cruise actor said to his Instagram followers.
When he pulled up alongside the bus, he leaned out the window and asked the passengers:
"Hey, you guys know where I can find The Rock?"
The people on the bus immediately lost it and cheered at the surprising meet and greet on wheels.
Johnson posted the video of his interaction on Instagram and wrote in the caption:

"Love pullin' up in my pick up truck beside all these tour buses that tour my neighborhood and surprising the heck outta people!!!"
"One of the cool parts of fame & my job ~ makin' a few folks happy."
In the video, Johnson asked them while flashing his pearly whites, "How're you guys doin'?"
The excited folks screamed, hollered, and took snapshots. "I'll wait, don't worry," Johnson assured them so they could take advantage of the photo op.
Eventually, he wrapped things up so he wouldn't block traffic. He wished his new friends well as they continued on with their excursion that was just given a major upgrade.

"You guys have a good trip. Alright, thank you. I love you too," he said before making a right turn away from the tour bus.
Finishing off the video, he said of the interaction:
"That was fun. A good way to start off my Saturday."
Fans commented on what a class act Johnson was to take the time to make people happy.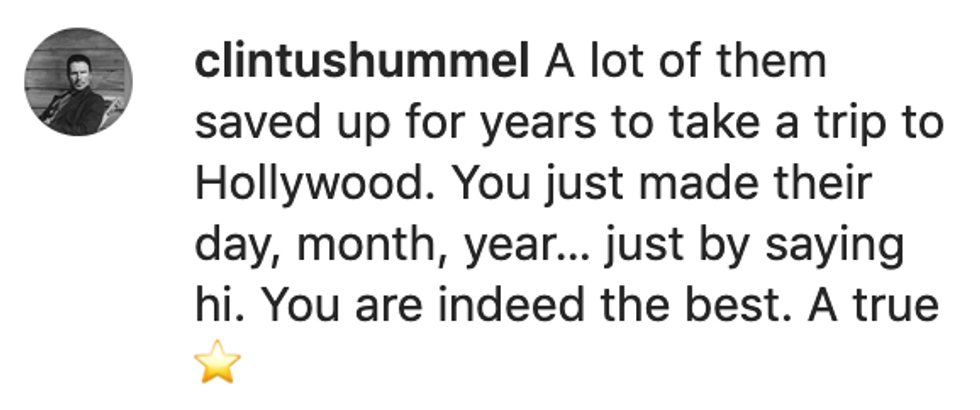 @therock/Instagram

@therock/Instagram

@therock/Instagram

@therock/Instagram

@therock/Instagram

@therock/Instagram

@therock/Instagram

@therock/Instagram

@therock/Instagram
And this is why the charismatic celebrity is nicknamed, "The People's Champion."