Roger Stone has drifted in and out of the news cycle for the last few years. His work as an advisor to the Trump Campaign put him on everyone's radar.
He has again grabbed headlines, but for very different, very bizarre reasons.
Stone just made a selfie video loudly declaring his support for the #FreeBritney movement. Yes, your fears are correct: at one point the 67-year-old yells, "It's Britney, B***h."
The video is a far cry from the Trump-advising, perjury-committing Roger Stone that people have gotten to know.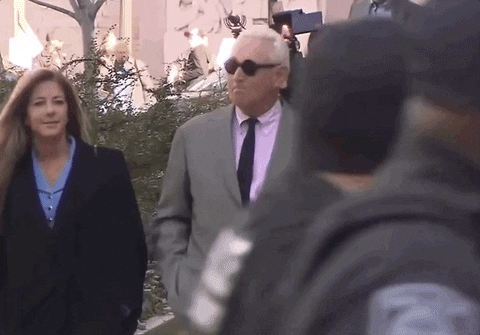 Giphy
Stone worked as a close adviser to the Trump Campaign, and later was called in for questioning—and lied—when Congress was investigating whether the campaign worked with the Russian government to influence the 2016 U.S. Presidential Election.

In November 2019, Stone was convicted of perjury, obstructing congress, and witness tampering, and sentenced to 40 months in prison.
Home awaiting the ruling on his appeal for a retrial, Stone is evidently filling at least some of the hours making videos on Cameo, a service that allows users to pay celebrities to say custom messages.
One person might, say, pay a celebrity to talk about Britney Spears' legal situation. We'll let you just feast your eyes.
For some background, the "Free Britney" movement is all about the fact that Britney Spears has had no legal control over her estate, $59 million fortune, or personal assets ever since her very public breakdown in 2008.
At that time, a court ruled in favor of conservatorship, a ruling which states that an adult is incapable of making their own decisions, and so needs a legal guardian to sign off on them. That guardian, in Britney's case, has been her father.
The Twitter response to Stone's video was, on the whole, pure confusion.
Some took it as just another addition to 2020's relentless tidal wave.
And some managed to at least enjoy speculating about what brought Stone to a service like Cameo at all.
It is unclear when Stone will receive a ruling on his appeal for a new trial. But one thing is certain, his time at home is going to be a bumpy ride for all of us.