TikToker Jackson Carter works at a queer resource center and says he gets "a lot of crazy calls."
He gave viewers a glimpse into his world by playing back a voicemail he said was his favorite.

A frustrated woman apparently sought help by calling the center where Carter works and left a voice message, saying:
"I'm having problems with a… gay person that I've known for a while, and he is bothering me."
"I would like to report him to you. I know that you could help me so that he will not bother me any longer."
Here is Carter's response to the distress call.
"She called us like we were gay animal control to come remove the bothersome homosexual from her neighborhood," remarked Carter as he mimed a chef's kiss, indicating the brilliance in the woman's audacity.
He added, "Did you catch the part where she almost dropped a slur? She was like, 'I'm having problems with a [f..] a gay person.'"

In the clip's caption, Jackson joked:
"In her defense, I'm usually having problems with a gay person too."
The video went viral with over 767,000 views in less than 24 hours, according to the Daily Dot.
TikTokers roasted the anonymous caller.

@jacksonwhitt/TikTok

@jacksonwhitt/TikTok

@jacksonwhitt/TikTok

@jacksonwhitt/TikTok
In response to a commenter who requested Carter spill the tea about the situation, he posted a follow-up video explaining the woman called back a second time before he even had a chance to call her back.
Before enlightening viewers, he warned that it "sounds made up" and that it was up to them to decide if they should believe him since he was unable to record the playback of the woman's message.
"She tells me that this gay guy has lived across the street from her for years, he's 'evil,' he's 'wicked,' and he has been harassing her but she can't prove it," claimed Carter.
"He has energy machines in his house that shoot electrical pulses through his window, wait for it, into her window, wait for it, to harm her."
The woman allegedly said this person got his neighbor one of these machines too and that she felt "two of them hit me straight in the chest just the other day."
When Carter told her this was not something the Pride center handles and asked her if she contacted authorities, the woman said, "Ha, that's a laugh! They'll never do anything."
The woman apparently told Carter she spoke with "Mormon Leadership" about her issue, and when they couldn't assist her, she called "the gay guy's pastor, Pastor Jimi" who knows "all about these energy machines."
Carter was encouraged by the woman to contact Pastor Jimi, and because he was "invested," Carter sent him an email.

"You know, obviously, I have to tell him about the lasers," said Carter.
He shared of an image of the alleged pastor and said, "Pastor Jimi works at one of those churches where they wear flip-flops and everyone's carrying an acoustic guitar and some of them are wearing crystals for deodorant."

@jacksonwhitt/TikTok
In the email, Carter asked Pastor Jimi if he was contacted by the woman and if he thinks they should be worried about her.
Carter said he wanted to get his take on the situation before contacting authorities for a wellness check on the woman.

@jacksonwhitt/TikTok
It turns out Carter never got a response back from Pastor Jimi.
"Pastor Jimi, that is not very 'man of the cloth' of you," he joked, adding, "and when I say cloth, I mean a Tommy Bahama button-down."
Some TikTokers appreciated Carter and lauded him for his concern about the woman's mental health.

@jacksonwhitt/TikTok
@jacksonwhitt/TikTok
One user purporting to be a therapist shed some light on the common delusion.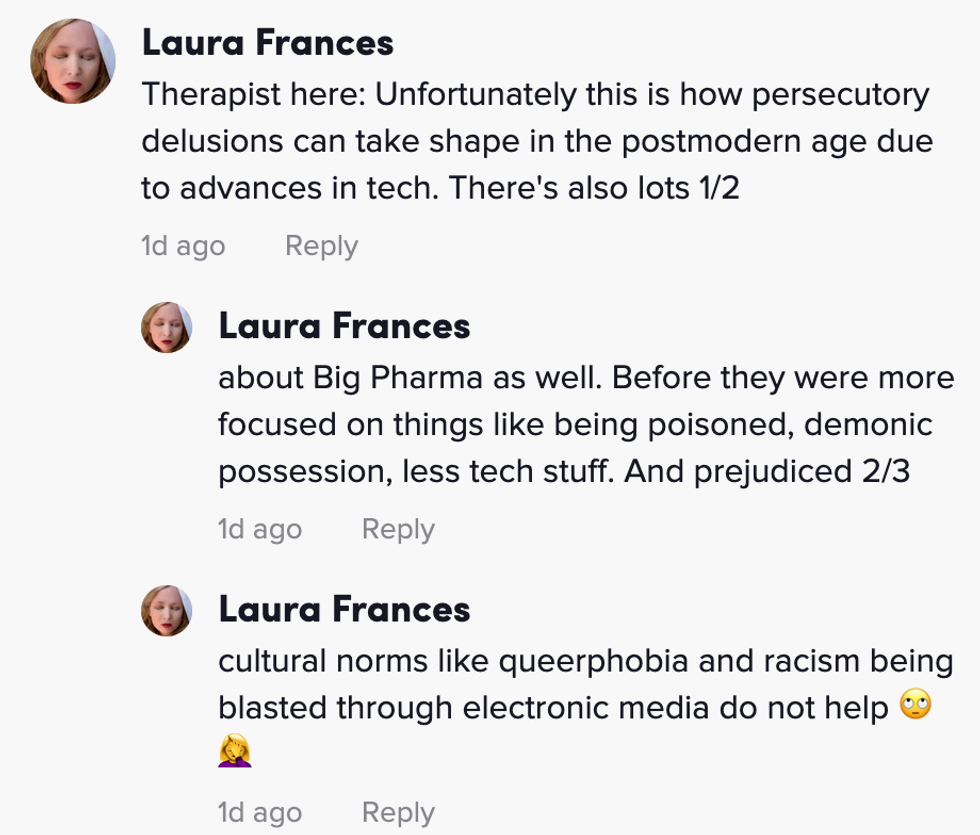 @jacksonwhitt/TikTok

@jacksonwhitt/TikTok
With nothing about the woman's mental situation being confirmed, TikTokers nevertheless were amused by Carter's story.

@jacksonwhitt/TikTok

@jacksonwhitt/TikTok

@jacksonwhitt/TikTok
The Daily Dot reached out to Carter for further comment.