Go get the tissues, because this story will make you tear up. An NHS physiotherapist has relived the "best 15 minutes" of her life – when she was told that her premature baby was strong enough to leave hospital and her toddler son had beaten a rare form of stage four childhood cancer.
---
When Amy Scullard and her partner Kevin O'Farrell discovered they were expecting their second child in July 2018, they could not wait to give their little boy Emmett a brother or sister.
But their joy was short-lived, as just days after discovering a new baby was on the way, Scullard found a visible lump on her son's groin at bath time.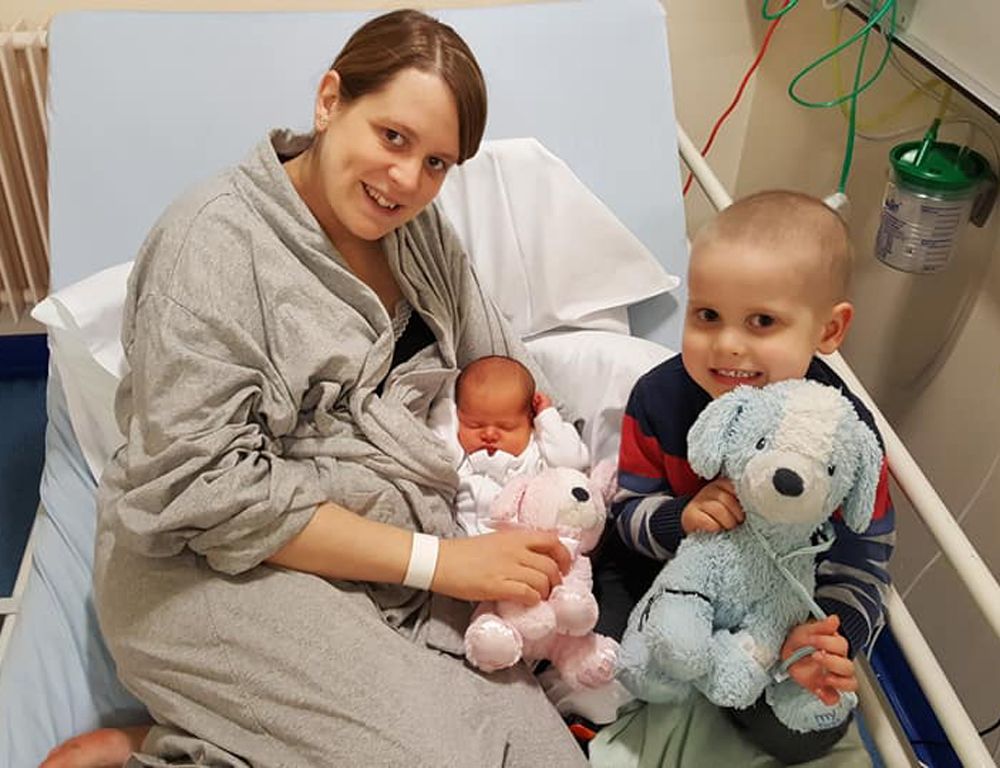 Amy with Ida and Emmett, and their matching dog teddies (PA Real Life/Collect)
It was the start of a tempestuous journey for the family, as doctors broke the news on August that Emmett, then just two-and-a-half, had germ cell cancer. Which is a rare form of the disease which, according to Children With Cancer UK, affects just 45 UK children each year.
"Emotionally, it was a complete rollercoaster," Scullard said.
"At times I would be carrying Emmett down to the ward for his treatment, also holding a sick bowl for myself, as my morning sickness was so bad. But my growing bump was like a beacon of hope, representing a light at the end of the tunnel – a reminder that good things were coming."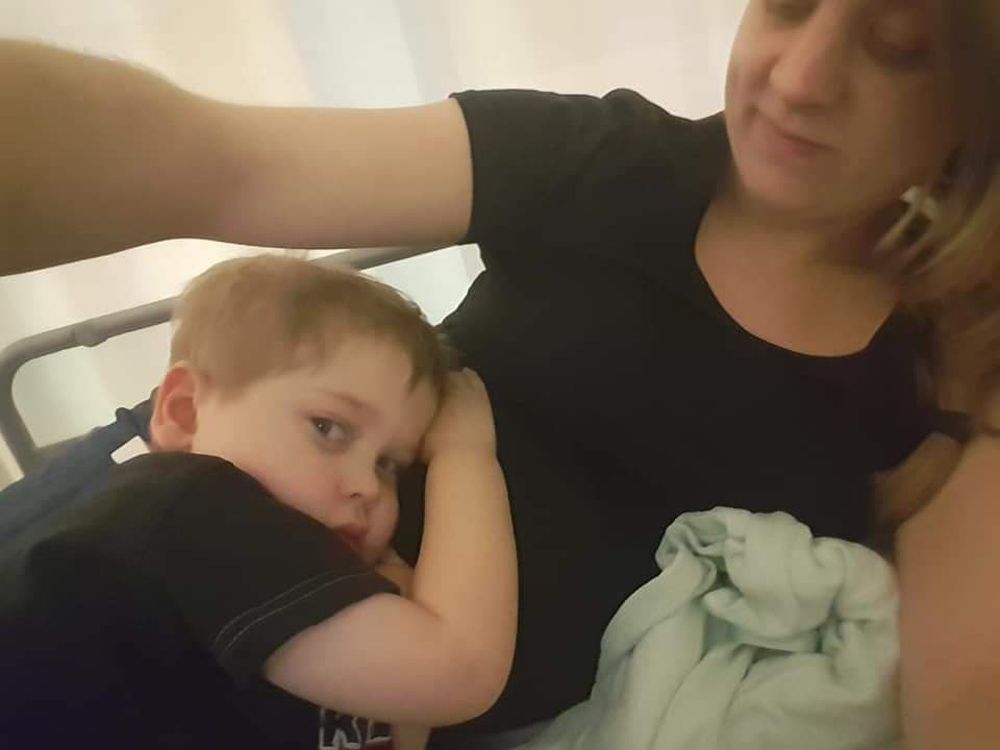 Emmett resting his head on Amy's baby bump (PA Real Life/Collect)
More dramatic highs and lows followed in February 2019, when Emmett finished the chemotherapy that followed his surgery. His temperature spiked when his Hickmann line was removed, landing him back in hospital.
As he was admitted, Scullard's waters broke four weeks early and Ida was born on March 3rd with a lung infection, meaning she needed to be resuscitated before being rushed to neonatal intensive care.
"She wasn't crying when she first came out. The silence in the room was horrible. Doctors began to work on her and, after 10 minutes, brought her round," she said.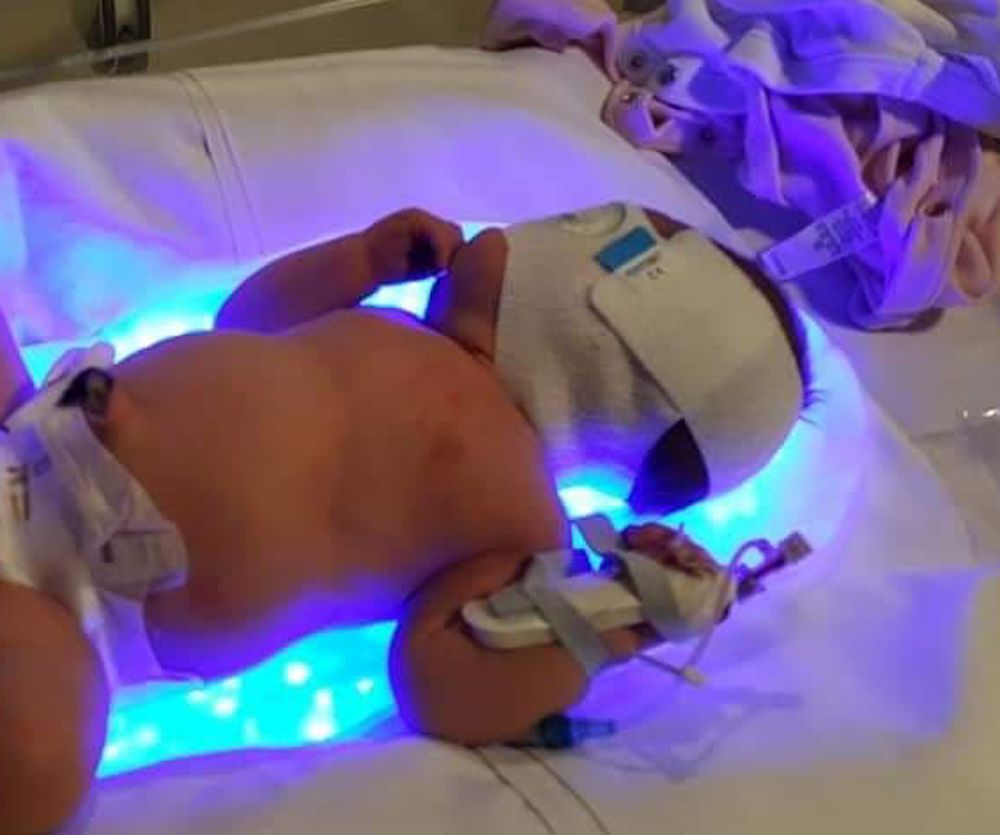 Baby Ida in neonatal intensive care (PA Real Life/Collect)
After eight terrifying days, Scullard could barely contain her excitement when doctors told her that her premature baby girl was strong enough to go home.
And, just 15 minutes later, Emmett's oncologist called confirming that the he was cancer free.
"I burst into tears. That was the happiest 15 minutes of my life," she said. "I had so desperately wanted to know Emmett had beaten cancer before Ida was born, so that we could close one chapter and start another as a family of four."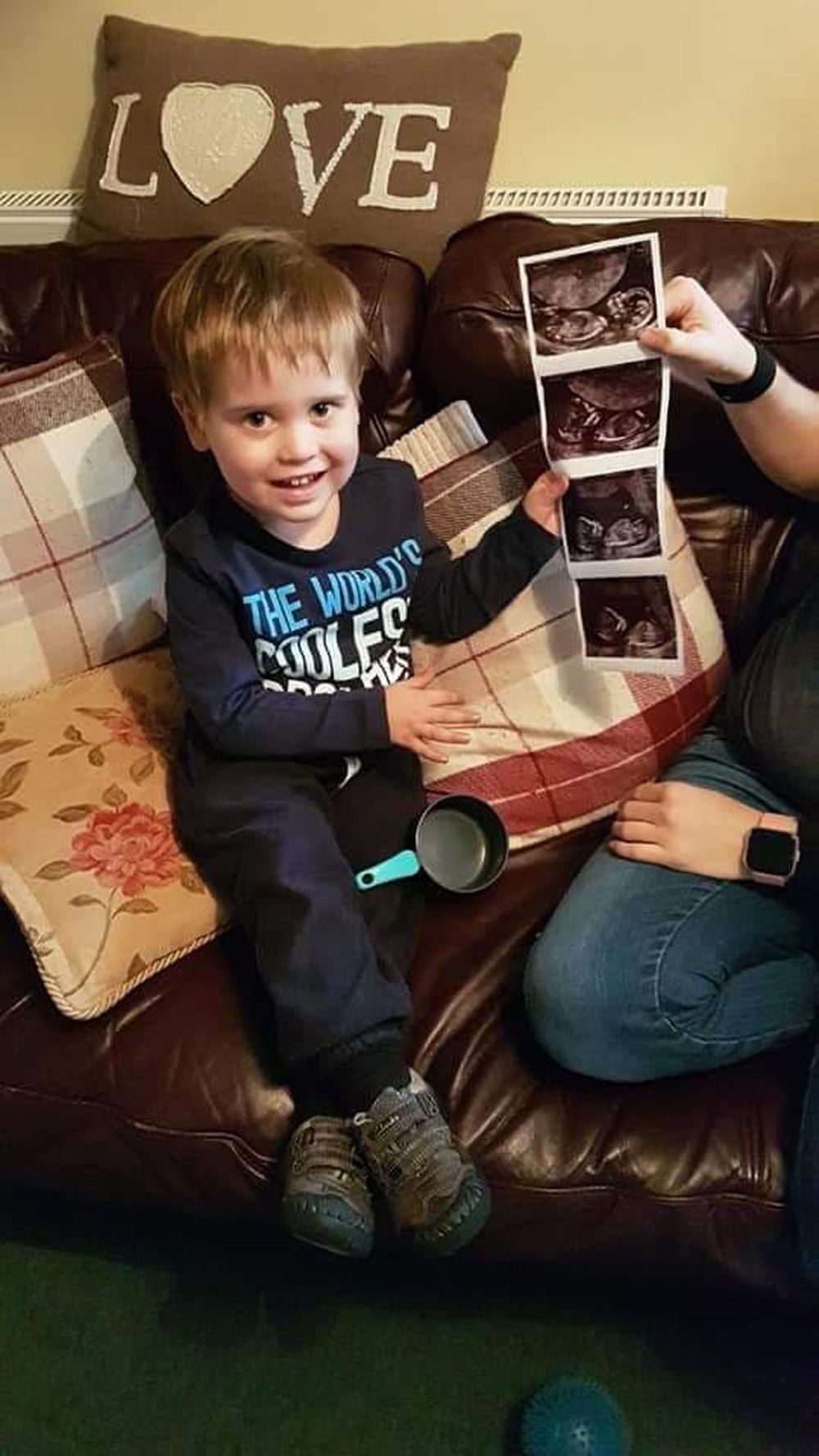 Emmett with Amy's scan photo (PA Real Life/Collect)
The difficult time in the family's life began before Scullard discovered she was pregnant. She had been signed off work, suffering with anxiety.
She was unable to sleep, and in the middle of the night one day in July 2018, she was convinced that she was pregnant.
"I suddenly said to myself, 'You need to take a pregnancy test,'" she recalled. "I hadn't had any of the usual symptoms – no sickness and I hadn't missed a period. But, when I was pregnant with Emmett, I'd had really bad insomnia."
"I had a test leftover from then, so I did it there and then," she added.
"When I saw it was positive, I was absolutely delighted and woke Kevin. He was half-asleep and very shocked, but we were both so excited."
"By total chance, I was seeing my GP anyway to check in about my anxiety, so during the appointment, I mentioned both my pregnancy, and Emmett's lump. It was a bit of a whirlwind of news – both good and bad."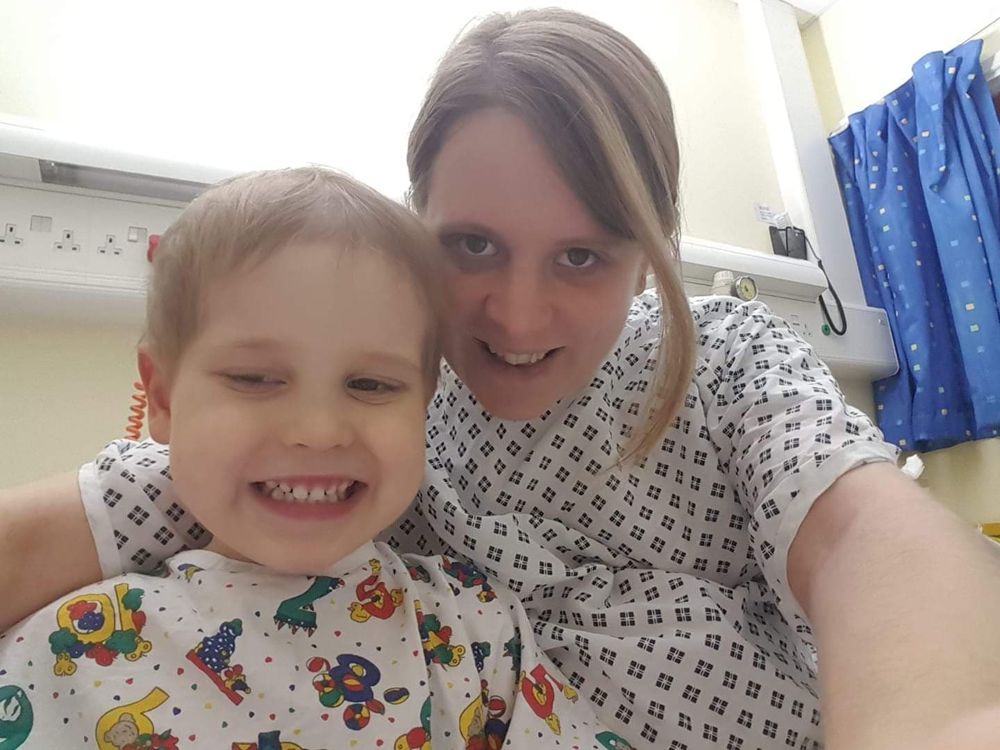 Amy and Emmett (PA Real Life/Collect)
"The doctor was fantastic and so thorough. He told me that, for my own peace of mind, Emmett would be referred right away," she explained.
Two weeks later, during a scan at Aylesbury's Stoke Mandeville Hospital, Scullard said she could tell by the sonographer's face that the news would not be good.
Emmett was referred to the pediatrics unit where further tests were performed, and sent to Oxford's more specialized John Radcliffe Hospital for analysis.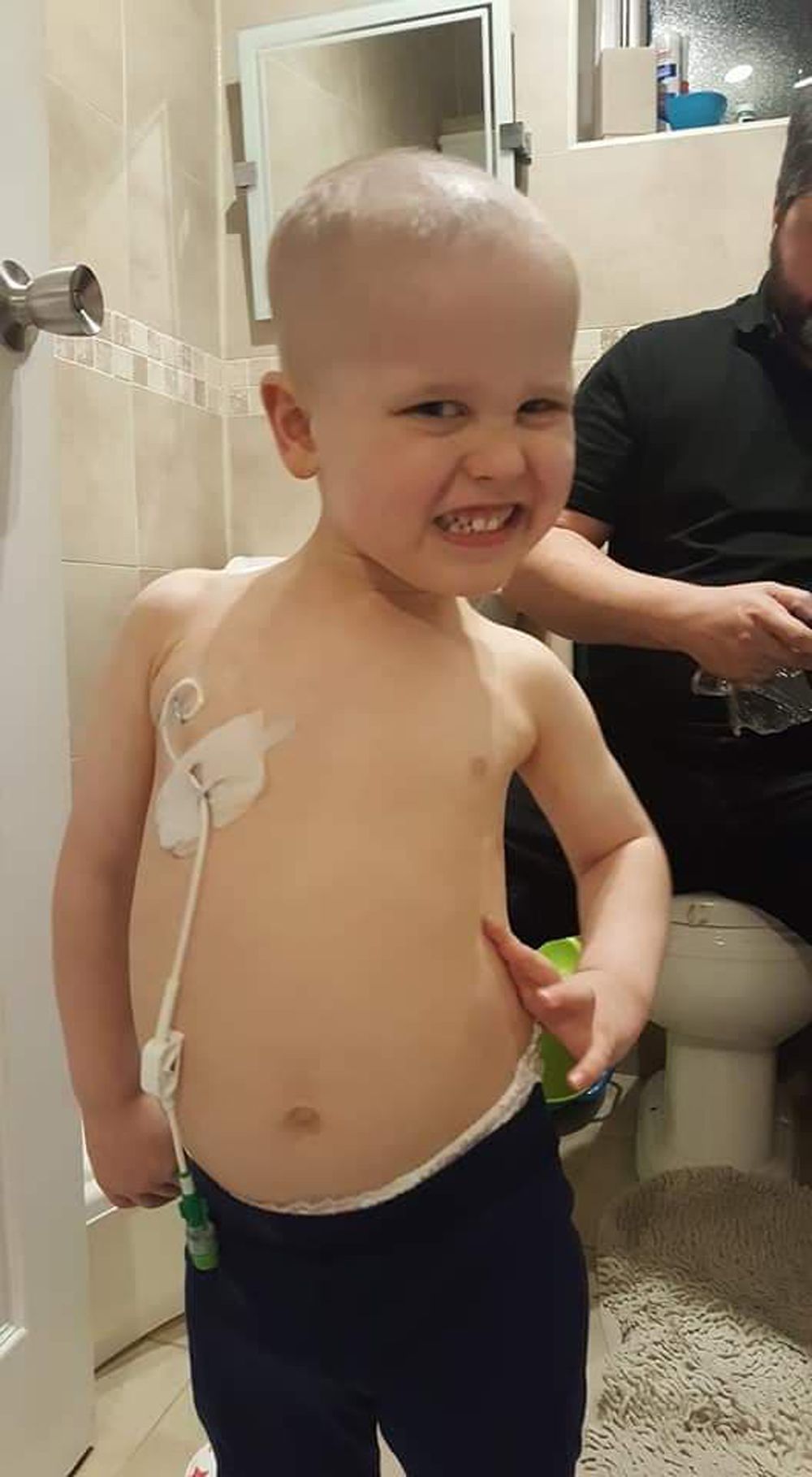 Emmett (PA Real Life/Collect)
The shocking results showed sky-high levels of AFP, a type of protein used as a tumor marker.
According to the NHS, the levels fluctuate during the first few years of life. Scullard was told readings for a child Emmett's age would usually be around seven. His, however, were 900.
On 14 August, doctors broke the shattering news to his parents that Emmett had germ cell cancer.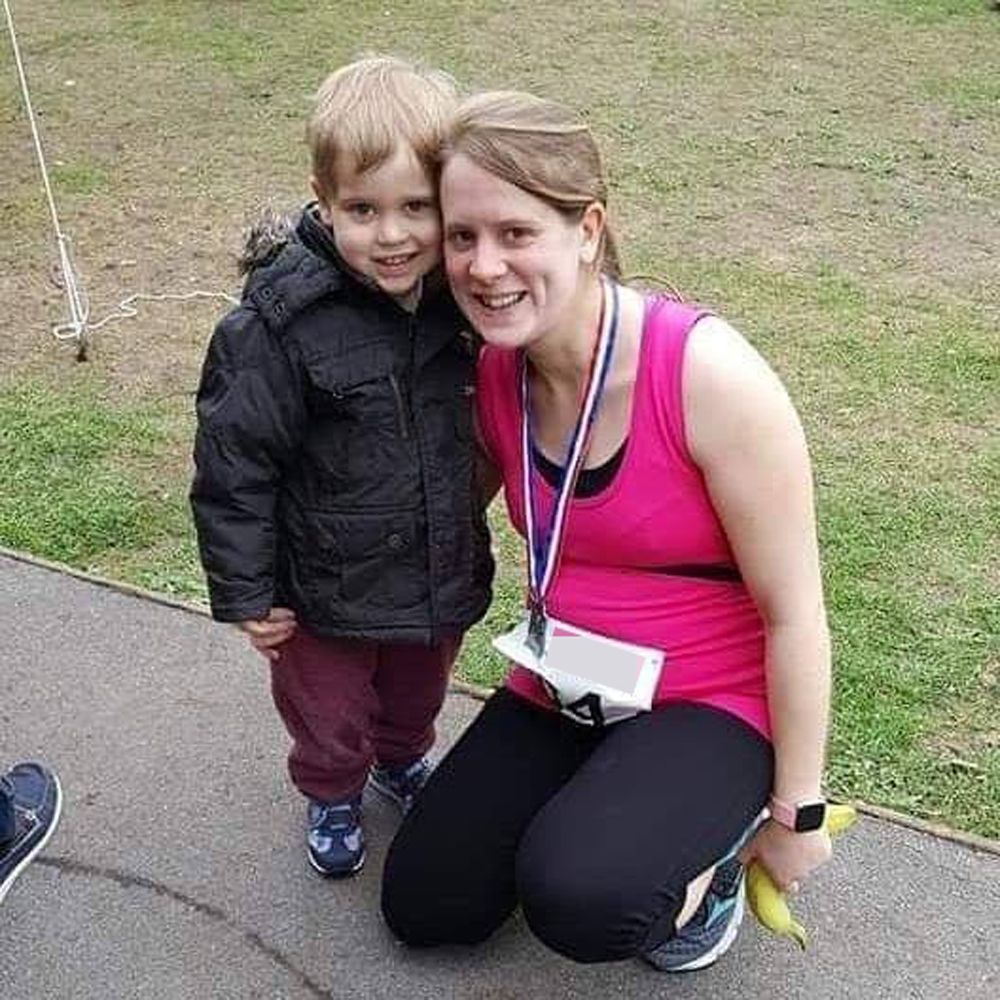 Amy with Emmett, when was 20 weeks pregnant and fundraising for cancer charities (PA Real Life/Collect)
"It was such a blow, hearing those words," she said.
At first, doctors seemed optimistic that the disease was contained until a CT scan revealed some worrying spots on his lungs.
"He has asthma, so it was quite difficult to tell exactly what they were – scar tissue, or cancer," she added.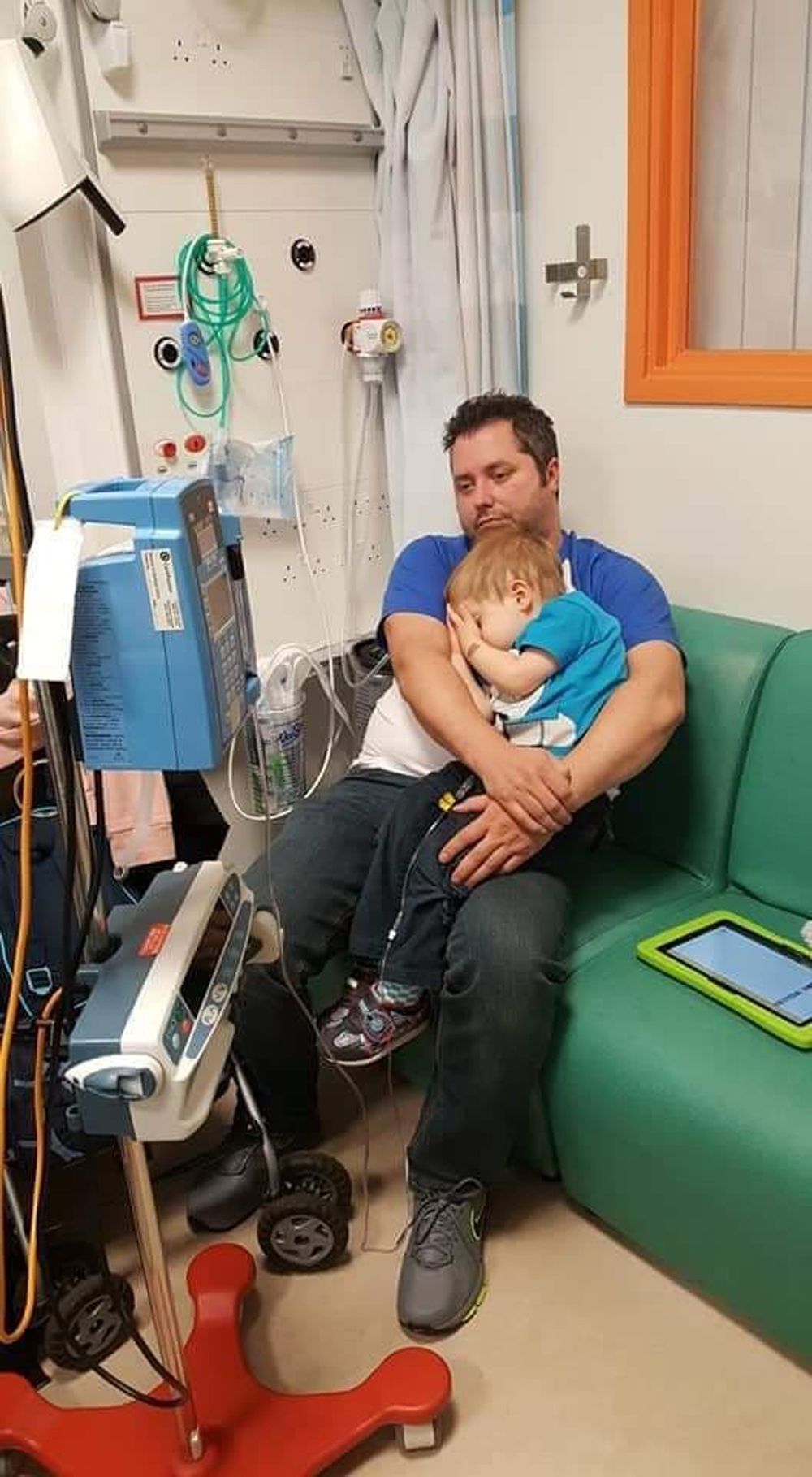 Kevin and Emmett (PA Real Life/Collect)
Surgery followed. But follow-up tests in October 2018 showed that the cancer had spread to his lungs and lymph nodes, meaning he was classed as stage four.
"It was everywhere," Scullard said.
"Emotionally, that was horrific to handle. Not only was it such an awful blow, but I also had these pregnancy hormones all swirling around."
"Strangely, despite the cancer, Emmett looked so well. In a way, we are lucky he had a lump or else we may never have known."
Just 48 hours later, Emmett began chemotherapy, which left him weak and exhausted.
"That was when he really got ill. He would be sick up to 15 times an hour on a bad day, so we would always end up with him being admitted to hospital," she continued.
"He was having the chemotherapy at John Radcliffe in Oxford, which is about a 50 minute drive away."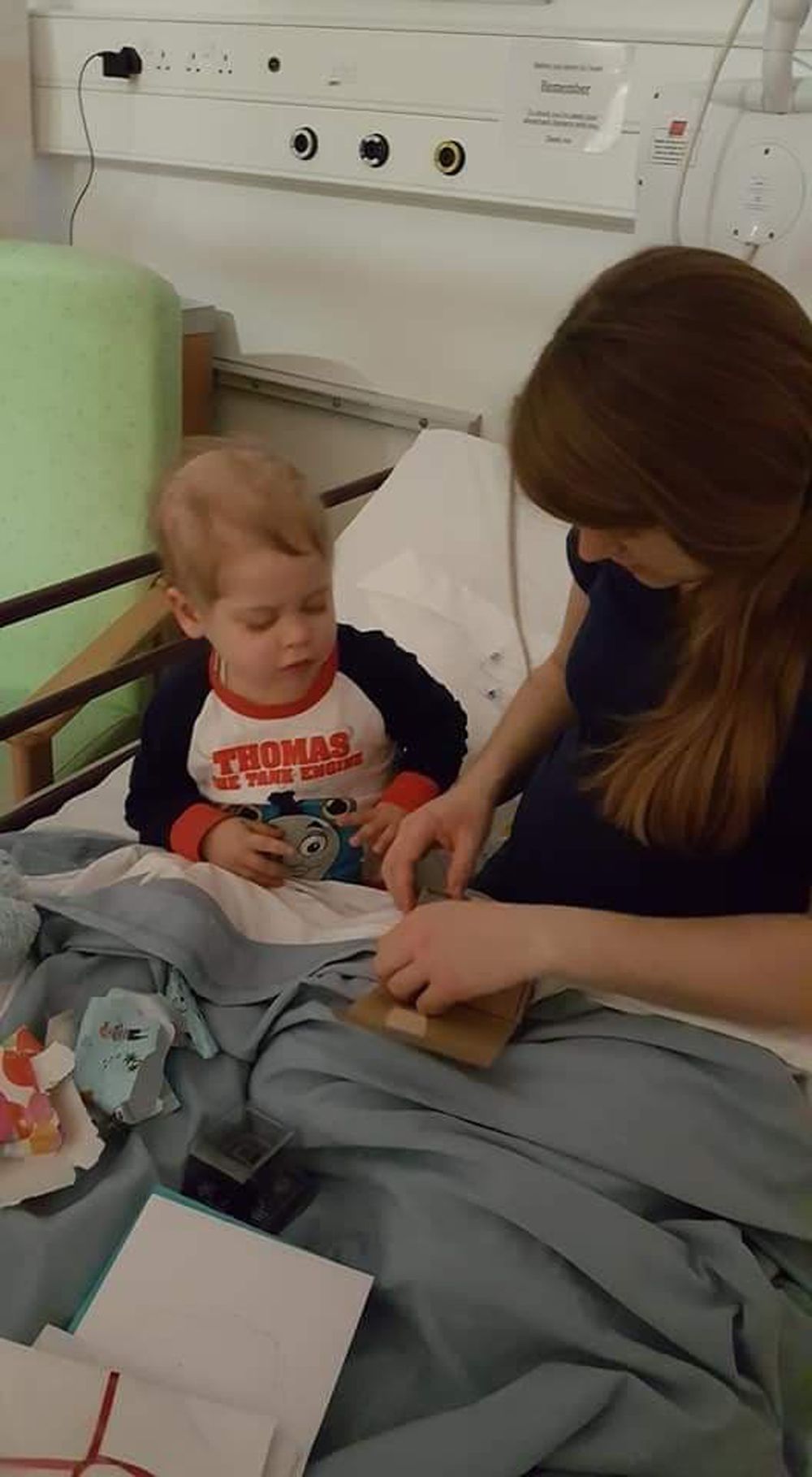 Amy on the ward with Emmett on her birthday (PA Real Life/Collect)
"But the amazing charity CLIC Sargent stepped in, offering us a free home-from-home in one of their properties a stone's throw from the hospital, so we could be there in an instant if Emmett needed us and stayed by his bedside throughout his treatment," she added.
Although too young to understand the gravity of his illness, Emmett was extraordinarily brave.
She and O'Farrell used books and toys, including a lion teddy with its own Hickmann line and three interchangeable wigs, to try and explain to him what was happening.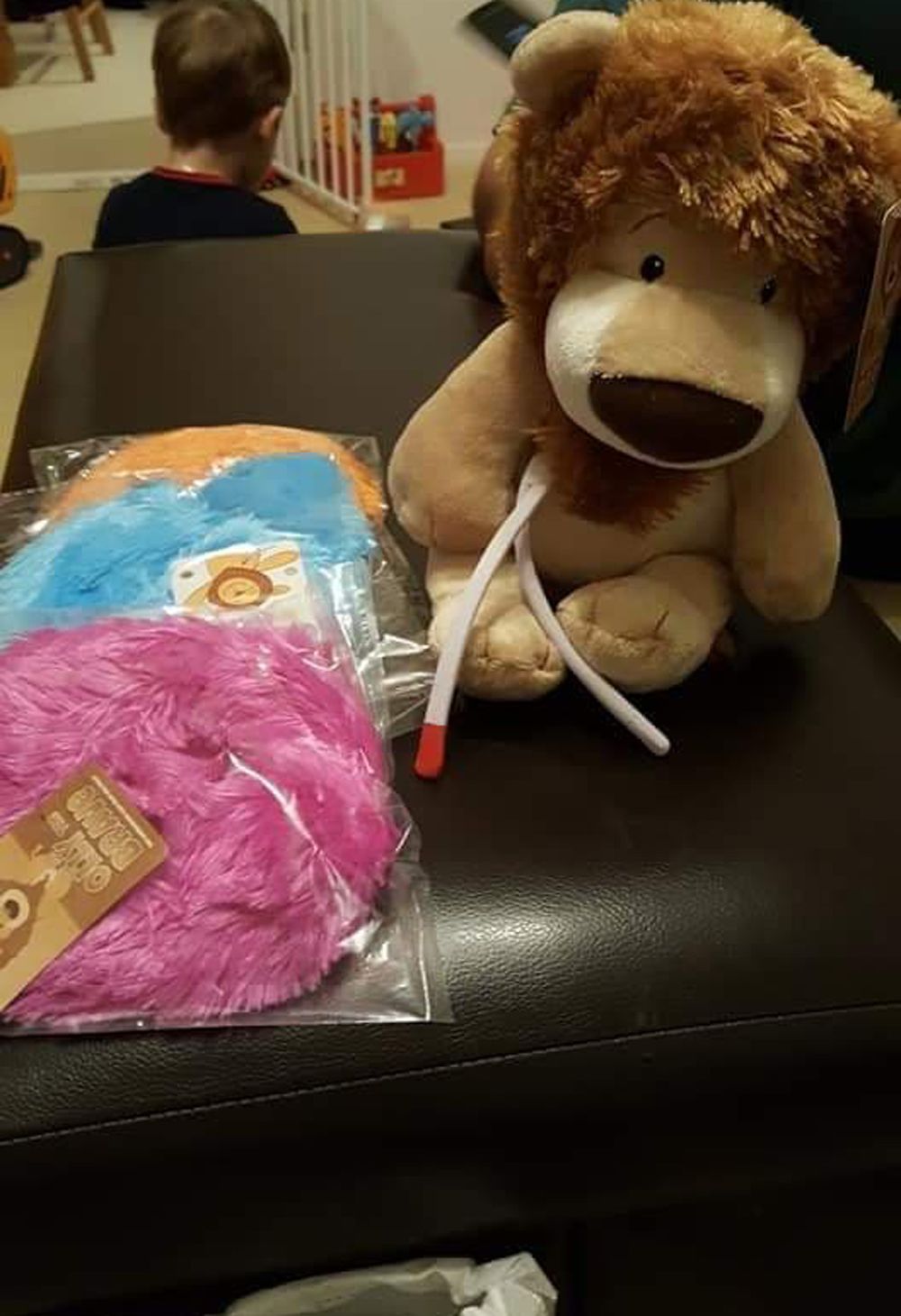 Emmett's lion teddy with its interchangeable wigs (PA Real Life/Collect)
"Emmett adored that teddy, He called it Alex like the lion in the film Madagascar," she said. "I think it was reassuring for him to see something that looked like him."
"Because his immune system was so compromised, he couldn't go to nursery. He missed his friends terribly, so the toys were his companions."
"He also talked to my growing bump. – cuddling up to it when we read him stories and saying, 'Goodnight little brother or sister,' as he went to sleep."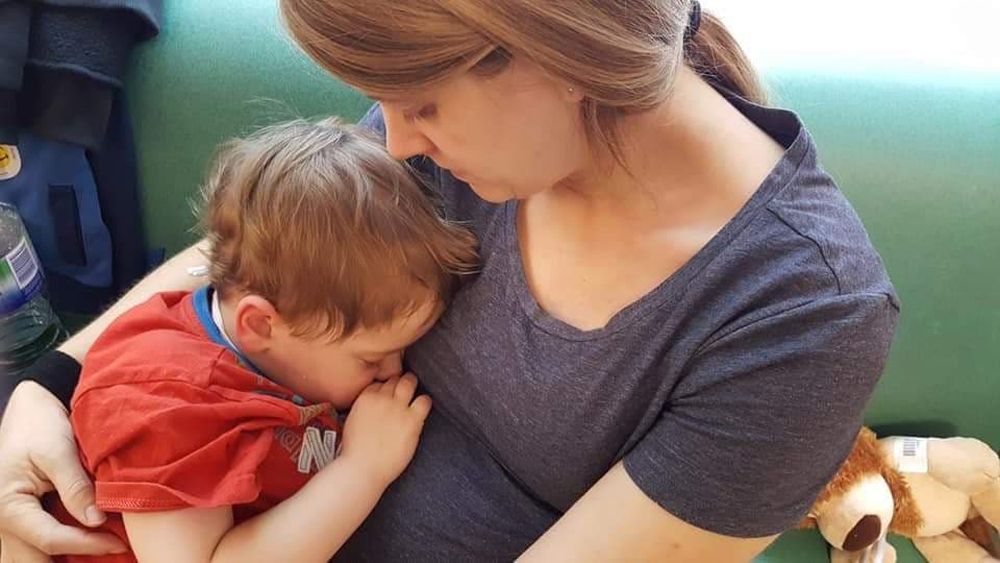 Amy and Emmett (PA Real Life/Collect)
In February 2019, Emmett finished his chemotherapy and blood tests showed an improvement in the levels of infection in his little body.
"I was really aware I was coming to the end of my pregnancy and could go into labour at any time," she said. "I really wanted the MRI scan to happen before I did, so we could know for sure Emmett was okay."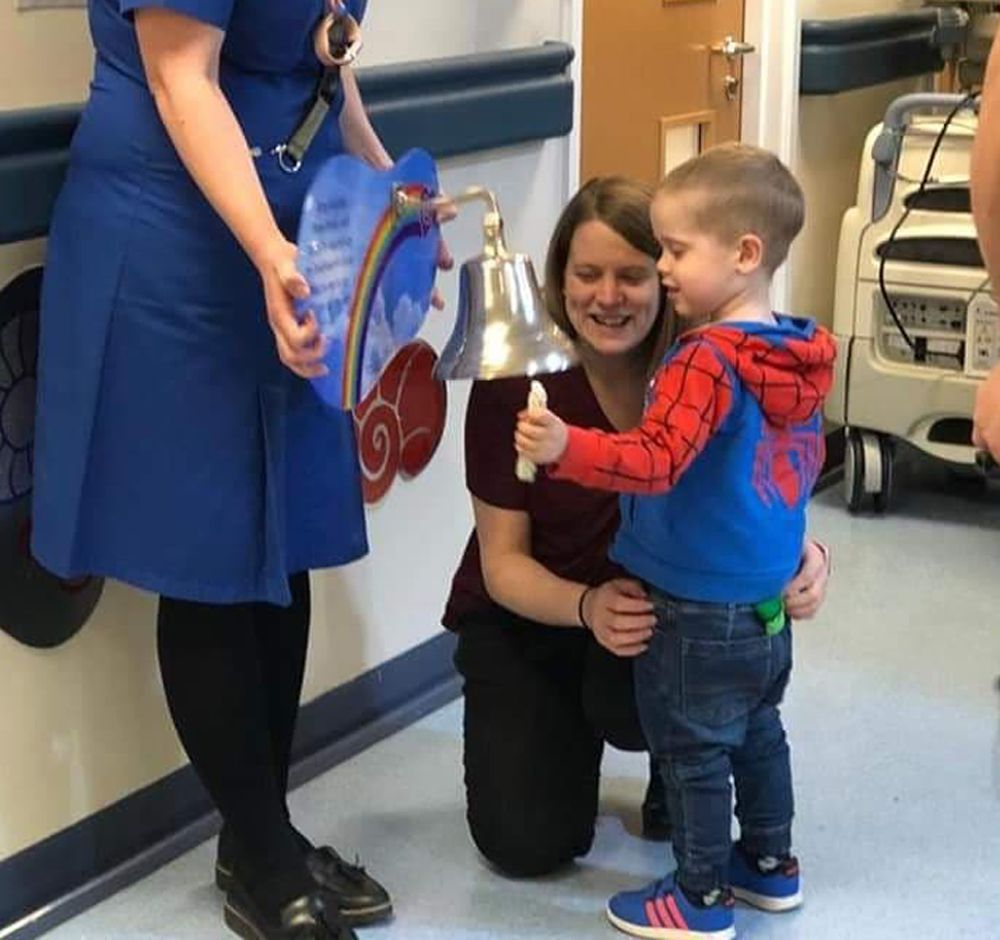 Emmett ringing his 'end of treatment' bell (PA Real Life/Collect)
Emmett was kept in for observation, and was lying beside his mom in his hospital bed when her water broke four weeks early.

"I think it was the relief of knowing we'd had the scan," she said. "I had been trying to get Emmett to sleep, and just nodded off myself."
"My FitBit shows I was asleep for just 20 minutes, then I woke up and felt this pop. I looked down and my waters had broken."
"I phoned Kevin, who was at home, to tell him this was it – the baby was coming."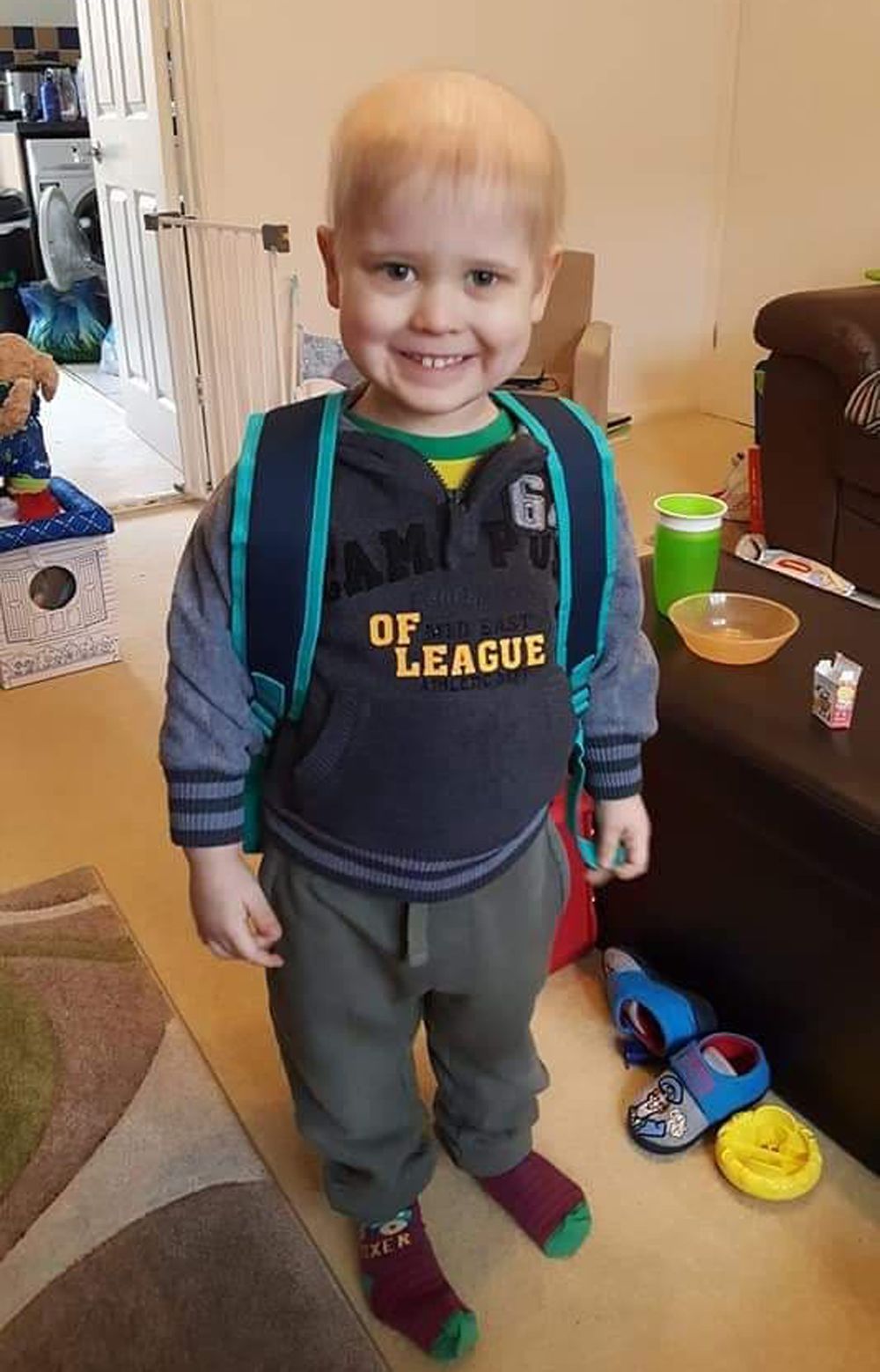 Emmett on his first day back at nursery (PA Real Life/Collect)
Scullard then raced over to the maternity ward of the same hospital to give birth.
Eight days after Ida's birth, the doctor told the family her daughter was strong enough to go home.
"I phoned Kevin to tell him, and he said he would drive straight over to get us," she recalled.
"Then, just 15 minutes later, before he arrived, Emmett's oncologist called me to say she had the results of the MRI and they were all clear."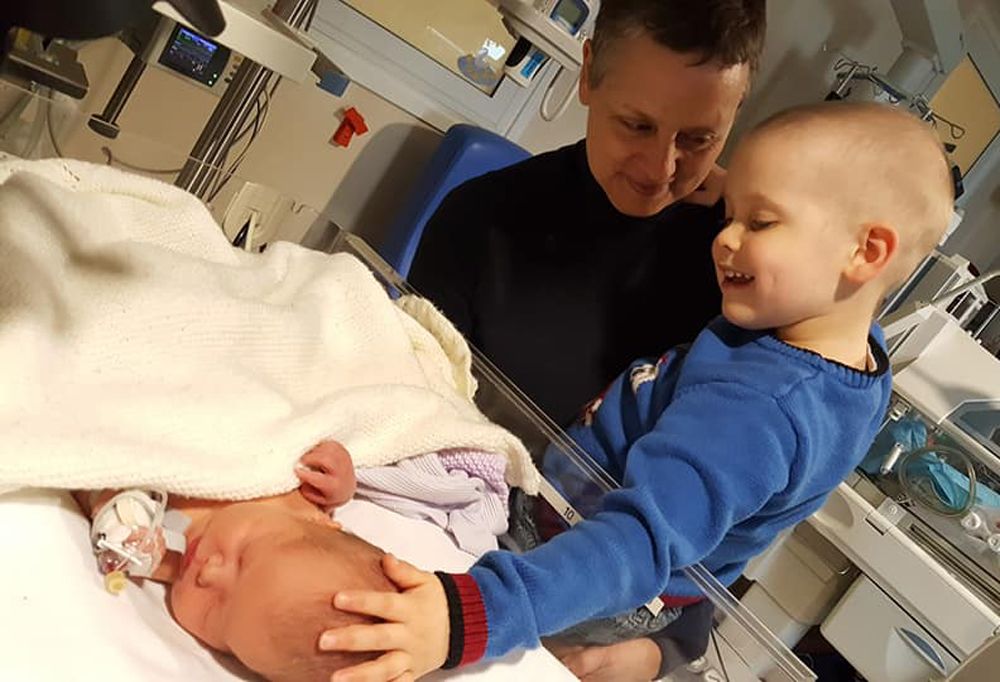 Emmett, being held by Amy's mum Zoe, meeting Ida (PA Real Life/Collect)
"I can't describe my relief. My boy was in remission, my girl was okay and finally, we could go home and start our new life as a family of four," she said.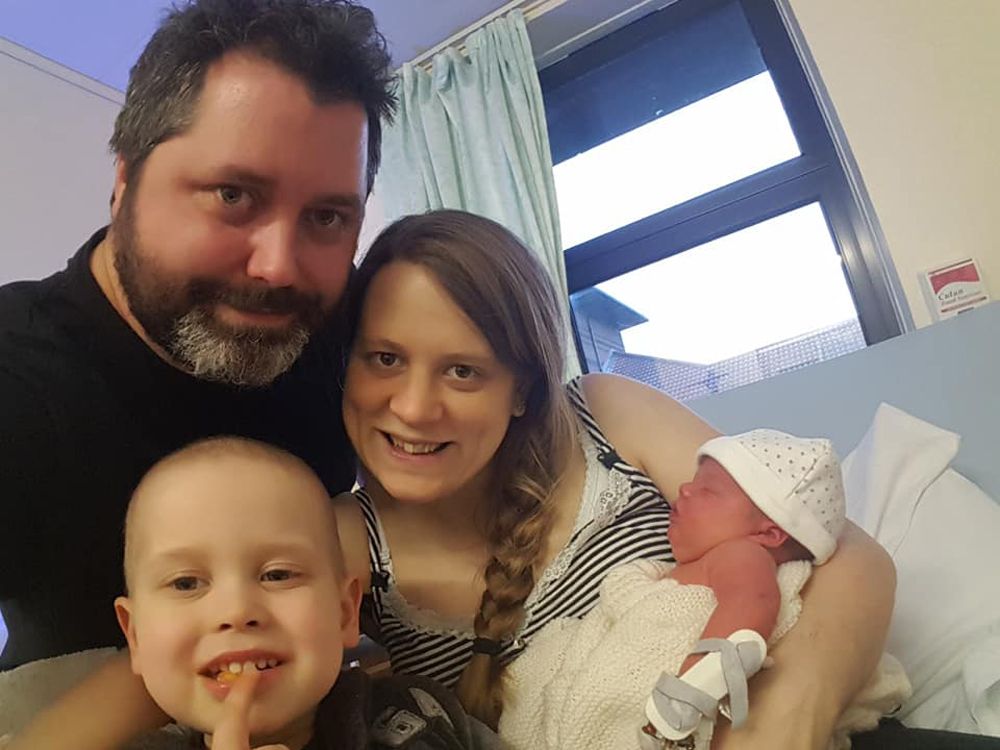 The family all together before Ida came home (PA Real Life/Collect)
To thank CLIC Sargent, the UK's leading cancer charity for children, for their help, Scullard and O'Farrel are participating in the 2.6 challenge, which asks people to take part in fundraising activities marking what would have been the London Marathon.
"When he was poorly, he became obsessed with painting rocks. Then, when he got a bit stronger, we built up his stamina by going for walks to find more for him to decorate," she said.
"He's painted 26 different rocks with all sorts of designs, including one for CLIC Sargent, and is hiding them one by one on our daily walks for people to find."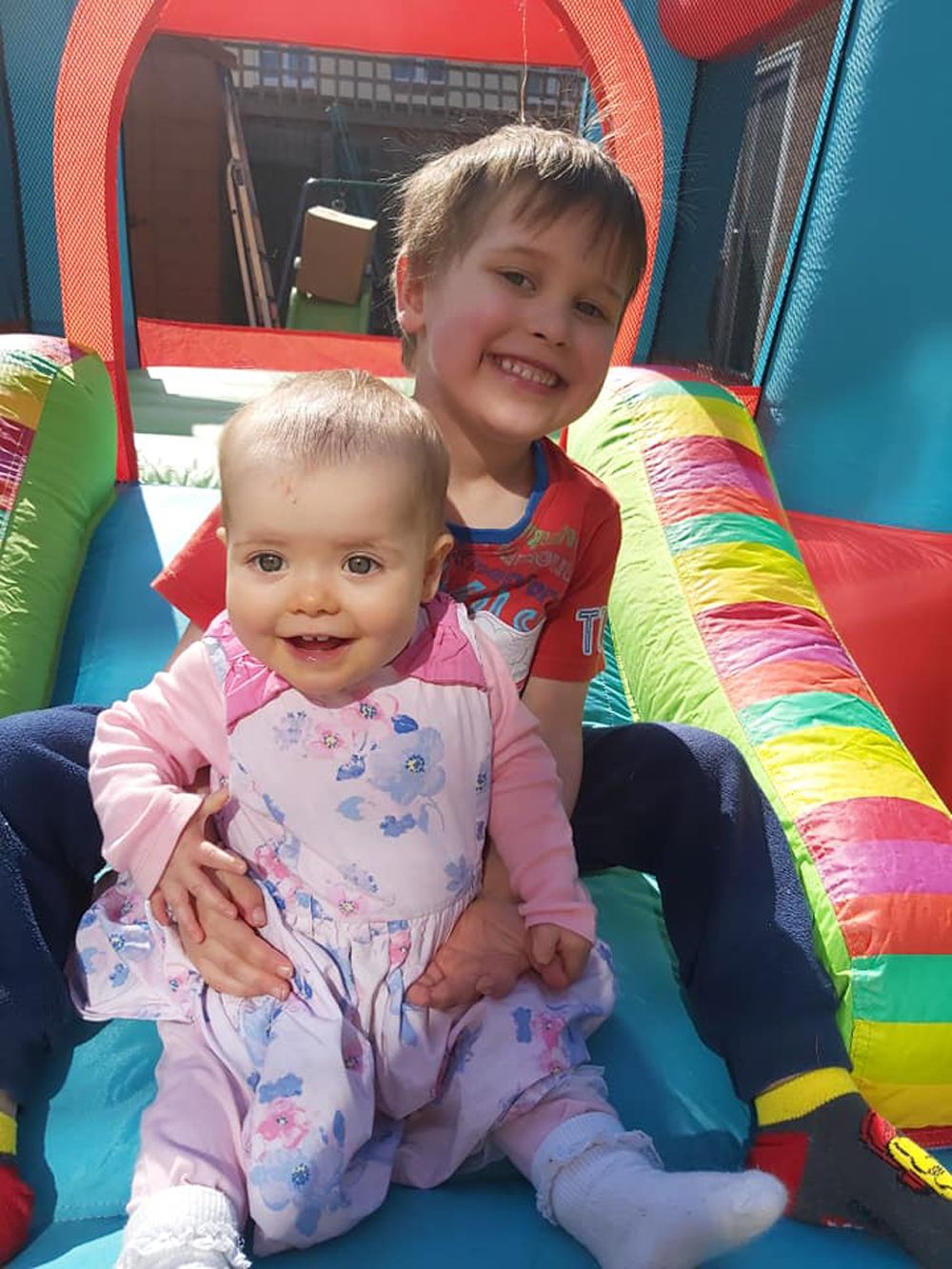 Emmett and Ida now (PA Real Life/Collect)
Since Emmett became sick, the family have raised $21,000 for charities including Cancer Research UK, Make-A-Wish Foundation and CLIC Sargent.
Also keen to start her own charity helping sick children make priceless memories with their families, she is sharing her story to promote CLIC Sargent's emergency fundraising appeal, to help young cancer patients and their families struggling with the emotional and financial impact of the current health crisis.
"Cancer doesn't stop for the coronavirus, and I really feel for the families going through this, and the charities trying to help them," she concluded.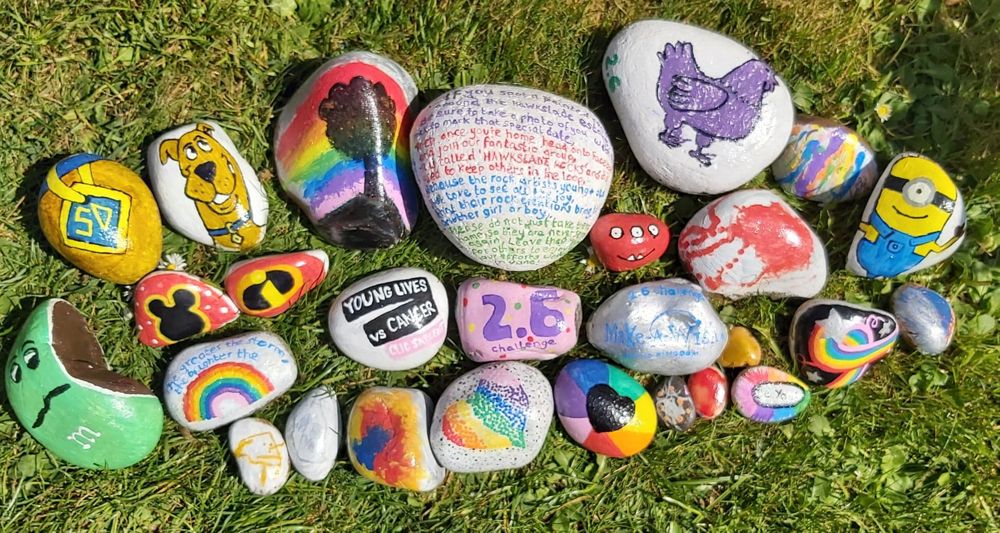 Emmett's rocks, which he painted as part of the 2.6 challenge (PA Real Life/Collect)
Rachel Kirby-Rider, CLIC Sargent's Chief Executive, urgently appealed for donations, saying the charity's income had dropped by 60 per cent since the coronavirus hit the UK.
"We face losing £8million – which for a charity of our size is devastating," Kirby-Rider said.
"We will continue to fight to be here for families, but we urgently need funding to do that."
To support CLIC Sargent, click here and to donate to Emmett's fundraiser, click here