British journalist Piers Morgan called Naomi Osaka a "spoiled brat" following her decision to drop out of the French Open Roland-Garros tournament.
She had previously announced she would skip out on press conferences to protect her mental health – a decision that cost her $15,000 in fines.

Athletes are contractually obligated to participate in post-match press conferences unless they are not physically able to, according to the official Grand Slam rulebook.
But many fans supported Osaka, who believes the mandatory rule is "outdated."

The four-time Grand Slam singles champion said about her decision to step down from the tournament in a tweet on Monday:
"The truth is that I have suffered long bouts of depression since the US Open in 2018 and I have had a really hard time coping with that."
Last Wednesday, Osaka – who was born to a Haitian father and a Japanese mother – wrote a post explaining why she planned on being absent in front of the media.

"I've watched many clips of athletes breaking down after a loss in the press room, and I know you have as well."
"I believe that whole situation is kicking a person while they're down and I don't understand the reasoning behind it."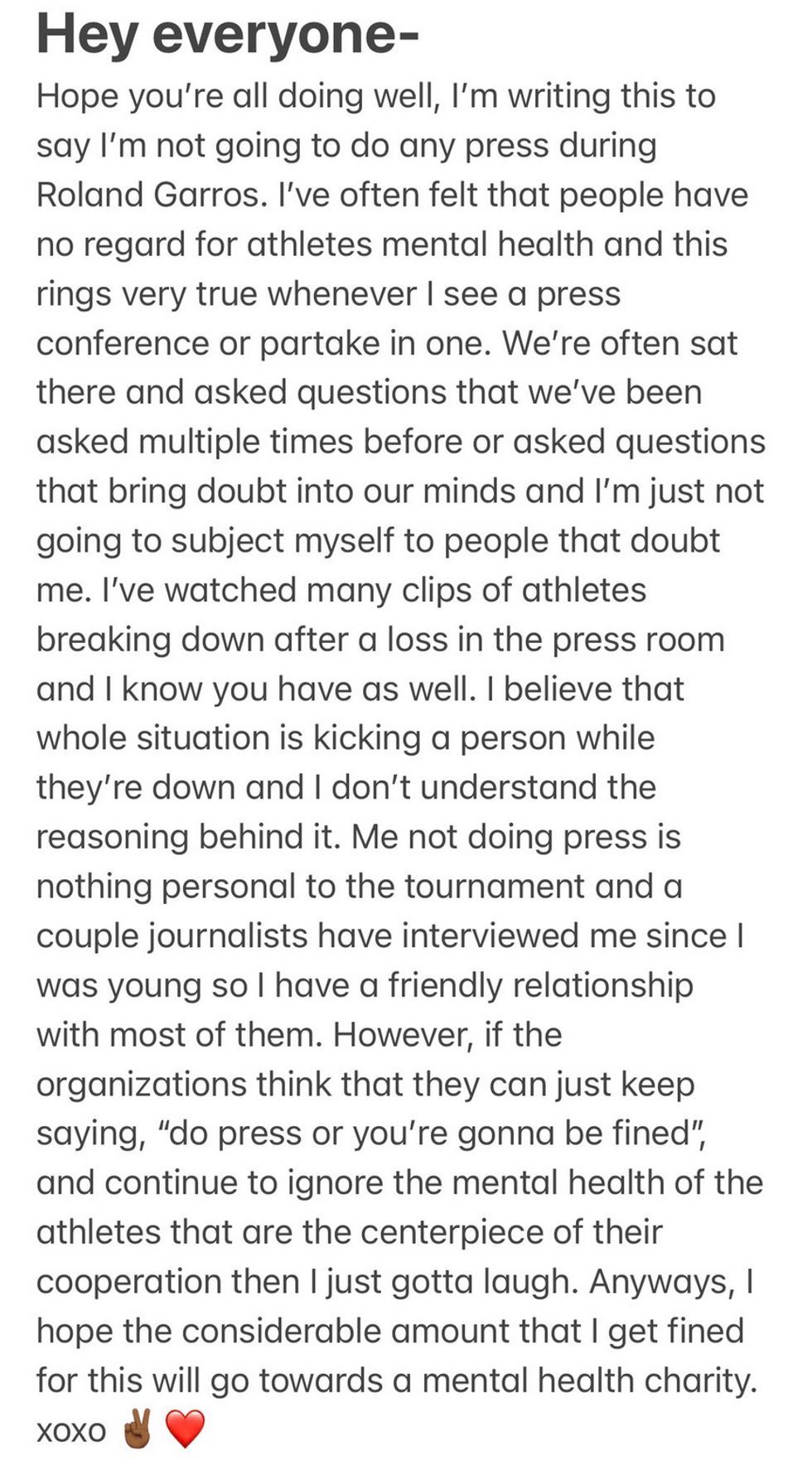 @naomiosaka/Twitter
Former Good Morning Britain host Piers Morgan was none too pleased with Osaka's announcement.
He gave his unsolicited opinion in a lengthy diatribe. In his Daily Mail Online column, the conservative pundit called Osaka "petulant" and an "arrogant spoiled brat whose fame and fortune appears to have inflated her ego to gigantic proportions."
When Morgan shared his column on Twitter, he made certain to add another swipe at Duchess Meghan Markle.
Morgan went on to call Osaka's social media post about her announcement "narcissistic twaddle."
Morgan, a tabloid journalist since 1988, used his utter lack of training in psychology or psychiatry to claim it had nothing to do with Osaka's mental health.

"What Osaka really means is that she doesn't want to face the media if she hasn't played well, because the beastly journalists might actually dare to criticize her performance, and she's not going to 'subject' herself to 'people that doubt me'."
His latest statements again drew accusations of racism and misogyny.
Citing "arrogant spoiled brat," many social media users recalled Morgan storming off the set of Good Morning Britain during a live broadcast in March.

Morgan ultimately quit the show after facing backlash for his negative comments about Meghan Markle and her mental health amidst allegations of racism leveled at the Crown.
At the time, Good Morning Britain co-star Alex Beresford confronted Morgan for accusing the Duchess of Sussex of being a liar after she told Oprah she was depressed and had contemplated suicide.
Beresford commented on speculations of Morgan's lingering bitterness about allegedly being ghosted by Markle and said:

"I understand that you don't like Meghan Markle. You've made it so clear a number of times on this program, and I understand that you had a personal relationship with Meghan Markle and she cut you off."
"Has she said anything about you after she cut you off? She's entitled to cut you off if she wants to. And yet you continue to trash her."
People were quick to remind Morgan about his dramatic TV meltdown.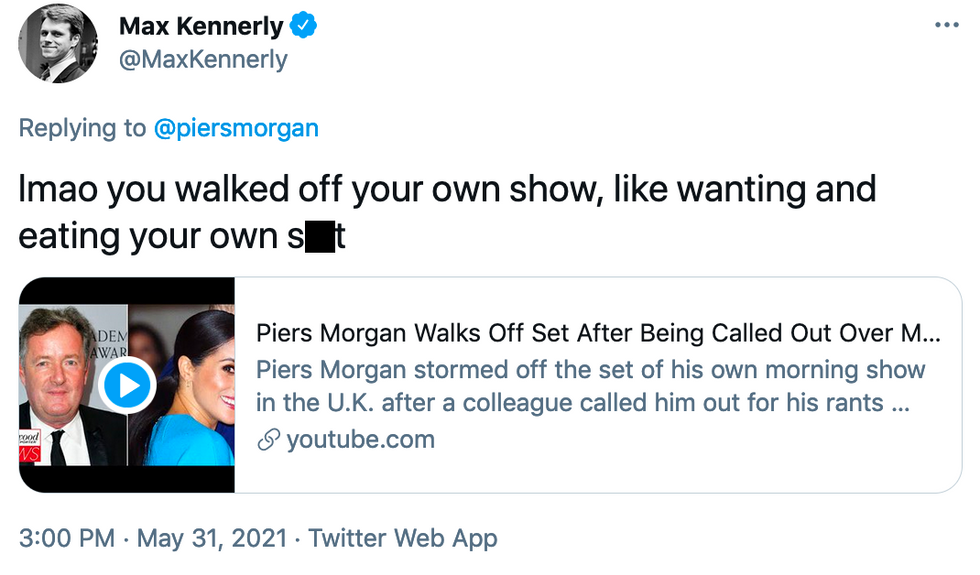 @MaxKennerly/Twitter
Morgan was also lambasted for attacking women of color and downplaying and dismissing their struggles with depression.

Morgan once again took aim at the Duke and the Duchess of Sussex in his column as well as his Twitter caption.

"This is straight out of the Meghan and Harry playbook of wanting to have the world's largest cake and eating it, by exploiting the media for ruthlessly commercial self-promotion but using mental health to silence any media criticism."
Others pointed out a flaw in his claim when he called Osaka, "narcissistic."
And those who struggle with depression shared their thoughts.

Morgan ended his column with an insincere apology.

"And I'm sorry (not really…) if this offends any of the delicate little snowflakes out there who believe all this self-serving garbage, but Osaka's antics stink of a stupendous ego raging out [of] control."
In her post announcing she would not participate in press conferences, Osaka explained how potentially detrimental they can be for vulnerable athletes.
She wrote:
"I've often felt that people have no regard for athletes' mental health and this rings very true whenever I see a press conference or partake in one."
"We're often sat there and asked questions that we've been asked multiple times before or asked questions that bring doubt into our minds and I'm just not going to subject myself to people that doubt me."
On Monday, she confirmed withdrawing was the best decision for the tournament and for her well-being. She asked fans to focus on the matches currently underway in Paris.