britain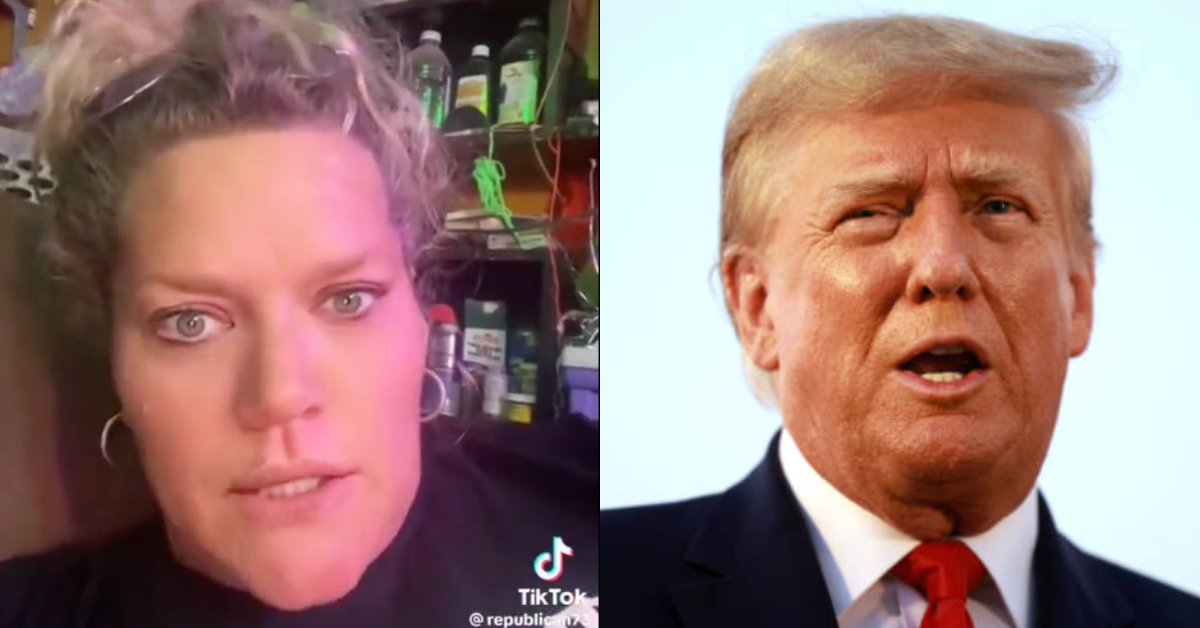 @republican73/TikTok; Joe Raedle/Getty Images
A Trump supporter's TikTok video went viral after she claimed that former President Donald Trump freed the United States from Great Britain with a "real" Declaration of Independence.
The woman—who uses the handle @republican73—also shared her theory that banks are going back to "gold, silver and precious metals."
She described a bank manager's incredulous reaction after she went into a branch and asked for "rainbow currency" but nonetheless saw the reaction as evidence that she was aware of a nefarious plot to hurt the average person's money management practices.
You can hear what she said in the video below.
The woman's trips to the bank did not stop there:

"I was in there about a week ago. I was going to do it again, I was going to ask this question again just for s**ts and giggles, just to see what people's reactions were.

"But as I'm standing there I hear this guy in his office and he's standing there on the phone and I hear him say, 'Tier 1, Tier 2, and Tier 3 are complete. We are waiting on Tier 4.' I knew immediately.
"I knew immediately because if you follow anything you know there's a Tier 1, a Tier 2, a Tier 3 and we're waiting on Tier 4. Tier 4 is the big one. So all I'm saying is it's happening and I don't care if you don't believe me.
"You don't have to believe me. You don't have to listen to a thing I say. This is a free country."
She elaborated on what she meant by "free country" and her explanation simultaneously rehashed Trump's lies about the integrity of the 2020 general election while making a bizarre claim that he was responsible for freeing the United States from British rule with a "real" Declaration of Independence.
What's more: She said those who wanted to find out the truth of the matter could simply "DuckDuckGo it," referring to a private search engine created by the internet privacy company of the same name.
She said:

"Well, it's supposed to be [a free country]. It is as of 2020 when Trump signed the new Declaration of Independence ... July 4, 2020: He declared our independence from Britain because we were lied to. We didn't win the [Revolutionary War]."
"We have literally been a bankrupt corporation under British rule. And this has all been done. It's all undone by Donald Trump as of July 4, 2020."
"Go look it up! I don't care if you don't believe me and you're lazy if you don't go look it up, just saying. Read the whole thing. You'll be shocked."
The woman went on to say that this "real" Declaration of Independence "isn't worded the way you'd expect the Declaration of Independence to be worded" but suggested that's understandable "since we've been ruled by another country since 1776."
Many were unnerved by the woman's nonsensical rant.
The woman's TikTok video is just the latest example in a long line of incidents that underscore the sway the former President's cult of personality has had on his most devoted supporters.

Many of these individuals have been profiled and spotlighted by journalists and documentarians, though few videos have had as much impact as those produced by the comedy duo The Good Liars, who regularly expose some of the most outlandish behavior within the MAGA movement.
Last year for instance, the duo shared a video of an interview they conducted with a man who claimed the late Queen Elizabeth II, who was still on the British throne at the time, is a "reptilian shape-shifter." When asked if there are other reptilians out there, the man said one need only look in their eyes to "see the darkness."
Indeed, many of the former President's supporters have attracted news attention for making bizarre claims, behavior that has sparked discussion among mental health experts and political scientists alike who've expressed concerns about the prevalence of conspiracy theories within the right-wing ecosystem.

Keep reading...Show less