Pro tennis player Naomi Osaka announced she will not participate in any press events at this year's French Open to protect her mental well-being.
The 23-year-old is a four-time Grand Slam singles champion and was ranked No. 1 by the Women's Tennis Association (WTA).
She was born to a Haitian father and a Japanese mother.
Osaka shared her decision in a social media post on Wednesday, saying:
"I've often felt that people have no regard for athletes' mental health and this rings very true whenever I see a press conference or partake in one."
"We're often sat there and asked questions that we've been asked multiple times before or asked questions that bring doubt into our minds and I'm just not going to subject myself to people that doubt me."
She continued:

"I've watched many clips of athletes breaking down after a loss in the press room, and I know you have as well."
"I believe that whole situation is kicking a person while they're down and I don't understand the reasoning behind it."
Osaka said her decision was not personal as she has had friendly relationships with a couple of journalists who interviewed her since she was young.
"However, if the organizations think that they can just keep saying, 'do press or you're gonna be fined,' and continue to ignore mental health of the athletes that are the centerpiece of their cooperation then I just gotta laugh."
She ended her post by saying she is hoping "the considerable amount" in fines will go towards a mental health charity.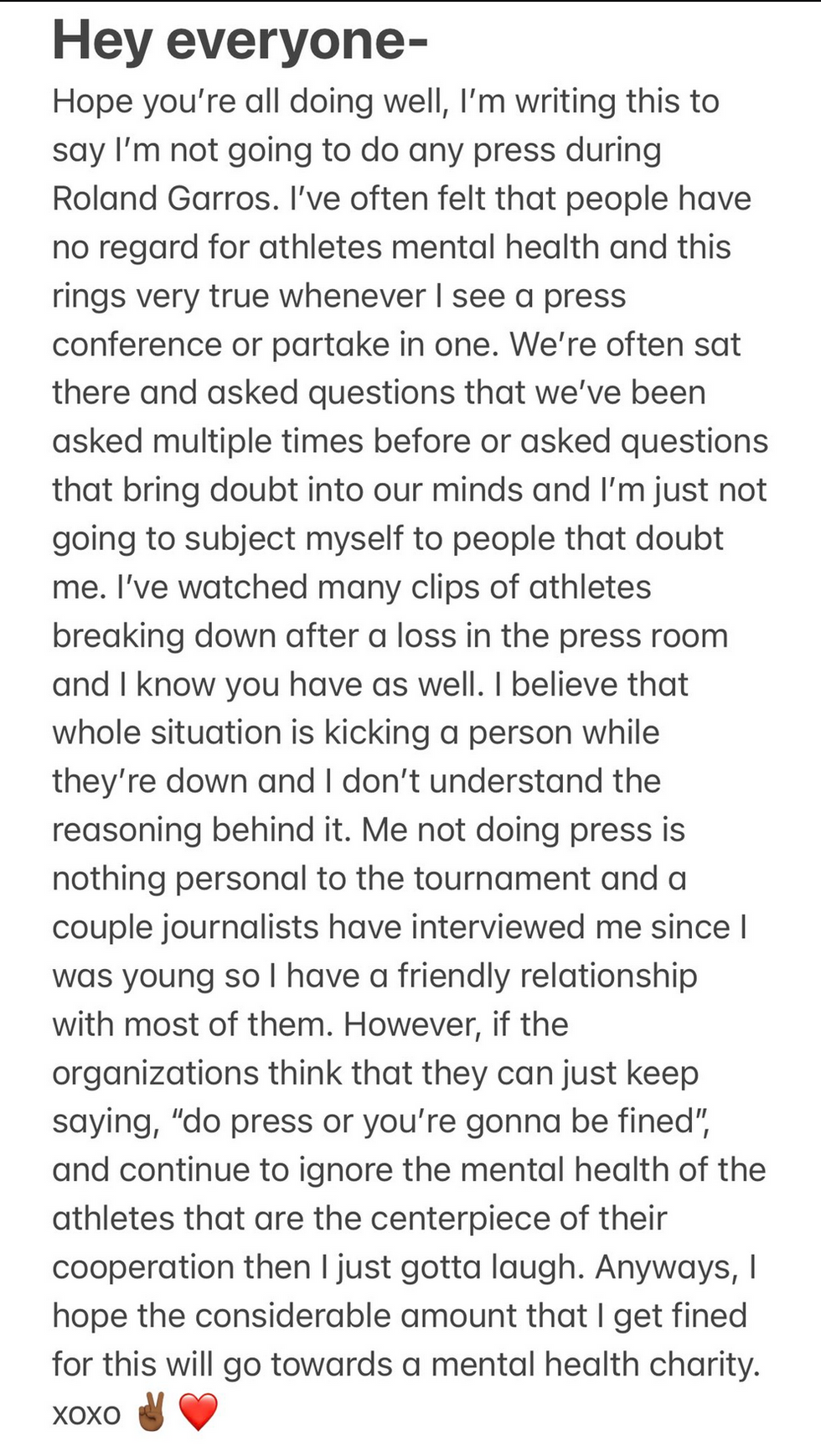 @naomiosaka/Twitter
For the most part, fans supported Osaka and believed athletes having a bad day should not be obligated to subjecting themselves to more pressure and anxiety.
The official Grand Slam rulebook states players are required to attend post-match press conferences unless they are injured or are physically unable to appear.
Refusal to participate could lead to fines of up to $20,000.
Other players have spoken up about mental health in the past.

The Guardian reported In 2010, Venus and her sister Serena Williams had to pay $4,000 in fines for missing press conferences after their Wimbledon loss.

Refinery 29 noted Osaka's point made sense given the emotions of female players at press conferences after losing a match— especially women of color—are subject to criticism and analysis.
When Serena lost a match to Osaka in the 2019 U.S. Open, she accused umpire Carlos Ramos of sexism, arguing he treated her more harshly than he would a male player. She was cited for three violations—including one for calling Ramos a "thief" out on the court.
She said at a media conference later:

"I've seen other men call other umpires several things. I'm here fighting for women's rights and for women's equality and for all kinds of stuff."
"For me to say 'thief', and for him to take a game, it made me feel like it was a sexist remark. He's never taken a game from a man because they said 'thief'."
"For me, it blows my mind. But I'm going to continue to fight for women."