The mom of a seven-year-old on the girls softball league is furious over the teams treatment at the Babe Ruth All-stars Florida State Championship. She posted her email to Facebooking, calling out corporate executives of Babe Ruth League for gender inequities between the girls and boys teams.
Ashlee Partin wrote last month:
"My daughter along with 11 other 5-7-year-old talented and determined little girls have dedicated their entire summer to Babe Ruth Allstars."
"They practiced 3 days a week for 2 months for hours every day."
The Oveido League for girls has gone undefeated and won the state championship, but only received a small black drawstring bags with donated items. The boys baseball teams received individual trophies and medals.
Partin asked:
"Why would the Babe Ruth League support treating females less than males?"
"Out of 106 teams with 1000+ female athletes playing their hearts out for this championship-they had to watch each division receive DONATED items as their joke of reward and a plaque and not one team received any individual medals or trophies."
"What a slap in the face to these incredibly tough females!"
She explained that every division of boys Baseball received individual trophies and the runner ups received huge individual team trophies.
Partin also explained she did not receive any apologies:
"Even now, after out district commissioner has fought all afternoon (6/30/2021) with Doug Robinson (the Florida State commissioner) about this and the rest of the problems that this tournament brought us, he refuses to take any ownership of even apologize or admit to the double standard that he has put on this league, the females, and our daughters!!!"
She continued:
"I will NOT let The Babe Ruth League contribute to the challenges women already face today with gender inequality and have it go unnoticed!!"
Among the list of complaints, Partin explained they had a six and half hour delay with no one working the fields to get them playable after a morning of rain. They also ran out of quick dry for the fields and did not tarp them, even thought his is a notoriously wet time of year for Florida. Then, when the players began warming up in the dugout, they were told an hour after the other team had already left that they cancelled the match.
She also said the Florida Babe Ruth State Softball Commissioner Doug Robinson used profanity and addressed the Oviedo league coach as a "Mother F*cker." Partin calls for his resignation.
On top of that, the bathrooms were unsanitary and the maintenance at the stadium did nothing to correct the issue for the 1,000+ people there. The concession stands were never opened, so the women running a small table had continuously run out of food throughout the day, and they stated before arrival that no one could bring their own food or snacks.
Her daughter Faith was confused about where her trophy was, and Partin unfortunately had to lie.
Partin said in an interview with TODAY Parents:
"Faith asked me, 'Where's my trophy?' And I totally lied to her. I said, 'Oh, it's coming.'"
"I assumed there had been a mistake."
Parents and those supporting the team commented in support of Ashlee speaking out.

Rodney Wheelhouse/Facebook

Danielle Pendleton/Facebook

Summer Slayton Deutsch/Facebook

Lauren Ortiz/Facebook

Shalaka Gavane Bhosale/Facebook

Sarah Parker/Facebook

Kyle Moore/Facebook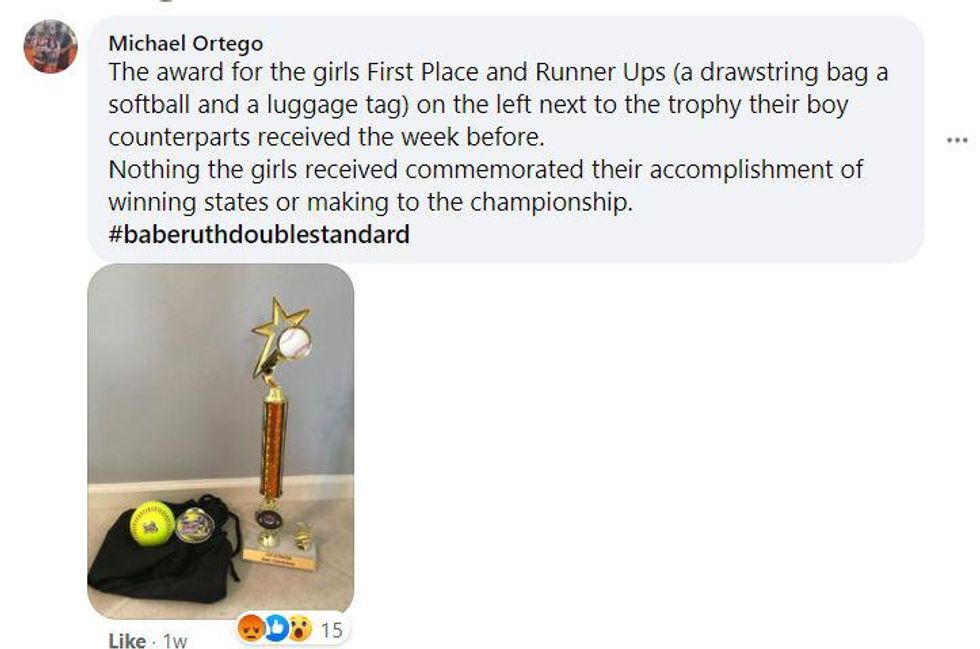 Michael Ortego/Facebook
Many also tagged various new outlets, softball teams and Facebook groups. Partin even tagged the corporate sponsors of the Babe Ruth All-Star League.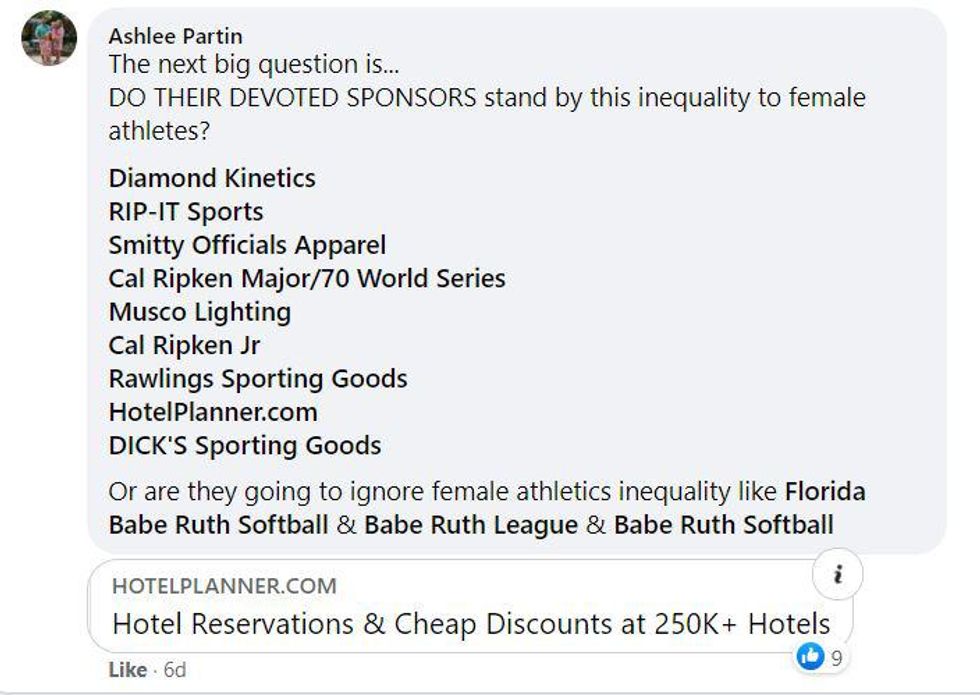 Ashlee Partin/Facebook
Fox 35 Orlando caught up with other parents and players. Jordan Spigner, father of eight-year-old Tyler and coach of the team, explained that they pay the same as the boys team but received so much less.
Spigner said:
"The girls just didn't get treated right. They didn't get treated the same way as the boys."
""Not only did [the boys teams] get trophies, they got these big nice medals, they got commemorative baseball bats."
"I'm just curious as to why the girls were not taken care of with the same respect."
Florida Babe Ruth State Softball Commissioner Doug Robinson sent a statement to Fox 35 Orlando which included a list of all the memorabilia the players were given.
Robinson said:
"Our intention was to provide the players with the recognition they deserve and a lasting keepsake of the tournament."
Partin is upset with this response:
"I just want them to write me back and say, 'Hey, we need to do better. We need to be better.'"
"I want them to take a moment to thoughtfully think about this and how they want to make sure that girls are treated equally on every level."
Oviedo Babe Ruth President Jim Brashear says they are honoring the softball players and surprising them with trophies in a celebration on Friday.
Though the local community is pulling out all the stops to uplift these hardworking athletes, the challenges that women athletes face in sports has risen in the publics consciousness.
Athletes like Megan Rapineo speaking out about the pay gap between men and women and Georgia Tech's women's basketball coach Nell Fortner calling out the NCAA for their sexist behavior during the San Antonio tournament. Transgender women and girl athletes are also under attack in legislation across the U.S. to ban them from participating in sports that align with their gender identities.
Hopefully with this story and many other like it gaining so much traction, women and girl athletes will begin to see change and equality in the future.