Rihanna is a woman of many, many talents. Iconic songs like "Umbrella," "Disturbia," "Diamonds," and "Love the Way You Lie" have led to her being the most-listened-to female artist on Spotify with over 230 million albums sold worldwide. There's no doubt she's one of our generation's most well known singers, but she actually has another talent that often goes overlooked.
---
Rihanna posses the ability to walk on grates while wearing heels as if it's absolutely no big deal.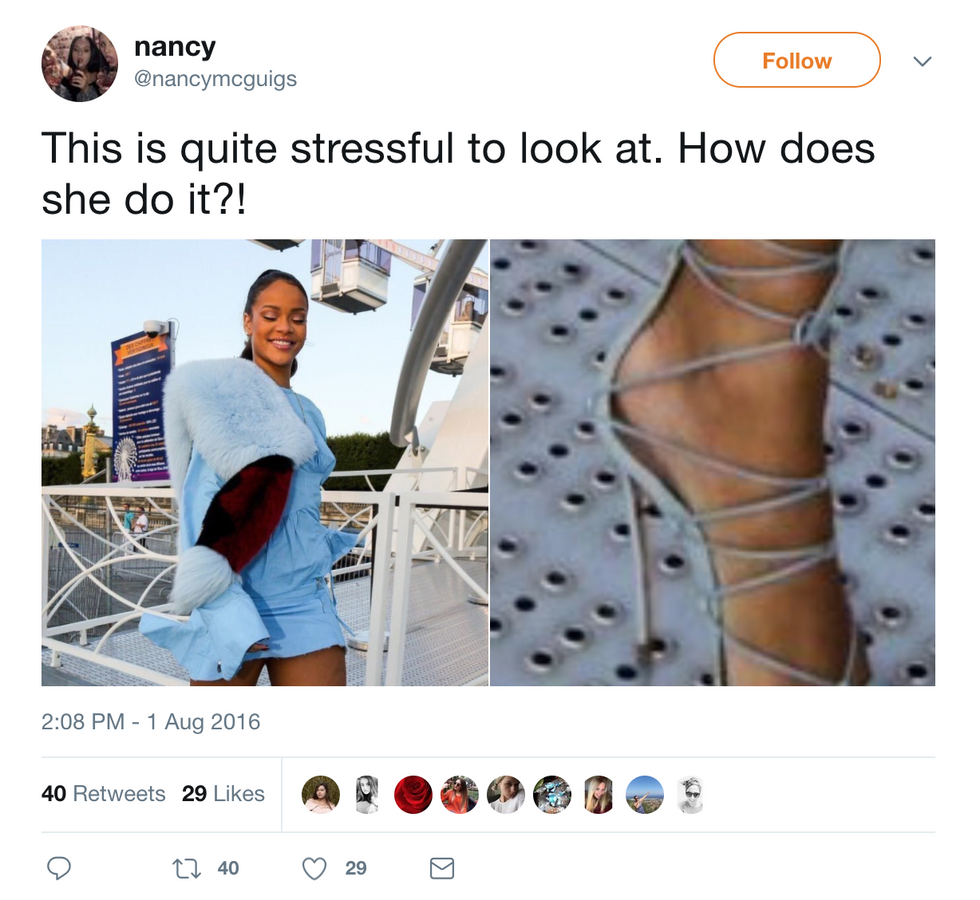 Twitter users have found yet another reason to be amazed by Rihanna.
@priya_ebooks HOW???? I trip barefoot in my own drawing room.

— sushmita sundaram (@sushmita sundaram) 1519997377.0
The average person would have trouble with much simpler tasks...
@priya_ebooks @NjorogeMuchiri https://t.co/w69Drr00uW

— DaddyJack |D.J.| My initials, dummy! 🇰🇪👑 (@DaddyJack |D.J.| My initials, dummy! 🇰🇪👑) 1520021894.0
Rihanna has been absolutely killing it recently. On top of this newfound talent, and after winning a Grammy for her song "Loyalty" in January, she recently celebrated her 30th birthday. She posted a birthday message to her Instagram which read:
10958 days ago @monica_fentybecame a mother for the first time to her only daughter! Today is just as much your birthday as it is mine! I love you mom! Thank you for carrying me, birthing me, raising me, supporting me, teaching me, and loving me unconditionally! The woman I am today is because of everything that you are!
I thank God for perfectly hand picking you to be my mother when He sent my spirit to you! You are the greatest! Thank you! #💕
RiRi's Mom wrote back:
Happy 30th. God's blessings to my 1st born. The sweetest, most humble person I know, and most loving daughter ever. Lots of love back to you on your special day.
If only we could all be so accomplished at 30...
@priya_ebooks @AngryBlackLady I can barely shuffle around in fuzzy slippers. Blade of grass or shadow = major trip hazard.

— Sky Pape (@Sky Pape) 1520033119.0
It seems she's capable of doing the impossible. What magic does she possess?!
@priya_ebooks Rihanna has levitation powers confirmed

— 🏳️‍🌈 nicole ham 🍳 (@🏳️‍🌈 nicole ham 🍳) 1520031977.0
Of course, one Twitter user was less than impressed.
guys i love rihanna more than anybody but walking over grates in heels is not that complicated. you put the pressur… https://t.co/xbXIAXftDm

— ariel lebeau (@ariel lebeau) 1520023875.0
While walking on your toes sounds simple, it's easier said than done, as the Duchess of Cambridge can attest.
Rihanna's extraordinary talent officially puts her in league with fellow secret superheroes Mariah Carey, Beyonce, and Lady Gaga.
Rihanna can walk on grates while wearing heels, Beyoncé can walk on water, Lady Gaga can walk on sand while wearing… https://t.co/gTyNb4N8tS

— Mike Adam (@Mike Adam) 1513185020.0
It shouldn't be so surprising Rihanna knows her way around a heel, though.
When she's not writing music, she's making waves in the world of fashion. On February 28th, she announced dual releases from her Puma capsule collection and Fenty beauty products line for the same day: March 15.
So whether you're into make-up, clothing, music, birthdays, or simply standing, Rihanna is dominating the industry. But, of those things, I think we can all agree the standing (on grates specifically) is probably the most impressive.