Collin Gossel
Collin Gossel is a writer and comedian living in Brooklyn, New York, but there are nights when he looks up at the stars and wistfully thinks to himself "there's got to be more out there…" You can catch Collin improvising new musicals every Tuesday night at the Magnet Theater's Musical Megawatt, or follow his unfiltered thoughts on Twitter and Instagram @CollinGossel.
Vera Anderson/WireImage; Ethan Miller/Getty Images
Following the death of controversial conservative radio host Rush Limbaugh, many liberals have said their goodbyes by remembering some of the firebrand's most awful moments on air.
Rapper and actor ICE-T retweeted one of his own tweets from 2012 remembering a particularly racist moment from an interview with Limbaugh.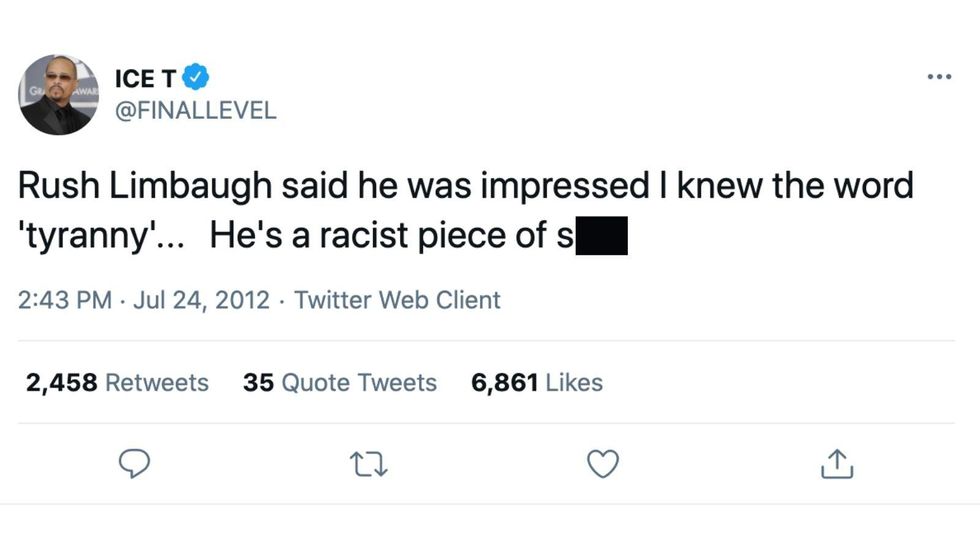 @FINALLEVEL/Twitter
Twitter joined Ice-T in his sentiment, which was obviously meant to show that Limbaugh was not the inspiring figure many Republicans have made him out to be.
Rush sure did Black History Month a favor by dying in February.
— SconnieGirlAt❤️ (@americangirl194) February 23, 2021
He really said that??? Are you kidding me!!!!
— Nicholeann70 (@nicholeann70) February 23, 2021
Limbaugh had a long history of racist, misogynist, and homophobic statements on his program.
@dunchman @FINALLEVEL he mocked people dying of AIDS, why can't we mock him in death?

— salamander (@salamander)1614114891.0
Bring that tweet back
Bring that tweet back
Y'all wanna hear that tweet, right?
Bring that tweet back
— Daniel Pucca (@Daniel_Pucca) February 23, 2021
@RobAnderson2018 @FINALLEVEL Said it before Ice T is cool.

— Hilary 😏wens (@Hilary 😏wens)1614099566.0
Republican Governor Ron DeSantis of Florida flew Florida's flags at half-mast in honor of Limbaugh's death, a decision heavily criticized by many online.
I know it's not "right" to celebrate someone's death, but...
— GUACDAD 3600 (@360Vinyl) February 23, 2021
It seems fairly obvious that Ice-T will not miss Limbaugh's presence in the media.
As long as just the tweet comes back and not Rush.
— TJofJTW (@TJofJTW) February 24, 2021
It's telling what people Rush felt threatened by, and how intensely he felt threatened by them.
— sean.memolo (@SeanMemolo) February 23, 2021
Generally speaking, there didn't seem to be much overlap between fans of Ice-T and Rush Limbaugh.
This throwback is almost as classic as RYHME PAY$
— Ron Perron (@ronperronphoto) February 24, 2021
Limbaugh's legacy will likely look very different depending on who you're talking to, but it seems pretty obvious what kind of memories Ice-T thinks the radio host left behind.