As the drama surrounding Wyoming Republican Representative Liz Cheney continues to unfold and intensify, one person pulling no punches is Democratic Speaker of the House Nancy Pelosi.
As Cheney—the number-three Republican in the House—has been buffeted by attacks from those in her own party attempting to oust her, Pelosi put a different spin on the drama.
Using her official House of Representatives website, Pelosi released a mock "help wanted" ad, ripping the cover off GOP lawmakers' thinly veiled misogyny.
You can see a screenshot of the Speaker's website here: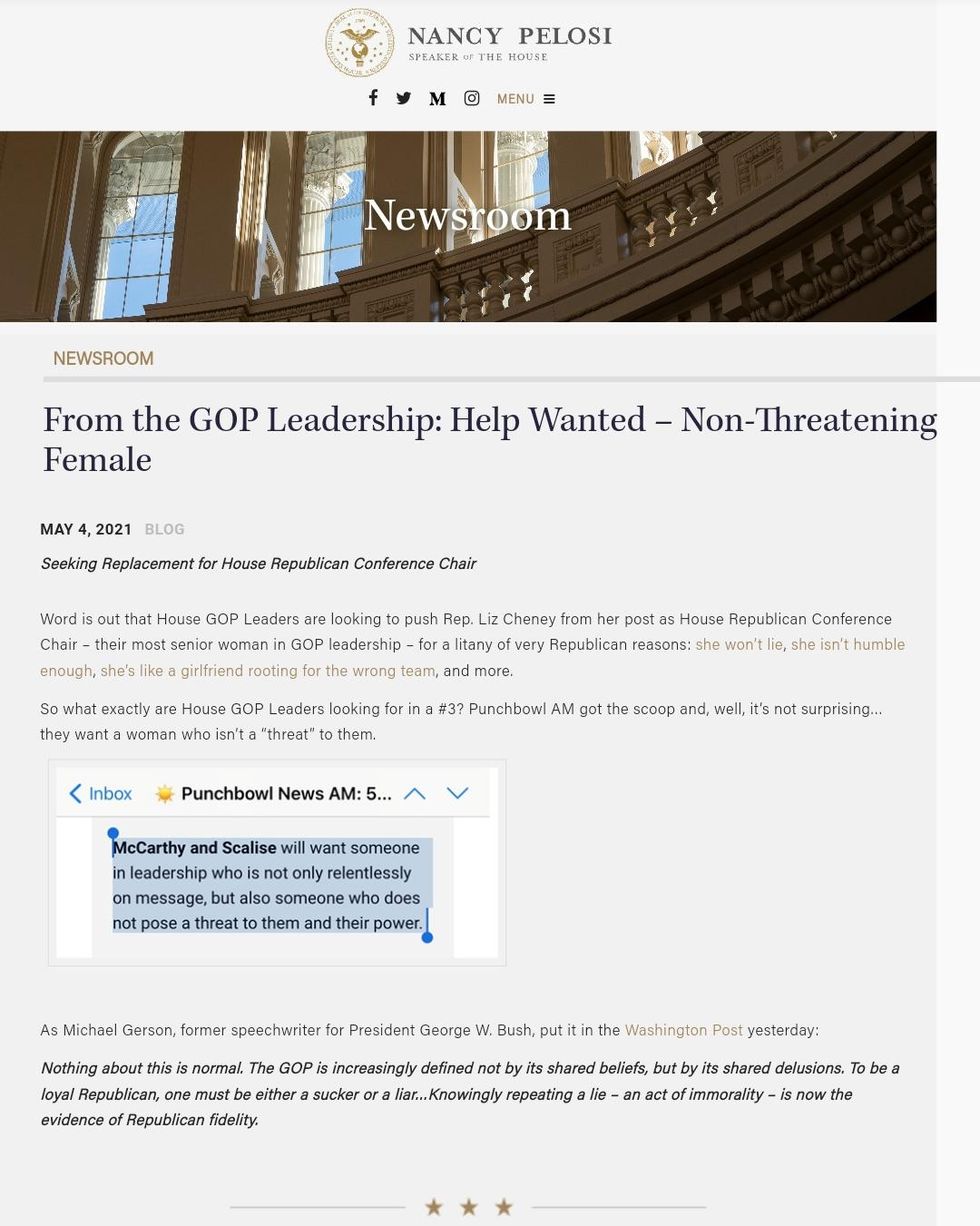 speaker.gov
Pelosi pulled no punches.

The title alone is pretty damning: Help Wanted—Non-Threatening Female.
But the text of the "want ad" is even more pointed.

Pelosi wrote:

"Word is out that House GOP Leaders are looking to push Rep. Liz Cheney from her post as House Republican Conference Chair―their most senior woman in GOP leadership―for a litany of very Republican reasons: she won't lie, she isn't humble enough, she's like a girlfriend rooting for the wrong team, and more."
Pelosi then mused what the House GOP might be looking for in a replacement for Cheney, before answering the question with a screenshot of a report in the DC news blog Punchbowl that answers that very question.
According to the report, the #1 and #2 Republicans in the House, Representatives Kevin McCarthy of California and Steve Scalise of Louisiana are seeking someone "who does not pose a threat to them and their power."
People appreciated Speaker Pelosi calling out the GOP.
GOP pols have been calling for Cheney's ouster since January because of her outspoken criticism of Donald Trump's "Big Lie" election conspiracy theory, his involvement with the January 6 coup attempt at the Capitol and her subsequent vote in favor of Trump's second impeachment for his involvement in fomenting the insurrection.

House Minority Leader Kevin McCarthy was caught on a hot mic following a Fox News appearance Tuesday saying he's "had it with her," and saying he expects a motion for her ouster to be forthcoming.
If successful, Cheney would retain her House seat but lose her position as House Republican Conference chair.