Chip Somodevilla/Getty Images
Rudy Giuliani was dragged online for a bizarre tweet in which he endorsed Republican Senator Doug Mastriano of Pennsylvania and misspelled his name in the process.
In the tweet—which has since been removed—the former personal lawyer for Donald Trump referred to one, Senator Doug "Mastrianni," and said he was "the man to straighten out PA."
@RudyGiuliani Some days I wonder: could Giuliani be any bigger of an idiot? And then you go right ahead and show me… https://t.co/upDz5sAm1e

— Fair Witness (@Fair Witness)1621015727.0
While we don't know of any "Doug Mastrianni," it didn't require much sleuthing to figure out to whom Giuliani was actually referring—since he and Senator Doug Mastriano teamed up in the past to help perpetuate Trump's unfounded claims of a stolen election.

@RudyGiuliani/Twitter
But in addition to butchering the surname of the incumbent State Senator, Giuliani accompanied his endorsement tweet with a bizarre image of himself wielding a Civil War-era sword.
Here is the image in full.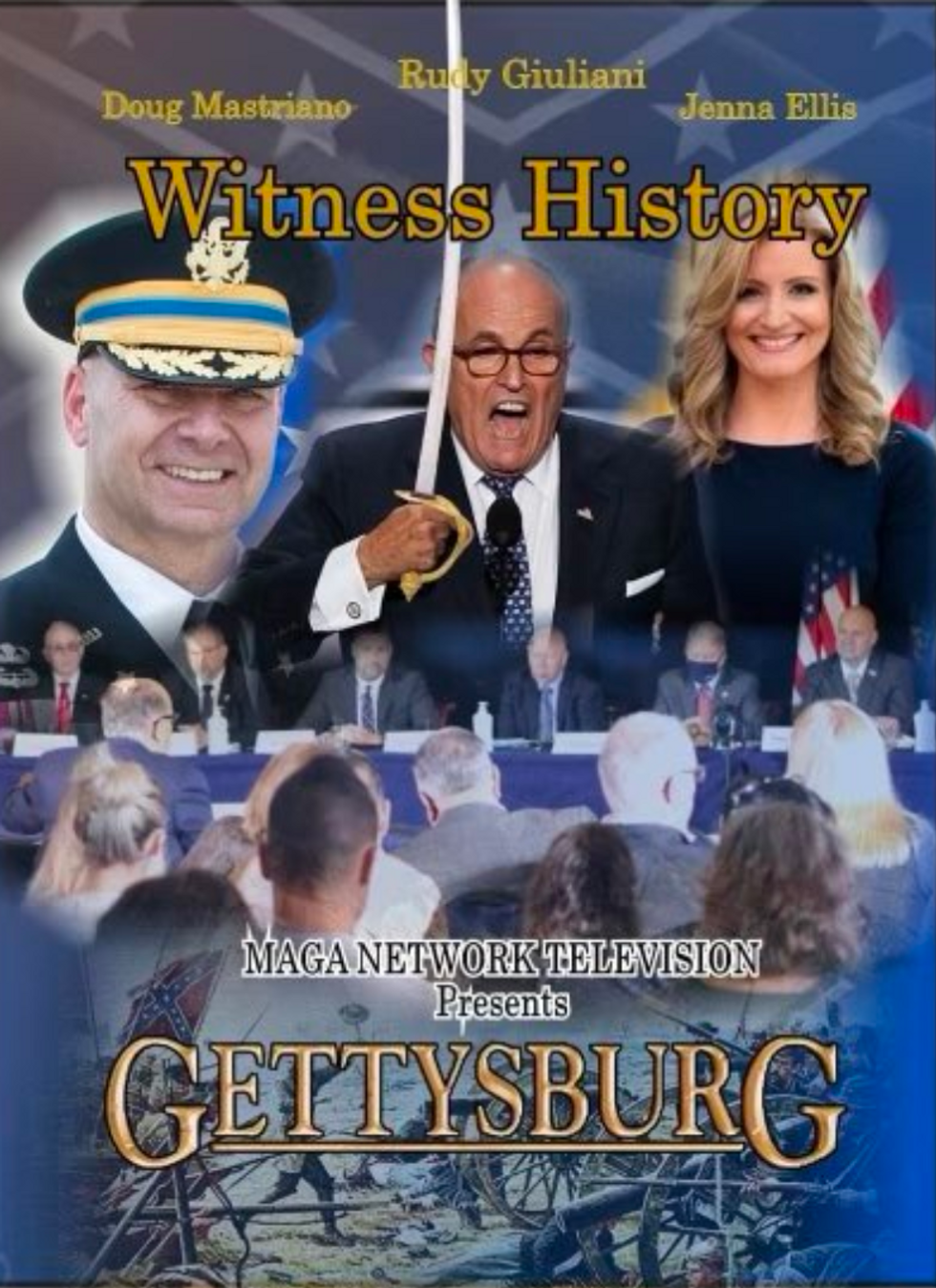 @RudyGiuliani/Twitter
@RudyGiuliani Rudy with a cavalry saber is the slapstick farce we all deserve, and a far better turn than politics.… https://t.co/iXljd4GU8f

— Ür-wellian (@Ür-wellian)1621001431.0
In the photo, which appeared to mimic a movie about Gettysburg, Guiliani was flanked by Mastriano and Jenna Ellis – who was hired by Trump in 2019 as his senior legal advisor and falsely maintained the twice-impeached former President won the 2020 election.
Twitter had a field day taunting Giuliani for a tweet that failed on multiple levels.
@RudyGiuliani When you're so drunk at 10am that you think this picture of you screaming and holding a sword is some… https://t.co/PCJO1OBQYc

— Dboon Oggle (@Dboon Oggle)1621000587.0
@RudyGiuliani @dougmastriano That looks like a poster for a movie from the 80s that went straight to VHS.

— Steve Bond (@Steve Bond)1621004795.0
@RudyGiuliani @dougmastriano Thanks for this. You made my day dude. What a glorious sh*tshow!

— crawdad62 (@crawdad62)1621004656.0
@RudyGiuliani This poster manages to fully capture the insane madness of maga world. 😂 Gotta be satire, right?

— Legally Grond 🇺🇸 (@Legally Grond 🇺🇸)1621000748.0
@RudyGiuliani I don't know if I trust the guy that buttdials with a sword.

— Dave Hargis 🇺🇸 (@Dave Hargis 🇺🇸)1621000697.0
@RudyGiuliani @dougmastriano https://t.co/fCbELJB8Sk

— JIM PETERSON $radical63 (@JIM PETERSON $radical63)1621002470.0
Users didn't forget about Guiliani's infamous appearance at Four Seasons Total Landscaping yard maintenance company in Pennsylvania last November after Trump had previously announced a "big press conference" would be held at the Four Seasons in Philadelphia during his reelection campaign.

@RudyGiuliani @AllisonGuerrier @dougmastriano You should have a fund raising event at Four Seasons Total Landscaping!

— JDO (@JDO)1621013205.0
Another user wondered if the position of the sword held a specific purpose.
@RudyGiuliani @dougmastriano 🤣🤣🤣🤣🤣 https://t.co/IvLZB5eKFA

— Kristen Oxendine (@Kristen Oxendine)1621009940.0
The day after Pennsylvania state officials certified Joe Biden's win over Trump by 81,000 votes, Mastriano invited Giuliani to a GOP hearing on November 25, back when the death toll and infection rates were still climbing during the pandemic.
At the large gathering held in a packed Wyndham Gettysburg hotel ballroom, Mastriano perpetuated Trump's lies about the 2020 election being rigged.
On Saturday, Giuliani hosted a fundraiser for Mastriano in Chambersburg as the Senator is expected to enter the Republican primary race for Pennsylvania governor.