Whether we want to admit it or not, we all know that it's unacceptable to wear white to an American wedding when we are not the bride.
Trying to plead ignorance only serves to create drama at what should be a happy event.
Wedding Planner Cari of @cari.izaguirre on TikTok regularly shares funny stories on the platform of what has happened at the weddings she's helped organize and execute, like dancing when her jam comes on, weird design flaws at a destination wedding, and fellow guests trying to "help" by saying they have wedding planning experience.
But the wedding planner's latest concern was people still showing up to weddings wearing white when they weren't the bride, which is a well-known faux pas.
Laughing in anger, Cari threatened:
"Everyone knows by proper etiquette...I mean, you should know. If you don't already know, you're gonna learn."
"You do not wear white to a wedding."
Despite this knowledge, there were four guests at the wedding wearing white or very light colors that would look white in the upcoming videos and photographs.
You can watch the original video here:
Fellow TikTokers were appalled that so many guests at the same wedding thought this was okay behavior.
@cari.izaguirre/TikTok
@cari.izaguirre/TikTok
@cari.izaguirre/TikTok

@cari.izaguirre/TikTok
@cari.izaguirre/TikTok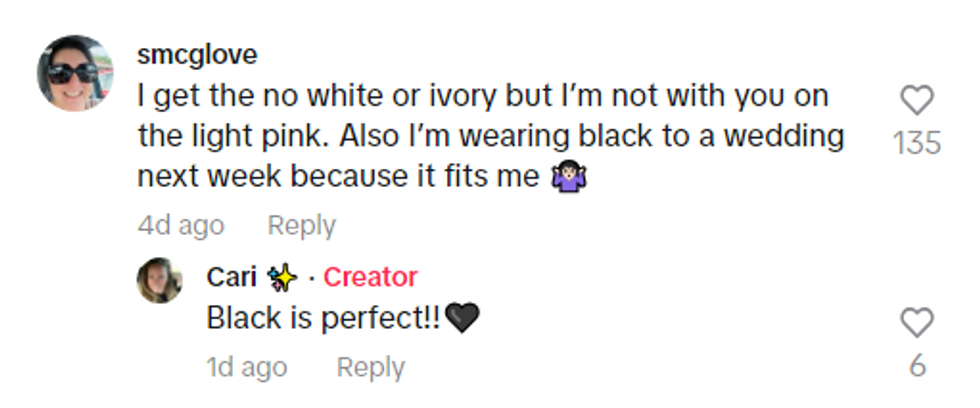 @cari.izaguirre/TikTok
@cari.izaguirre/TikTok
@cari.izaguirre/TikTok

@cari.izaguirre/TikTok
@cari.izaguirre/TikTok
Cari revealed that she had approached each of the four women to explain that what they were wearing was inappropriate—but instead of kicking them out, she worked out strategies for them to enjoy their time at the wedding.
The women were not, for example, allowed to sit in aisle seats, since they'd be visible in the pictures of the bride walking down the aisle.

A fellow TikToker wondered if the women were at least apologetic when called out by the wedding planner.
To this, Cari explained that unfortunately, no, they were not apologetic at all.
Each woman gave excuses, such as how they'd worn a similar dress to another wedding and it had turned out fine, or that it was a nice dress and should be allowed at a wedding.
Some TikTokers also talked about the concept of inverted color palettes for weddings, which Cari loved.
There were examples of guests being asked to wear white or black so the bride could wear a pop of color instead of white. Cari loved these ideas, as long as guests were complying with these plans.
The wedding planner explained that weddings were wildly expensive to plan and execute, and guests were not paying for the wedding, so they could do the simple honor to the bride and groom of playing along with their rules.
It's wild to think that people are still confused or insistently spiteful about something as simple as not wearing white to an American wedding in 2023.
While each culture has its own wedding etiquette rules, it's the responsibility of the guest to know what "kind" of wedding they will be attending and what is reasonable to wear to that wedding.
There's this little thing called "asking" or "Googling" if they aren't sure. Period.