A Black woman was fined $385 for "talking too loudly" on her cell phone while she walked along the sidewalk of her own block. She alleged the punishment was entirely the result of racism.
As Fox 2 Detroit reported, Diamond Robinson was walking up and down her residential block while she took a phone call. One of her neighbors, a White woman who'd moved into the neighborhood recently, approached her and asked her to keep her volume down.
Robinson wasn't persuaded at all.
She told Fox 2 how she responded—and how quickly it escalated from there.

"And I said 'Get out of my face,' and I proceeded to walk past her."
"She is saying whatever she is saying, three minutes later, Eastpointe police pulls up."
When the police arrived, Robinson took out her phone and began filming a Facebook Live video.
She told the officers she felt she was being targeted by her neighbor because she is Black.
The police wrote her a ticket anyway.

Robinson was livid:
"I'm not doing anything wrong by walking up and down the street talking on my phone."
"I get a ticket for being a public nuisance because I'm talking too loud on my phone. That's why I got a ticket?"

"There's no way police should be called on me when I am on my own property, in my own neighborhood, on my own block."
Robinson called Fox 2 after receiving the citation.
She posted another Facebook Live clip documenting the moments the reporter talked with her neighbor, who eventually retreated into her home.
In an update to the original Fox 2 Detroit report, the Eastpointe Police Department shared Robinson was given the ticket because she "could be heard from approximately 150 feet away."

EPD also put out a lengthy statement.
"The officers acted professionally when speaking with Ms. Robinson. Officers respond to all police dispatches and had no option but to go to the scene of the complaint. We expect our officers to maintain public peace."
"This can often be accomplished through discussions and negotiations, but sometimes enforcement action has to be taken."
But as comments on Robinson's Facebook Live video illustrated, many people were not buying the explanation.

Della Robinson/Facebook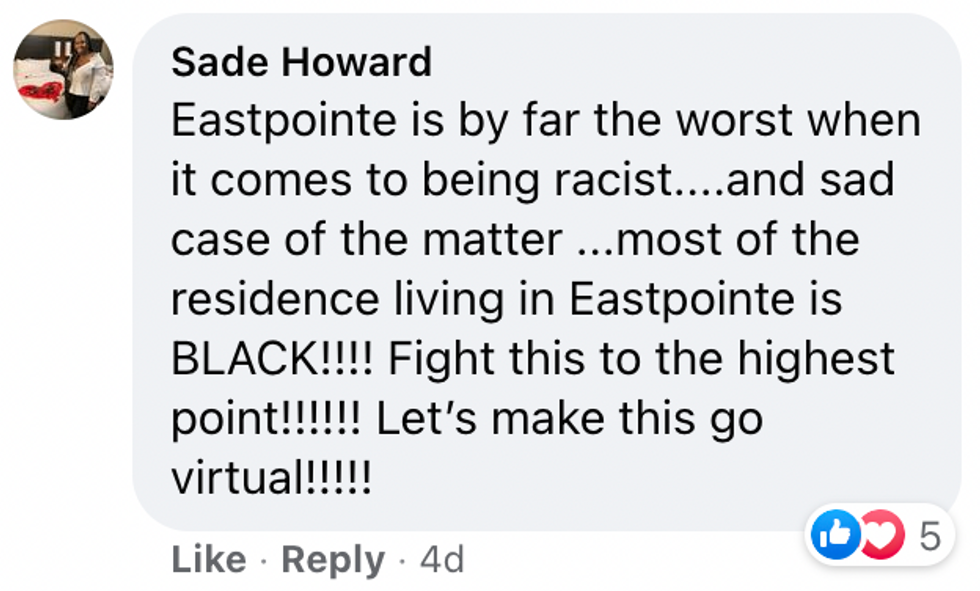 Sade Howard/Facebook

Peter Anderson/Facebook

John Joseph/Facebook
Only time will tell how the continuing relationship between Robinson and her new neighbor evolves.

Hopefully a peaceful coexistence can be achieved.