Meghan McCain was slammed by Bernie Sanders supporters for a tweet questioning his health.
On Tuesday, Sanders narrowly won the New Hampshire primaries and proved his strong foothold in the Democratic presidential race.
---
But the conservative daughter of the late U.S. Senator John McCain was befuddled over the Democratic socialist's momentum and why liberals would choose to put their faith in him as a Democratic candidate.
McCain asked:
"Democrats really gonna nominate a 78 year old white socialist who recently had a heart attack? Really......"
The backlash was swift, with many criticizing her own rationale and credibility.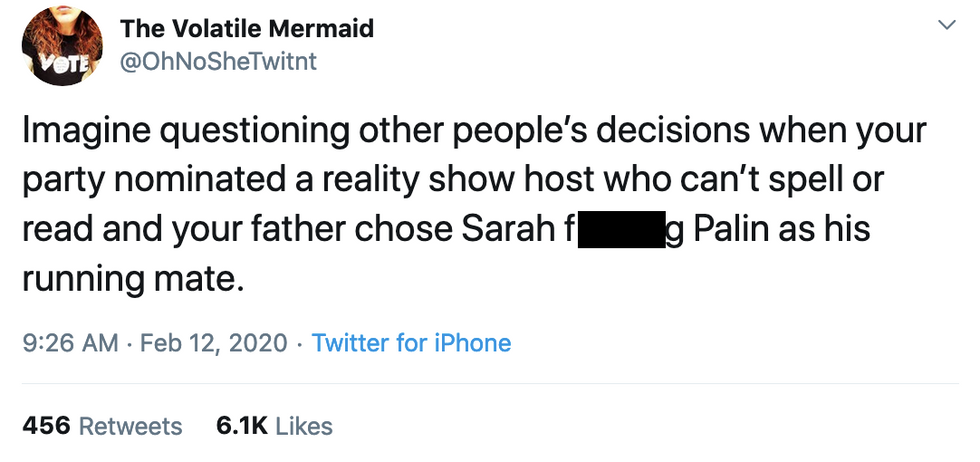 @OhNoSheTwitnt/Twitter
Many also reminded her that ageists similarly complained when her father ran against Barack Obama in 2008 as a Republican presidential nominee while in his 70s before being diagnosed with brain cancer in 2017.
The hypocrisy of her ageist comment came back to haunt her.

Last year, McCain slammed California Representative and former Democratic presidential candidate Eric Swalwell—who took a swing at 76-year-old Joe Biden during the first Democratic debate on June 27, 2019.

McCain said on The View:

"Eric Swalwell with this ageist crap, I hate it. I work with women of all ages. I want experience and people who know how Washington works and who have served and have a life and experience they can bring that to the White House."
"I thought Pete Buttigieg looked real young last night and real green. And Eric Swalwell, take a seat, you're an asterisk on the end, Ok?"
Some were at a loss for words.
People did not forget her father appointed then-Alaska governor Sarah Palin—who was notorious for being a "deer in the headlights" concerning politics—to be his vice-presidential running mate in the 2008 election.

People remembered her father got on well with Sanders.
People bouncing back from a heart attack can be empowering, like Twitter user @KevinlyFather

Redditors were not surprised about her latest tweet.
"Meghan McCain makes no f*cking sense as a person. Like.... Just none."
"On 'The View', she portrays herself to be all about girl power, inclusivity with people of color and the LGBTQ community, prides herself on being an ally and getting LGBT awards. She constantly brags on her... 104 or 108 I can't remember which, grandmother and how she's still sharp as a tack."
"She says a lot of sh*t that makes you think, huh. She sounds like a moderate Dem."
"But then they start talking politics and she goes full on conservative and says sh*t like this. What pisses me off about her is she sits up there and acts like she's the be all end all of politics and the words that come out of her mouth should be taken as gospel."
"She keeps running that mouth saying what the Democrats should do and how they should vote and how they should run. Why the f*ck would we listen to someone who rolls her f*cking eyes every time someone more liberal than her starts talking?"
"She's confusing and gets on my last nerve." – comfortable_madness
"How can this b*tch advocate for the party whose figurehead sh*ts all over her dead father? What a shameless loser." – HauschkasFoot
Anyone is better than the alternative.

Former Democratic presidential contender Marianne Williamson responded to McCain's tweet, saying:
"Better than a 73-year-old would-be autocrat who displays no morals, shows constant disrespect for the traditions of our democracy, and seems to have no heart at all."
An hour after her tweet, McCain fought back against Sanders' supporters, saying:
"Bernie supporters responding with the calm nuance they are known for to my slight criticism tonight. Ya'all sure live up to your 'Bernie bro' reputation, don't ya?"
It looks like she got the answer from her initial tweet.
At 78-years-old, Sanders is proving to be a liberal champ after surviving a heart attack four months ago and after losing the Democratic presidential nomination four years ago.
After surging to the top spot with 25.7 percent of the vote in New Hampshire, Sanders is not showing any signs of slowing down, and is proving to be a strong contender with many Democrats rallying behind him.
Really.