Democratic presidential hopeful Marianne Williamson appears to be the kooky gift that keeps on giving when it comes to the 2020 election.
And a recent Game of Thrones meme that she shared on Instagram is the newest cherry on top of a bizarre sundae.
---
The self-help author posted a bizarre photoshopped image of the popular HBO series as part of a plea to her supporters to donate enough so that she qualifies for the next Democratic debate in September.
But the character she chose to stick her face onto certainly raised some eyebrows:
Yep, that's Melisandre.
Not exactly the hero of Game of Thrones.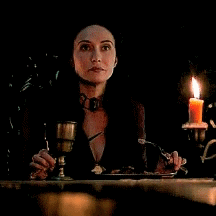 Giphy
For those who haven't seen the show, Melisandre is sort of a well-intentioned, but ultimately misguided sorceress who helps a man murder his brother/rival to the throne and then later convinces him to burn his young daughter alive to help him win a battle, among some other pretty f**ked up stuff.

Now, Williamson has been roasted since she shot to relevance after the first Democratic debates for some of her odd statements, so in some ways she's not unlike Melisandre.
I mean, she once even blamed the environmental crisis on "witch burnings."
FLASHBACK: Marianne Williamson blames "witch burnings" as "the beginning of the environmental crisis." https://t.co/0MJ9CtxA3B

— MRCTV.org (@MRCTV.org)1565136360.0
Perhaps her supporters are just as "out there" as she is.
Marianne Williamson rallies are lit https://t.co/ioJiAsd3fC

— Bryancé Knowles-Carter-Yang (@Bryancé Knowles-Carter-Yang)1565093190.0
Makes you wonder...
@Behind2020 Does that make Buttigieg Arya and Trump the Night King?

— C. N. Martin (@C. N. Martin)1565207256.0
@Behind2020 Her whole campaign is a giant cosplay.

— John Goldberg (@John Goldberg)1565207306.0
@Behind2020 I have so many questions and so little interest in the answers

— Jake Bryant (@Jake Bryant)1565228317.0
@Behind2020 Marianne... https://t.co/LGmqT20Em2

— Crystal Sometimes Funny (@Crystal Sometimes Funny)1565207370.0
@Behind2020 Melisandre was def an anti-vaxxer. Vaccines cause grey scale and whatnot...

— Zebulon T. Wookington (@Zebulon T. Wookington)1565211715.0
We feel a blood sacrifice coming soon.

@Behind2020 Is she going to sacrifice one of the other 23 Democratic candidates to The Lord of Light?

— Jay Potts (@Jay Potts)1565209202.0
@Behind2020 So this is the point in her campaign where she sacrifices a child?

— David Stegemeyer (@David Stegemeyer)1565207649.0
@Behind2020 https://t.co/qdmclM5Lxe

— Buek Nukem (@Buek Nukem)1565221695.0
@Behind2020 So she burned countless innocent people alive, including one of the sweetest, purest little girls ever? 🤔

— Justice Simone (@Justice Simone)1565210202.0
We're not sure what Williamson's prophecy says, but if we're going along with the plot of Game of Thrones, things probably won't end well for her.
@Behind2020 She should remember how the Red Woman wound up. Not a good choice.

— Maureen Sheridan (@Maureen Sheridan)1565209505.0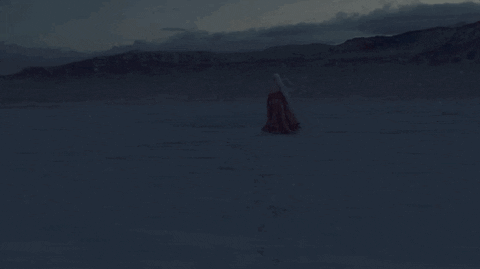 Giphy
The Game Of Thrones complete series collector's set is available here.