Kimye have officially been a thing for over six years but that doesn't mean their sense of playful romance has fizzled at all.
---
Kim Kardashian and Kanye West met nearly eight years ago. However the couple didn't get together for almost two years after that.
Before the couple started seeing each other, there was a bit of a love triangle between Kanye, Kim and Kris Humphries, her husband at the time.
Kanye, if you'll recall, was public about his adoration for Kim when he came out with his song "Theraflu," in which he flirtatiously sang,
"and I'll admit, I fell in love with Kim 'round the same time she had fell in love wit' him. Well, that's cool, baby girl, do ya thing."
However, it wasn't until after Kim's sister, Khloé, dropped major hints that the two had become a pair on Ellen, Kimye was officially born.
Since then, the lovebirds have welcome a daughter, gotten married, renewed their vows, and welcomed a son.
But despite seeing many milestones that often quickly settle into a post-honeymoon phase, these two can't seem to get enough of each other.
Last night, Kanye posted on Instagram.
His wifey posted a curious comment.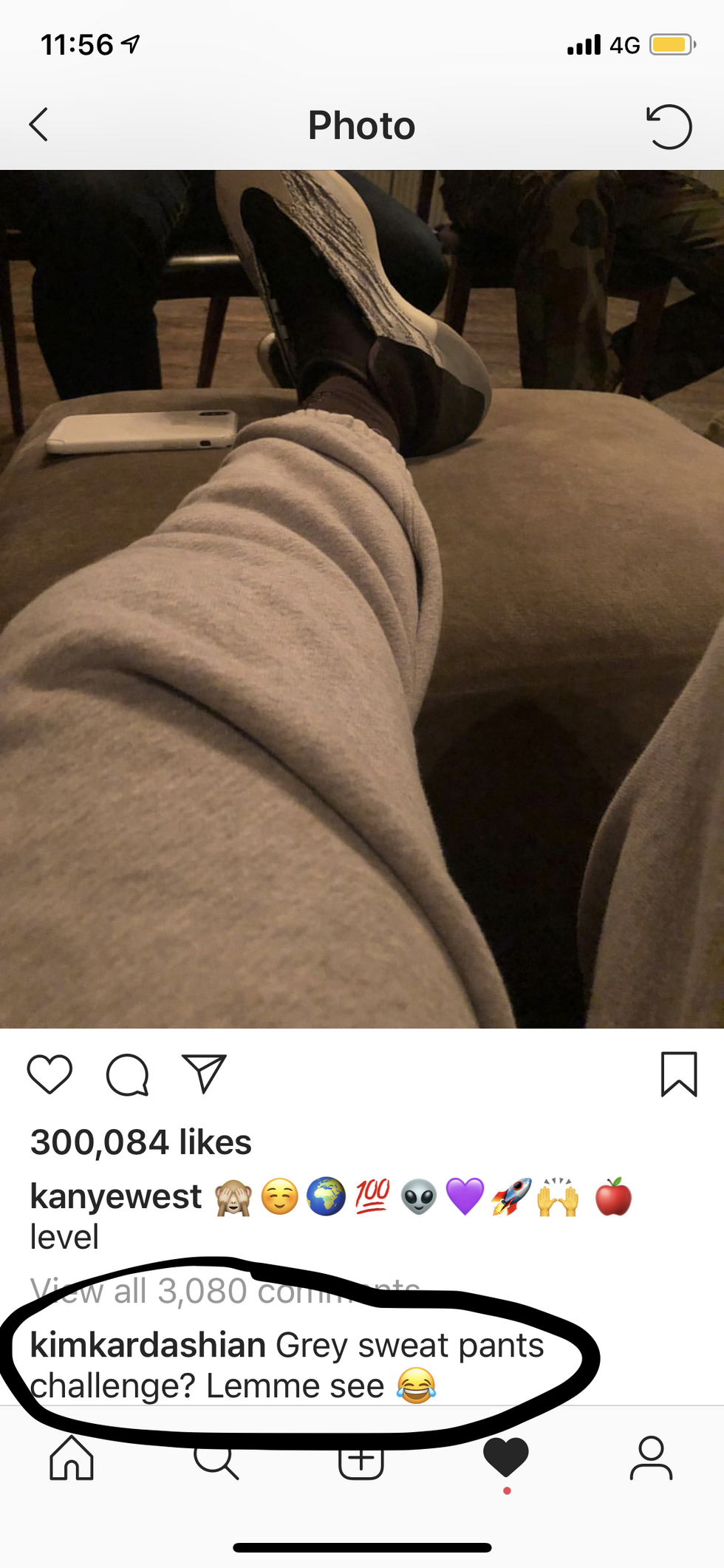 Instagram
What is the "grey sweat pants challenge" and why does Kim want to see?
Oh, right.
#GreySweatPantsChallenge Now that's sumthing I support https://t.co/cAteqbDqFY

— Colie (@Colie) 1537931453.0
People cannot handle how hot these two are for each other.

Instagram

Instagram

Instagram

Instagram

Instagram

Instagram

Instagram

Instagram

Instagram

Instagram

Instagram

Instagram
Find yourself someone who's eager to see you in your grey sweatpants 6 years after the fact.