Jennifer Aniston shared a touching tribute to her late co-star Matthew Perry, leaving fans emotional as she revealed a personal text exchange between them.
In an Instagram post on Wednesday, Aniston opened up about cherishing Perry's texts, expressing how they brought both laughter and tears. She shared how she stumbled upon a heartfelt text from Perry out of the blue, a moment she found deeply meaningful.
The text from Perry included a throwback photo of the duo engrossed in scripts and sharing a laugh, where he wrote, "Making you laugh made my day," adding, "It made my day :)."
Aniston reciprocated the sentiment by hearting the message and fondly recalling it as the "first of THOUSANDS of times."
You can see the text below.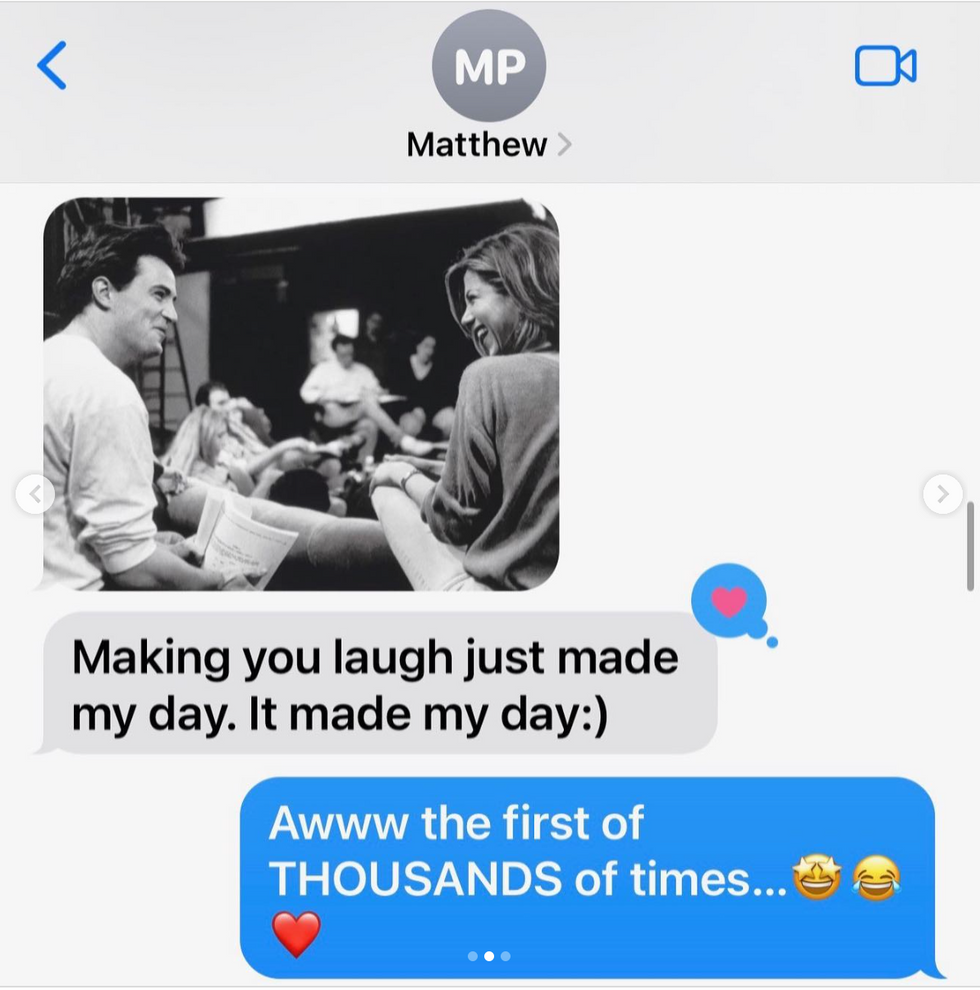 Aniston shared the following statement about her relationship with her late co-star:

"Oh boy this one has cut deep... Having to say goodbye to our Matty has been an insane wave of emotions that I've never experienced before. We all experience loss at some point in our lives. Loss of life or loss of love."
"Being able to really SIT in this grief allows you to feel the moments of joy and gratitude for having loved someone that deep. And we loved him deeply. He was such a part of our DNA. We were always the 6 of us."
"This was a chosen family that forever changed the course of who we were and what our path was going to be. For Matty, he KNEW he loved to make people laugh. As he said himself, if he didn't hear the 'laugh' he thought he was going to die."
"His life literally depended on it. And boy did he succeed in doing just that. He made all of us laugh. And laugh hard."
Aniston added she's "been poring over" the texts she and Perry sent to each other over the course of their friendship. She said they've had her "Laughing and crying then laughing again." She shared the above text message and, referring to all the others they shared between them, said she'll "keep them forever and ever."
She concluded:

"Matty, I love you so much and I know you are now completely at peace and out of any pain. I talk to you every day… sometimes I can almost hear you saying "could you BE any crazier?""
"Rest little brother. You always made my day…"
You can see her tribute below.
Many fans sent their well wishes to Aniston and shared their thoughts on the late actor.

Aniston's tribute follows a previous one by her co-star Matt LeBlanc, who on Friends played Joey to Aniston's Rachel and Perry's Chandler, as well as one from Courteney Cox, who played Monica.

LeBlanc said the memories he shared with Perry "are honestly among the favorite times of my life." He went on to say that it was "an honor" to act alongside Perry during the show's 10-year run, adding that he will "always smile when I think of you and I'll never forget you."