A patron of a Vietnamese restaurant in Iowa sent an email accusing the establishment of being "lazy" and "dangerous" after seeing slices of uncooked beef in their take-out order of, phở, a traditional dish.
"The beef was not cooked at all, and was wrapped in a bag and blooded," read the complaint, which was screenshot and shared on the restaurant's Facebook page.
"This is inappropriate and the ladies [are] lazy, not to mention dangerous. The blood got all over the styrofoam box."
"I never complain but this is disgusting and against the health code."
Pho Real Kitchen & Bar/Facebook
This photo of the meat was taken from another complaint.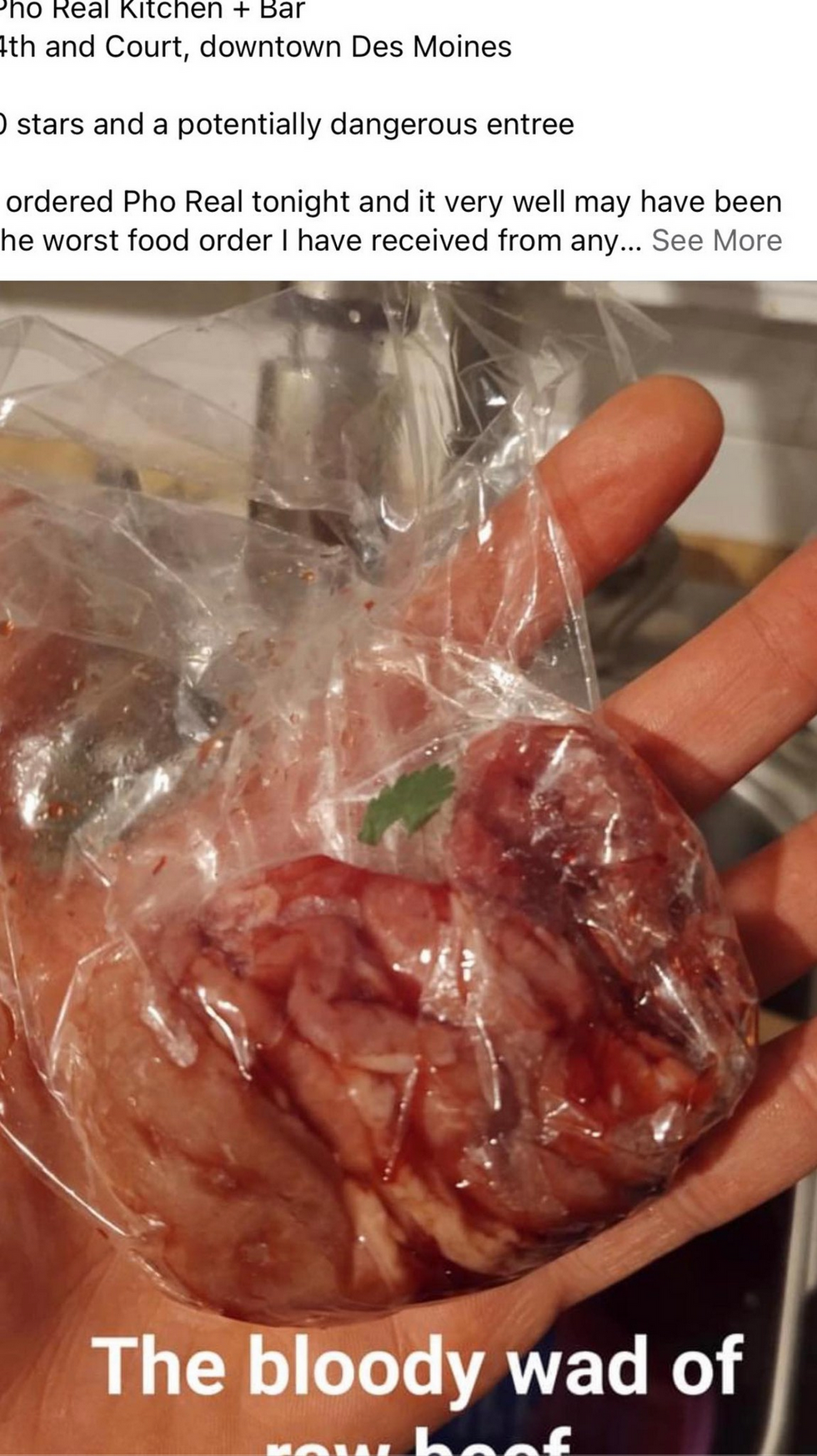 Pho Real Kitchen & Bar/Facebook
In response to the complaints, Vy Nguyen–the manager of the family-run restaurant Pho Real Kitchen and Bar in Des Moines–explained serving raw meat is the traditional way of preparing phở.
"They said that we were lazy and that upset me a lot," said Nguyen, who decided to speak out after previously receiving numerous complaints she thought were hurtful toward Vietnamese food and culture.
"I know my parents. They work 12 to 13 hours a day," she said.
People on social media cited the source of the complaints stemmed from cultural ignorance.

Nguyen also explained she and her family prefer serving their to-go dishes the traditional way. In Vietnam, the raw slices of beef in phở are eventually cooked inside the piping hot broth it is served in.
The restaurant said they are always willing to accommodate if a customer wants the beef cooked beforehand.

"I respect if you prefer it a different way, but this is how we do it," said Nguyen.
The restaurant also took to Facebook to inform customers about how phở is traditionally prepared.
"We realize that not everyone knows how to prepare Phở at home when they order it to-go as many are confused to see the packaged raw steak," wrote the restaurant.
"We understand that not everyone wants to do the extra cooking when they order takeouts, but Phở was never intended to be a takeout food, especially in Vietnam before any delivery service existed."
"We also understand if you just don't feel like leaving your home to go get food, which is why we'll be listing instructions on how to correctly prepare Phở at home!"
"Step 1: Assemble the noodles and meat together in a bowl."
"Step 2: Pour broth into a pot and bring it to a boil or you can just microwave it for 2-3 minutes."
"Step 3: Pour the broth into the bowl once it starts boiling. Pour directly over the rare steak if you want it to be well done."
As an alternative to requesting the steak be cooked beforehand, customers can also receive the uncooked steak in a separate bag so they can cook it themselves when they are ready to eat.
"The steak is not to be consumed raw. When you dine in, we pour the broth over the steak and 'cook' it for you because the steak would still be tender when it's brought out to your table."
"If you don't want to cook the meat at home, we have other toppings that doesn't require the labor like meatballs or brisket, and plenty of other dishes to offer without the hassle".
Pho Real Kitchen and Bar encouraged customers to call and ask questions about their concerns. However, they asserted "calling and yelling at our employees for something you don't understand is never acceptable."
In a previous email, the restaurant was accused of serving "frog eyes" instead of tapioca in their boba drink. The restaurant directly responded to the complaint.

But after the recent emails slamming the restaurant's traditional way of serving phở, they addressed the backlash by calling out the inherent ignorance towards Vietnamese culture.

"Shaming our food and calling it 'nasty' or 'disgusting' when you don't like it or just simply don't understand it, is offensive and insensitive towards our culture.
"There may be a certain dish that just isn't for you, but to many others it's comfort, it's mom and dad's food, it's home."
"We will always provide the most authentic version of our food and if it's not for you, there are many other restaurants out there for you to try!"
Many readers responded to the post with positive comments.

Pho Real Kitchen & Bar/Facebook

Pho Real Kitchen & Bar/Facebook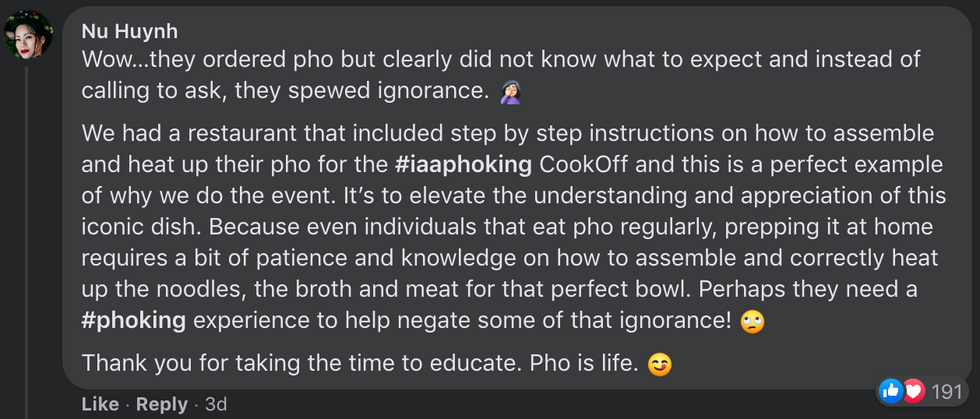 Pho Real Kitchen & Bar/Facebook

Pho Real Kitchen & Bar/Facebook
Pho Real Kitchen & Bar/Facebook

Pho Real Kitchen & Bar/Facebook

Pho Real Kitchen & Bar/Facebook

Pho Real Kitchen & Bar/Facebook

Pho Real Kitchen & Bar/Facebook
Nguyen told We Are Iowa the restaurant is a source of pride for her family.

"This was the first big gig. When my mom lived in Vietnam, she had her own small, mom and pop type of café," she said.