Redditor memon17 is a homeowner who had been flying a rainbow Pride flag since 2016. They were recently forced to remove it due to a new HOA (homeowner's association) rule that only permitted the display of American flags.
But the homeowner found a way to circumvent the rule to continue showing support for Pride month.
They lit up their home in rainbow colors.
The Original Poster (OP) said the new rule was in response to residents in the undisclosed neighborhood flying a variety of "opinion flags."

"Due to some neighbors flying BLM flags, Thin blue line flags, and other opinion flags, our HOA decided last month that we're only allowed to fly the USA flag, and nothing else."

The OP continued:
"The day after the decision, we receive an email that someone reported our Pride flag (that we had on our house since 2016), and that we needed to take it down."

"We complied and removed the flag. Looking through our new rules, we noticed that removable lights are permitted without restriction so... we bought 6 colored flood lights, and we washed our house in pride colors."

The clever homeowner added:

"A little less subtle than our simple flag. A lot more fun for anyone complaining about the flag itself and what it represents."
The OP provided a link to Imgur where the image was shared, which you can see here.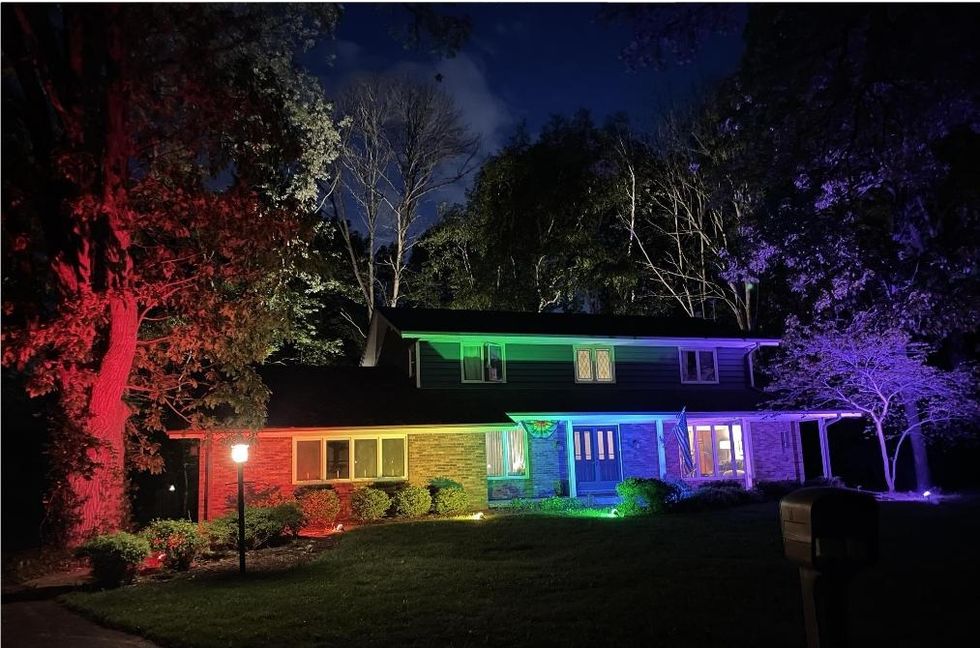 memonf/Imgur
The OP received glowing reviews for their Pride display.

People responded to the Reddit post with concern over what they thought was an unnecessary rule.

"Why are HOAs this aggressive over sticks?," asked one Redditor.
One person responded:
"Because they're run by people without any kind of real life and petty people with petty power are wannabe tinpot dictators."
"The people who are inclined to be involved in HOAs are the people predisposed to take particular issue with how other people live their lives."
Redditor Rhowryn weighed in with their two cents.

"HOAs are just politics on a small scale. Yes, some become grossly power hungry and petty, but some fault for that lies with all members for their apathy."
"As members they have the right to participate, not doing so is an implicit acceptance of the jerks who seize control."
The homeowner was happy with the responses in the thread and thanked everyone for their support.

"THIS GOT MORE ATTENTION THAN I WAS EXPECTING. JUST CLARIFYING THAT I DON'T HATE MY HOA, I DON'T THINK THEY CHANGE THE FLAG RULE TO ATTACK ME PERSONALLY, AND THAT I DECIDED TO DO THIS TO SHOW MY INDIVIDUALITY WHILE STILL FOLLOWING THE RULES."