Paramore singer Hayley Williams issued a firm response to "weird incels" and "internet bros" who voiced their discontent over the band's recent decision to postpone shows due to her health concerns.
After the cancellation of four shows, which were later attributed to Williams' lung infection, Paramore announced their return to touring, beginning with performances in Tulsa and St. Louis. However, this decision faced backlash from some fans.
Taking to Instagram Stories, Williams shared screenshots of derogatory comments from trolls targeting the band's postponement. One tweet compared Paramore's situation to that of Metallica and Iron Maiden, insinuating that the latter bands managed to perform while unwell due to their advanced age.
Williams swiftly responded, asserting:
"Neither James [Hetfield] NOR Bruce [Dickinson] are gonna suck your d**k for this, LOVE."
You can see her post below.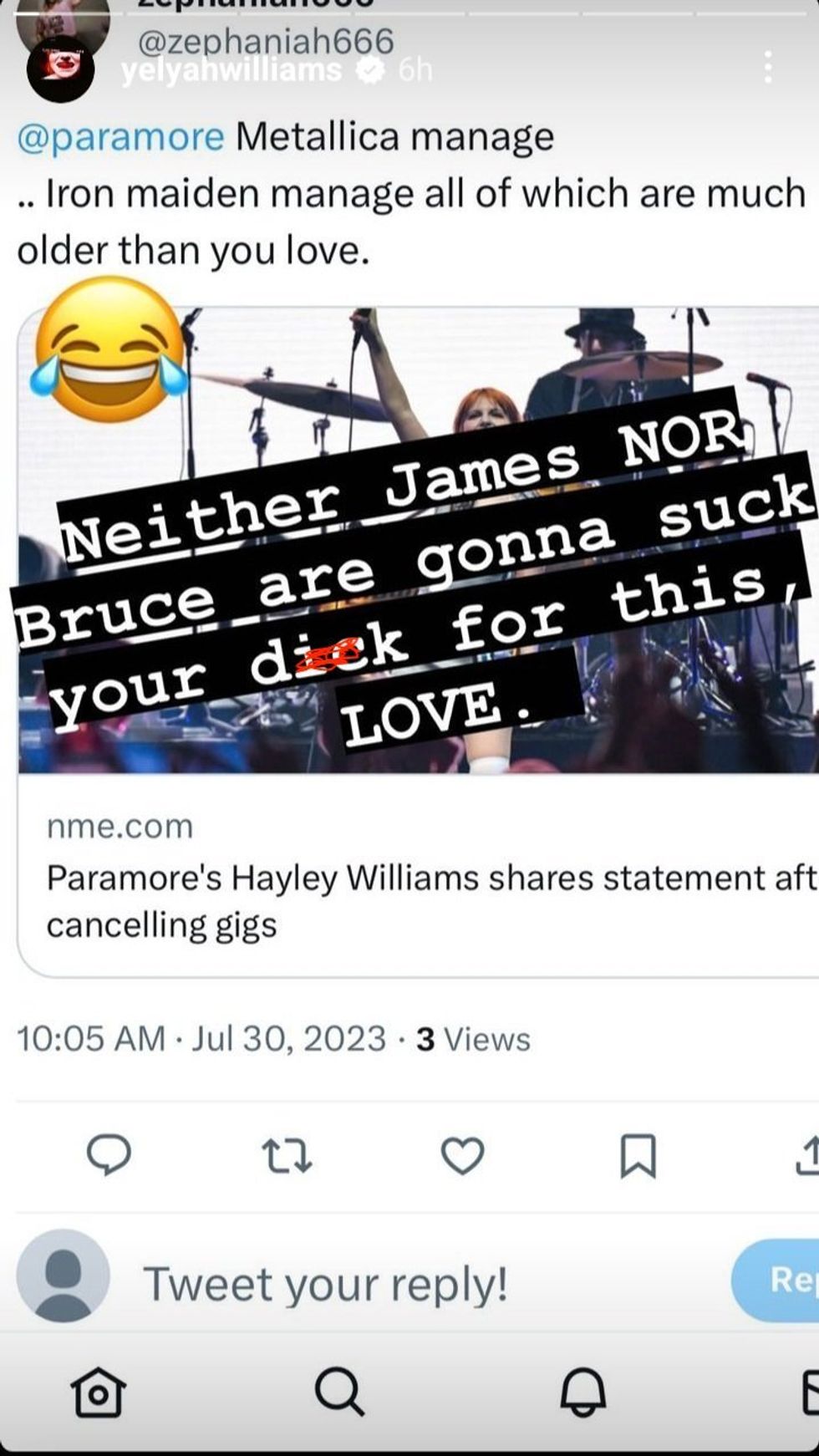 @yelyahwilliams/Instagram
Another tweet referenced Dave Grohl's 2015 performance with a broken leg and suggested Williams should be able to perform despite her health issues.
Williams retorted:
"I have a lung infection you soft s**t Not a broken limb. One you can sing with for 2 hours, another you cant."
"But worry not! The shows weren't canceled, merely postponed a week. Maybe you should come out to one of them… like Dave did."
You can see her post below.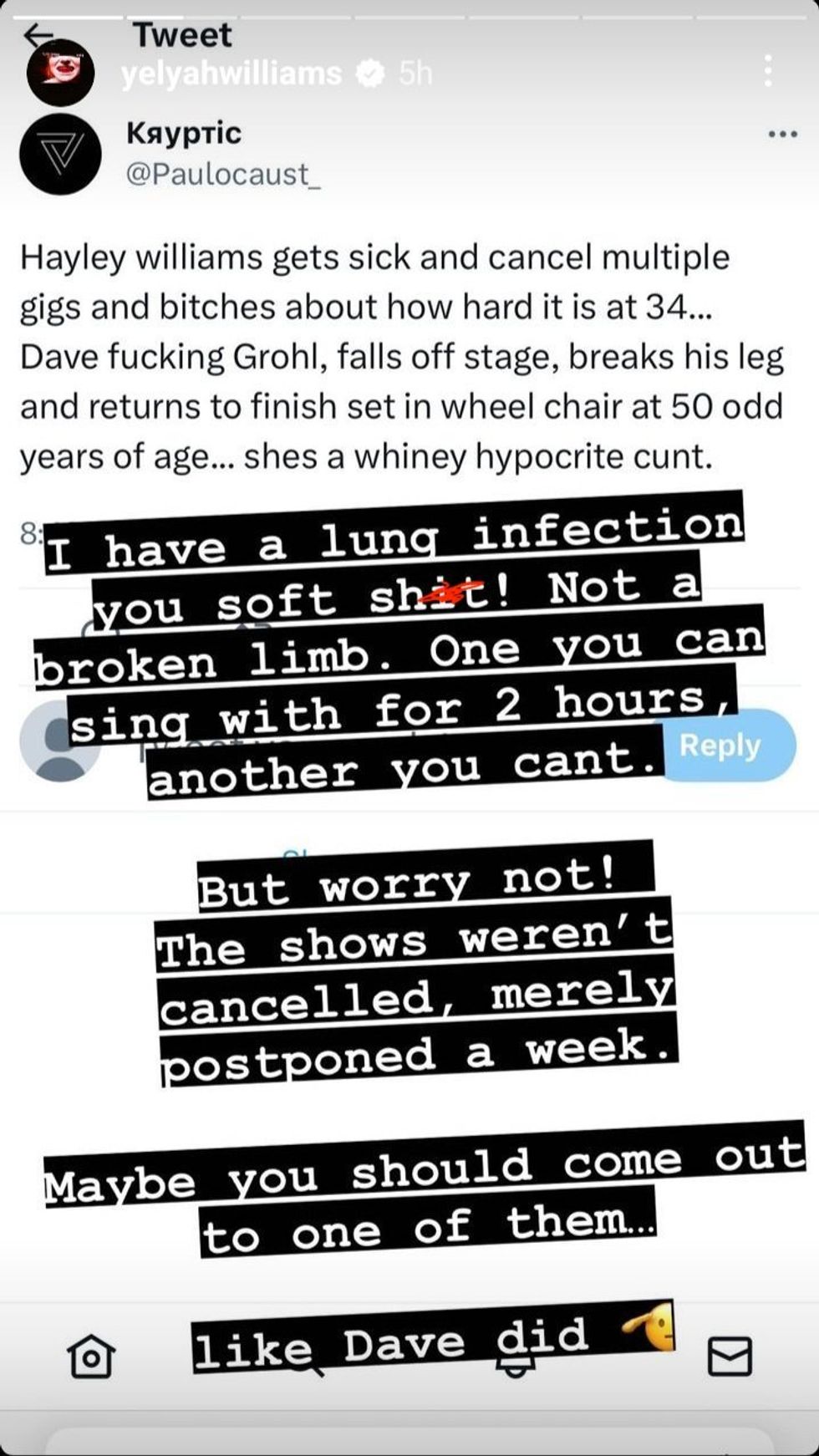 @yelyahwilliams/Instagram
Williams also offered a more comprehensive response, shedding light on the persistent challenges she faces from certain segments of the internet.
She wrote:

"internet bros have been pressed by my proximity to rock music and all its subgenres since 2005. the only thing thats changed is the platform from which they spew their ignorance."
"don't think for a second your fav bands – metal or punk or otherwise – endorse your weird incel ass lifestyle. so many of these bands have stood side stage at our shows and treat us with respect. why?"
"bc they aren't threatened by a strong woman front a great band in a completely diff genre of music."
You can see her post below.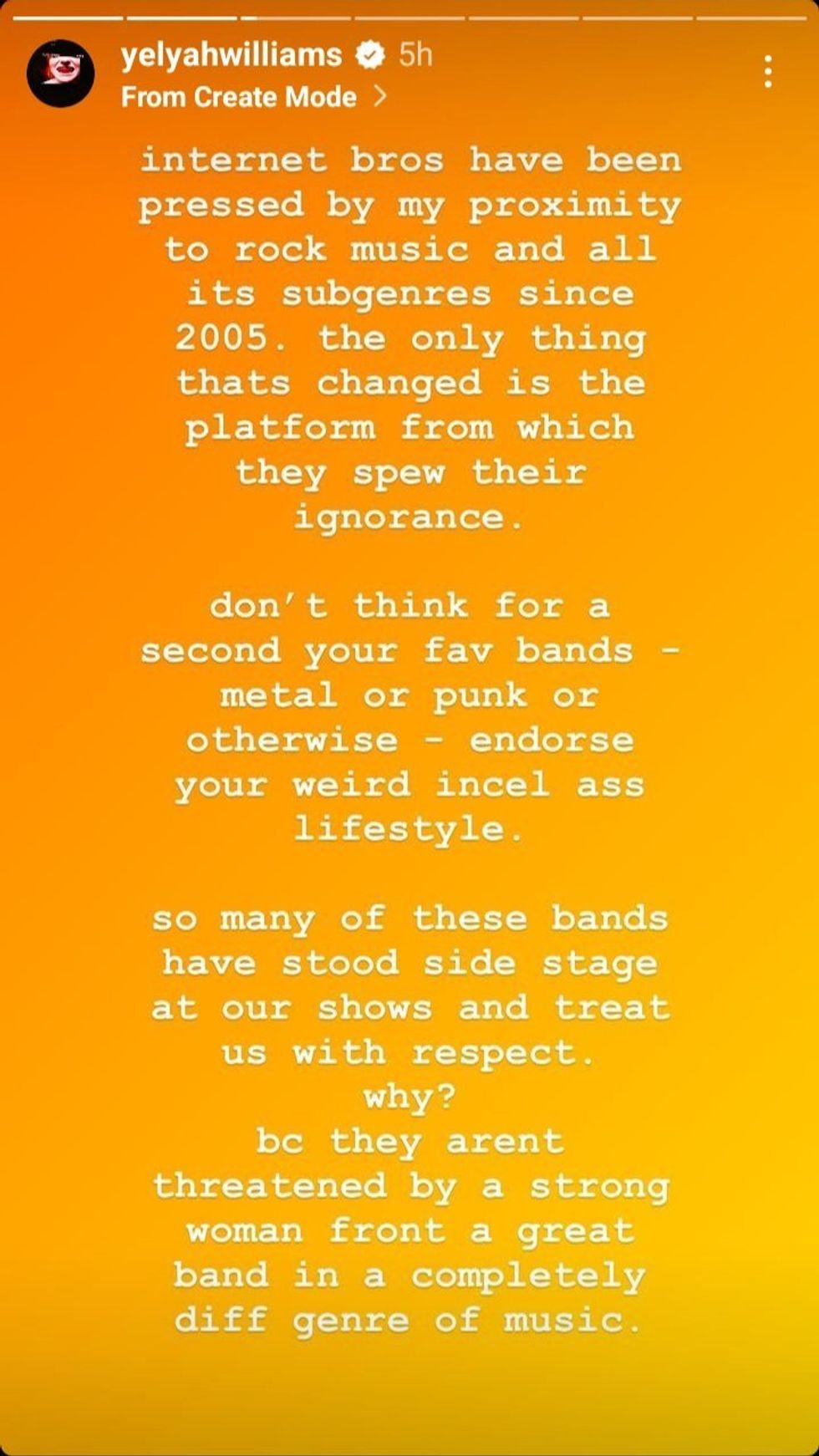 @yelyahwilliams/Instagram
Many have praised Williams' responses to the trolls.

Williams has candidly shared her ordeal of battling illness during the tour.

Last week, she clarified that the illness was not due to food poisoning or any collective health issue within the band. Williams admitted that touring at the age of 34 brings different challenges compared to her earlier years in the music industry.
Additionally, she highlighted her evolving responsibilities and connections outside of music, making the decision to prioritize her health and well-being even more crucial.