Republican Senator Josh Hawley of Missouri is joining in on the GOP dog pile against their latest bogeyman—Critical Race Theory (CRT).
Hawley stated he will introduce legislation that will ban the teaching of Critical Race Theory in schools—something that already isn't happening at the K-12 level because CRT is an advanced concept usually taught as an elective to graduate students especially in law school.
The bill will also require schools to teach students about the founding documents of the United States, the Constitution, Bill of Rights and the Declaration of Independence, which are almost certainly already part of their curricula.
Hawley tweeted, bragging about his upcoming legislation.
"The Left wants to teach our kids that America is systemically racist. That's false and it's meant to divide. It's time to replace lies with the truth!"
People were much less enthusiastically supportive about Hawley's proposed legislation than he was probably expecting.
Twitter users quickly picked apart his idea to perpetuate the White nationalist misinformation most public school curricula already centered on for over a century.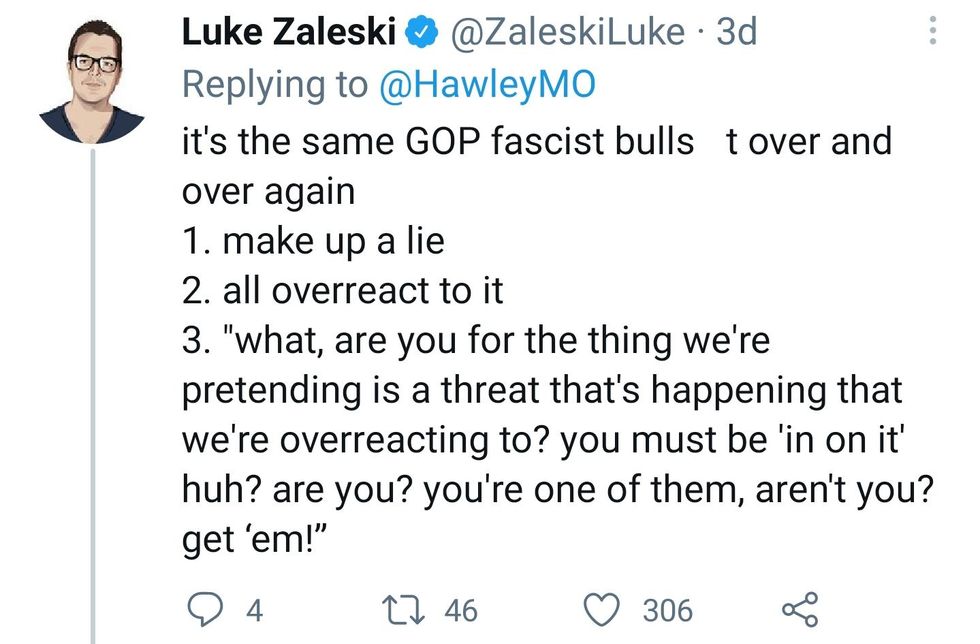 @ZaleskiLuke/Twitter
Hawley's Love America Act would require children to memorize and recite portions of the country's founding documents, which is already a common part of many K-12 schools' curricula today.
In a statement, Hawley said:
"We cannot afford for our children to lose faith in the noble ideals this country was founded on."
"We have to make sure that our children understand what makes this country great, the ideals of hope and promise our Founding Fathers fought for, and the love of country that unites us all."
Hawley was one of the 147 GOP members who refused to certify the 2020 election.
He also later voted against establishing a bipartisan committee to investigate the January 6 Capitol riot turned insurrection.