Comedians Jason Selvig and Davram Stiefle—the minds behind the comedy duo The Good Liars known for lampooning American politics with digs at the NRA, Evangelical Christian fundamentalism, Fox News, the Trump family and the MAGA minions and QAnon crowd—have received plaudits online for their latest stunt.
The duo decided to epically troll Jared Kushner—former Republican President Donald Trump's son-in-law and one of his White House senior advisors—after Kushner released a new memoir about his time in Washington.
The Good Liars announced they replaced the cover of Kushner's memoir Breaking History: A White House Memoir in a New York Barnes & Noble.
A photograph posted to their official social media account shows the new cover.
The book has been "renamed" I Am Slenderman: And Other Scary Stories.
And as an added bonus, the book now features a "Forward by Jared's wife, a possessed mannequin."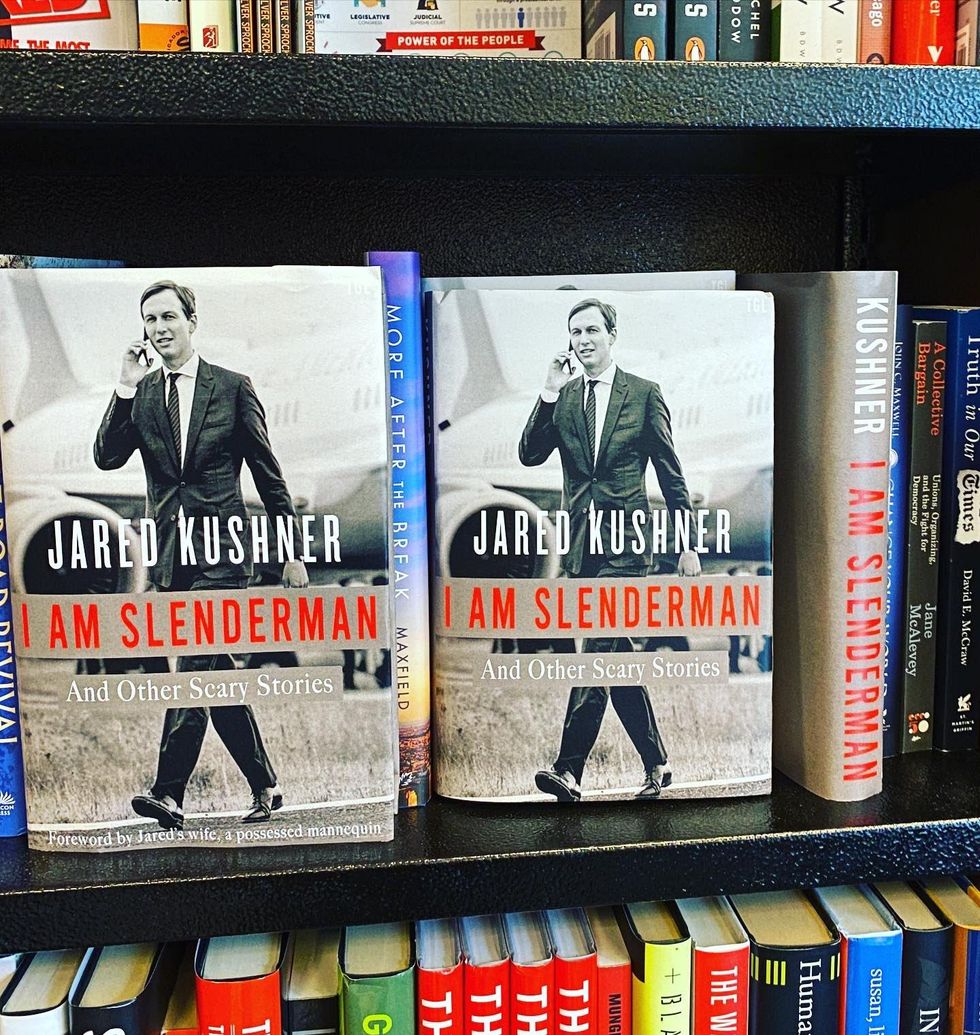 @TheGoodLiars/Twitter
The Slenderman—or Slender Man—is an urban legend that began as a fictional supernatural character, originating as a creepypasta internet meme created by a Something Awful forum user in 2009.

Slenderman is depicted as a unnaturally thin and tall humanoid with a featureless face, wearing a dark suit...
Giphy
As far as Twitter users were concerned, the resemblance was uncanny.
Back in 2019, the comedy duo gave Trump Jr.'s book the same treatment.
Breaking History, which was published earlier this month by Broadside Books, was described in promotional materials as insightful, taking readers "inside debates in the Oval Office, battles at the United Nations, meetings in Arab palaces, and intense negotiations in North Korea, China, Mexico."

But New York Times book critic Dwight Garner felt very differently, describing the book as a "soulless and very selective memoir" in a scathing review that had social media users in stitches earlier this week.
He says Kushner writes "as if he believes foreign dignitaries (and less-than dignitaries) prized him in the White House because he was the fresh ideas guy, the starting point guard, the dimpled go-getter."
He likens the book to "a tour of a once majestic 18th-century wooden house, now burned to its foundations, that focuses solely on, and rejoices in, what's left amid the ashes," saying the book's tone is similar to a "college admissions essay" full of "political cliché."
Moreover, Kushner "poignantly, repeatedly beats his own drum," recalling "every drop of praise he's ever received; he brings these home and he leaves them on the doorstep."
At one point, Garner points out once in the White House, Kushner "became Little Jack Horner, placing a thumb in everyone else's pie, and he wonders why he was disliked."
Garner eventually concludes his review of Breaking History by pointing out Kushner suggests he had no knowledge of the January 6 insurrection "until late in the day." He adds Kushner "seems to have no beliefs beyond carefully managed appearances and the art of the deal."