When parents think of everything their children need to learn as they grow up, they get overwhelmed with the alphabet, clock-reading, and geometry. Many people don't realize how important it is to teach values and beliefs, like body positivity and confidence.
But it becomes clear when a parent has been consistently teaching their child these values while another has not.
A mother recently shared a video of her daughter, Leila Danai, on the TikTok channel she had started to document her daughter's growing years, including her adorable costumes and hairstyles, and of course, her recaps in the car after school about her day.
In one of her most recent recap videos, Leila was in her car seat, sporting an adorable top bun and holding several pieces of artwork she'd made at school.
She got right to the point when recapping her day with her mom:
"Owen didn't like my hair, but I said, 'I like it!'"
When her mom asked her what Owen had said, Leila explained:
"He said, 'I don't like that hair. It's crazy.'"
"And I said, 'My mommy made it. If you don't like it, I'll keep it for myself!'"
Leila's mom then encouraged her behavior by pointing out to her how proud of her she was for standing up for herself and being confident in who she is, even though she's only three years old.
"I'm so proud of you. What matters is that you like it. It's your hair. Good job standing up for yourself!"
You can watch the video here:
Viewers absolutely loved the video and applauded Leila's mom for instilling that confidence in her.
@leiladanai/TikTok
@leiladanai/TikTok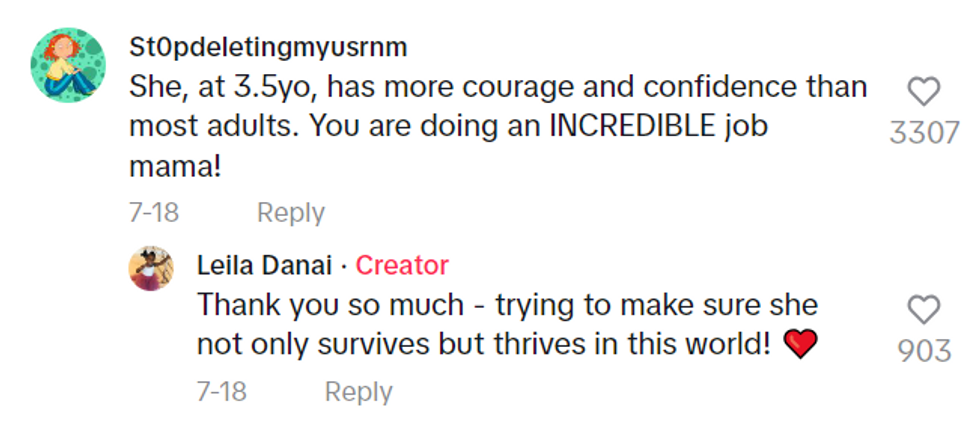 @leiladanai/TikTok
@leiladanai/TikTok

@leiladanai/TikTok

@leiladanai/TikTok

@leiladanai/TikTok
@leiladanai/TikTok
@leiladanai/TikTok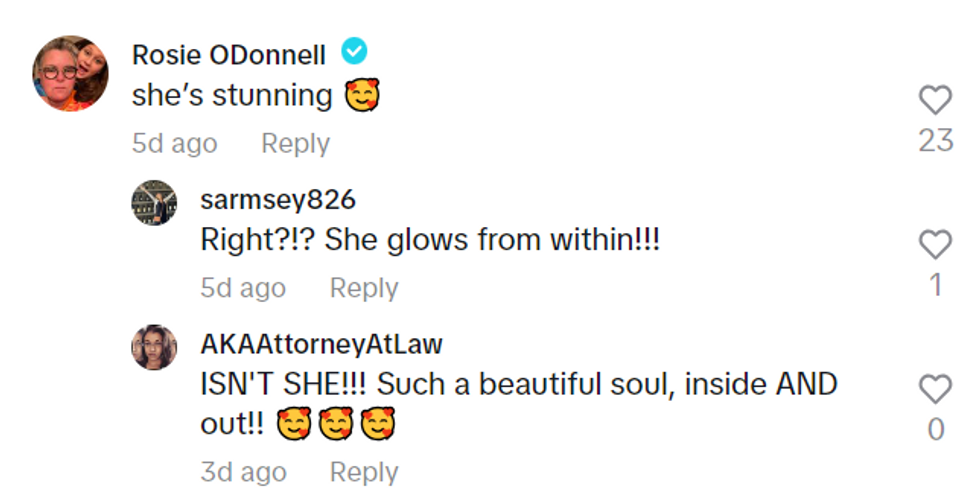 @leiladanai/TikTok
Since the video has been viewed half a million times just on TikTok, over 120 thousand likes, and over 5000 positive comments, it's clear that people support the idea of confident children. It's important to teach children about how to stand up for themselves and to be unapologetically themselves from a young age.

The more people do that, the less children will be able to be bullied, because they'll be able to stand up for themselves, and those children will inevitably raise even more confident children. Talk about a positive generational cycle in the making!