Content Warning: Sawyer's tweets contain references to violence against women, racism and child abuse

An ugly past of TV star Hartley Sawyer, who plays Elongated Man on CW's The Flash, surfaced online, leading to his dismissal from the hit show.
Sawyer's Twitter contained a number of disturbing tweets, including saying that a great way to break the ice at parties was by saying "all women should be on sex farms."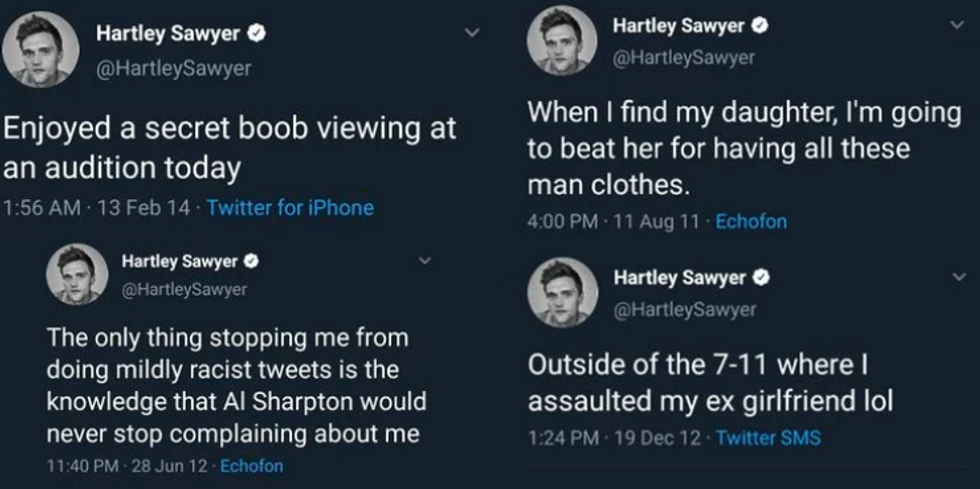 @HartleySawyer/Twitter
He also made several dismissive comments about the water crisis in Flint, Michigan, and made several allusions to being a secret serial killer who preys on women.
Sawyer was dismissed by The CW, who said in a statement:
"In regards to Mr. Sawyer's posts on social media, we do not tolerate derogatory remarks that target any race, ethnicity, national origin, gender, or sexual orientation."
"Such remarks are antithetical to our values and policies, which strive and evolve to promote a safe, inclusive and productive environment for our workforce."
Showrunner Eric Wallace also came out with a statement of his own.
Wallace said Sawyer's tweets were a symptom of "the larger problem in our country."

"Because at present, our country still accepts and protects the continual harassment — unconscious or otherwise — terrorizing and brutalizing of Black and Brown people, which is far too often fatal. That's why our country is standing up once again and shouting, 'ENOUGH!' and taking to the streets to bring about active change."
Sawyer issued an apology via his Instagram.
"I'm not here to make excuses — regardless of the intention, my words matter and they carry profound consequences. And mine can and have caused pain and embarrassment, along with feelings I can only imagine, to supporters and fans, my cast mates, the crew, my colleagues and friends. I owe them all an apology. And I owe each of you an apology. Thank you for holding me accountable."
"My words, irrelevant of being meant with an intent of humor, were hurtful, and unacceptable. I am ashamed I was capable of these really horrible attempts to get attention at that time. I regret them deeply.This was not acceptable behavior. These were words I threw out at the time with no thought or recognition of the harm my words could do, and now have done today."
"I am incredibly sorry, ashamed and disappointed in myself for my ignorance back then. I want to be very clear: this is not reflective of what I think or who I am now.Years ago, thanks to friends and experiences who helped me to open my eyes, I began my journey into becoming a more responsible adult - in terms of what I say, what I do, and beyond. I've largely kept that journey private, and this is another way that I have let so many down. I still have more work to do.But how I define myself now does not take away the impact of my words, or my responsibility for them. I am very sorry."
The CW has not revealed whether or not the role of Ralph Dibny/Elongated Man will be recast after Sawyer's firing.

The show, currently heading into its seventh season, is on a long hiatus due to the ongoing pandemic.