There is nothing more devastating for parents than the loss of a child.
On July 4th, Casey and Ben Daggett spent the day saying goodbye to their 5-year-old daughter Zoey, who succumbed to cancer.
---
Their final moment together was captured in a heartbreaking photo and shared on Zoey's Facebook page, "Zoeys Light." Her parents created the page to update followers on her progress while fighting her illness.

"Zoey is going to be shared with the world," the post read, along with information about her funeral.
"Her love and light have been abundant and we will continue to pay it forward and share love and light with the world."
According to Today, the young girl endured two years of treatment after being diagnosed with diffuse intrinsic pontine glioma (DIPG), a rare type of brain tumor in 2016.
According to the Dana Farber Children's Hospital in Boston, DIPG are highly aggressive and difficult to treat brain tumors found at the base of the brain. Glial tumors form in the brain's glial tissue—tissue "made up of cells that help support and protect the brain's neurons."
Daggett told People that she and her husband, Ben, didn't know how much time they had left with Zoey the July 4th morning the photo was taken.
"We were noticing that her [Zoey] fingers were turning bluer and she was getting more pale."

"We had the nurses come and visit in the morning and we were just sitting with her. They knew that she was getting closer [to death]."

"So we sat with her and held on to her. We all just sat with her and waited."
Parents share heartbreaking final photo of them comforting brave daughter just hours before she died of cancer - Th… https://t.co/Uwf1lXXsZE

— lose weight fast (@lose weight fast) 1531096445.0
As they held and comforted Zoey, they told her through tears how much they loved her while her favorite movie, Harry Potter and the Prisoner of Azkaban, played in the background.

The nurse took the last photo of the family together in their home in Fairport, New York, at 11:30 a.m.
Zoey died at 4:17 p.m.
Casey recalled her final moments with her baby girl.

"We were both talking to her and crying."

"I was saying, 'It's OK. It's OK to let go. You're gonna be OK. You're gonna see people that you love. Just let go'.'"

"I was trying to talk her into letting go because I knew her body had already gone through so much. It was so sad."
Nurse captures heart-wrenching photo of parents comforting daughter as she dies of cancer - If this does not make y… https://t.co/5zOYbaAsKx

— David S. DuPlay (@David S. DuPlay) 1531235166.0
The grieving parents received an outpouring of love on their Facebook post.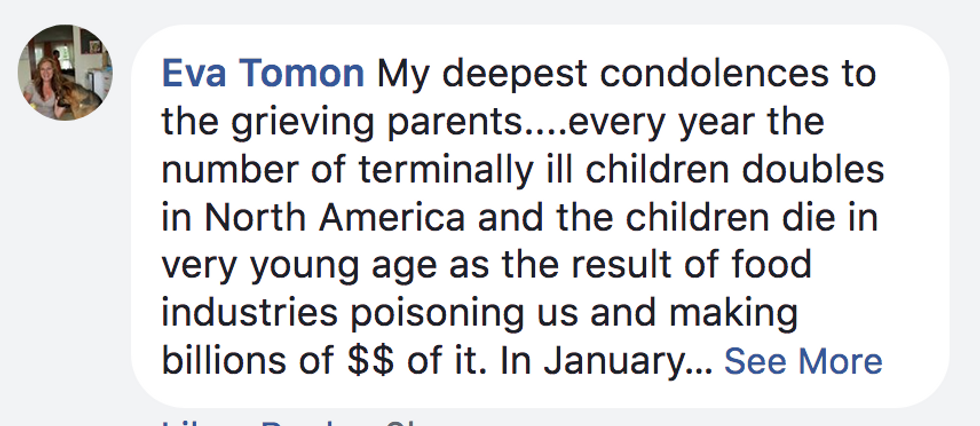 Facebook

Facebook

Facebook

Facebook

Facebook
The Daggett's four-legged member of the family didn't go unnoticed.

Facebook
Even though the photo captures a sad moment, Casey is glad it was posted.

"I thought it was a beautiful thing," she told Today, about the shared photo.
"You can see our emotions."

"It just warmed me because that picture showed the love we had for her."