Donald Trump Jr. was down in Louisiana with girlfriend Kimberly Guilfoyle to attend Louisiana Attorney General Jeff Landry's annual gator hunt.
---
Trump Jr. took a bet and jumped into an alligator infested swamp but no alligators harmed him. Trump Jr. and Guilfoyle posted photos of their hunting trip on Instagram.
Cooking up the gators.
But it was the photo of Trump Jr. in the swamp that got Twitter going.
Donald Trump Jr. plunged into a Louisiana swamp on a bet https://t.co/DKCzsdqZzv

— New York Magazine (@New York Magazine)1536634673.0
@NYMag Where were you when we needed you? https://t.co/loswU0e5AO

— Amy Braun (@Amy Braun)1536634836.0
@NYMag Not even the alligators wanted a bite of that!

— Julie Brennan (@Julie Brennan)1536640663.0
@NYMag Can he stay there?

— Leona Humphries (@Leona Humphries)1536637532.0
Greed?
@NYMag Trumps: we do anything for the right amount. Literally, anything.

— Randy Navarro (@Randy Navarro)1536665597.0
Now about that swamp.
@NYMag Yep. He is literally part of the swamp.

— Deborah (@Deborah)1536643943.0
@NYMag Donald Jr. did this because he felt like he was being unfairly excluded from the swamp Donald Sr. was supposed to be draining

— The Narrator (@The Narrator)1536635476.0
@NYMag How about that draining now?

— Karim Babin (@Karim Babin)1536639462.0
If the gators don't get you...
@NYMag Yeah our gators won't eat that...also hope he gets some bacterial infection

— annie weldon (@annie weldon)1536637223.0
Maybe it's time for this rich city slicker to get back to New York.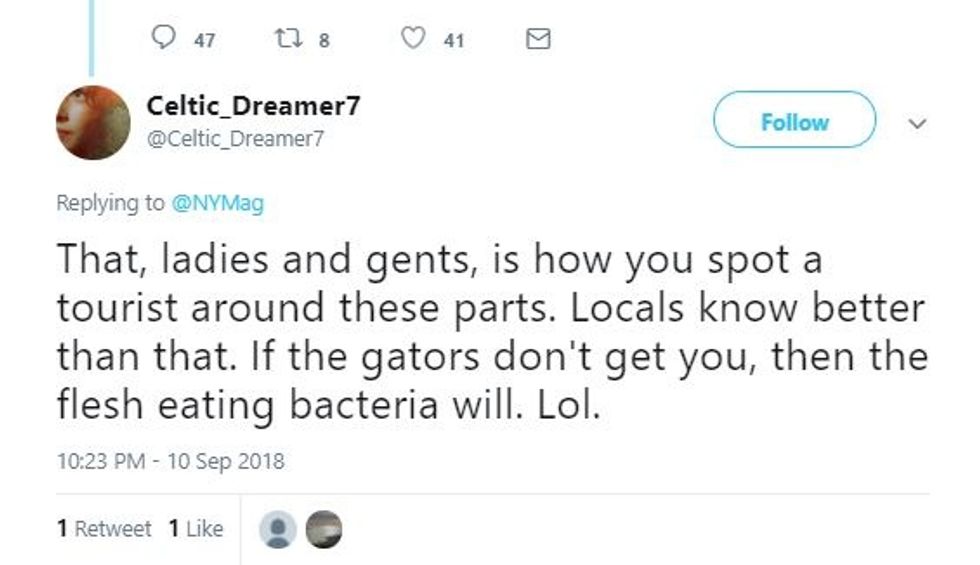 Could he really not see guess where this photo would lead?

H/T: Mashable, Huffington Post