All parents hope that their child will make their way in the world and be successful when they grow up.
But most don't imagine their child making it at the young age of ten years old.
That may be exactly what's happening for the mother-daughter duo, Mimi Wallace and Olive Wallace, right now, however, after the Pennsylvania mom shared one of her daughter's original compositions.
While tidying her home, Wallace came across one of her daughter's sketched-out compositions, and based on how complex it looked, she wondered if the ten-year-old's composition had potential.
Wallace turned to TikTok, curious if someone could play the notes, so she could hear what it would sound like.
"My ten-year-old daughter wrote this. Could somebody play this?"
"I need to know! I need to know if this is any good or if it makes sense."
You can watch the video here:
Wallace initially expected that maybe a couple of people would respond to the video, and her daughter would at least receive some positive feedback, a confidence boost, and a little recognition.
But what actually happened was deeply heartwarming.
In addition to over 466 thousand likes, nearly 6000 comments, 6.4 million views, Wallace's initial call received dozens of responses from professional musicians and composers, all who were ready to commend the young artist's talents and to encourage her to continue down the path of a musical composer.
One pianist loved what she heard and thought Olive was off to a wonderful start.
A violinist made Olive especially happy, because it was so close to what she imagined it sounding like.
One musician envisioned the piece in a different key and performed the parts for the violin and piano.
There was even a harpist!
But a favorite of the duo was arranged by none other than Christopher T. F. Ha, the "Posh Professor" on TikTok.
Ha arranged the song with his orchestra to perform at the Northwest Division Conference in Wisconsin, as a part of the National Association for Music Education. The video went similarly viral with almost one million views.
You can watch the video here:
TikTok's heart was collectively warmed by Olive's reception, and they encouraged her to never stop creating new music.

@meems1980/TikTok

@meems1980/TikTok

@meems1980/TikTok
@meems1980/TikTok

@meems1980/TikTok

@meems1980/TikTok

@meems1980/TikTok
And some members of the orchestra spoke highly of the experience of playing Olive's composition.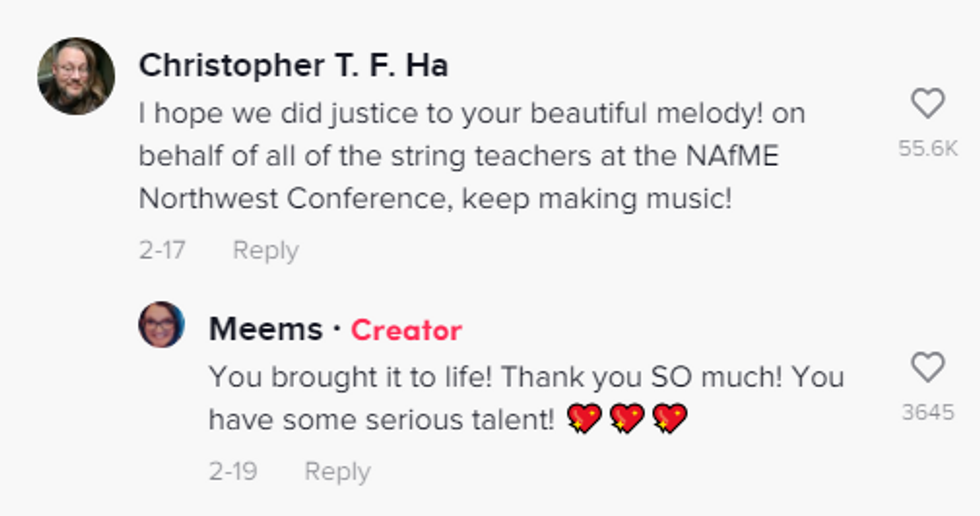 @meems1980/TikTok

@meems1980/TikTok
This extensive series of responses, particularly the piece from the orchestra, inspired many on TikTok to discuss the importance of funding for arts and music for children and teens, as well as to encourage young minds to explore their creative interests, because who knows who the next Olive Wallace could be?