Trying to get seats together on a plane for your family is often difficult but, especially when you're traveling with a young child, it can be important to stick together for the flight.
Usually this requires asking people to swap seats until you find someone who is willing to move, but sometimes you get someone who offers to move before you even ask.
That is what happened when Chance the Rapper and his 7-year-old daughter Kensli took a recent flight.
"So I just got on this plane with my daughter, and found out our seats weren't next to each other."
"I really ain't wanna inconvenience anyone by asking them to swap seats, but before I could say anything this kind older gentleman offered his seat to Kensli so we could sit together."
It wasn't just any kind, older gentleman, though.
"We both said thank you and as he stands up, I realize it's THE Martin Short!"
Chance said that Kensli "freaked out" once she realized who Short was.
"So cool and Kensli freaked out cause she's obsessed with The Santa Clause 3. What an awesome person! SHOUTOUT TO JACK FROST"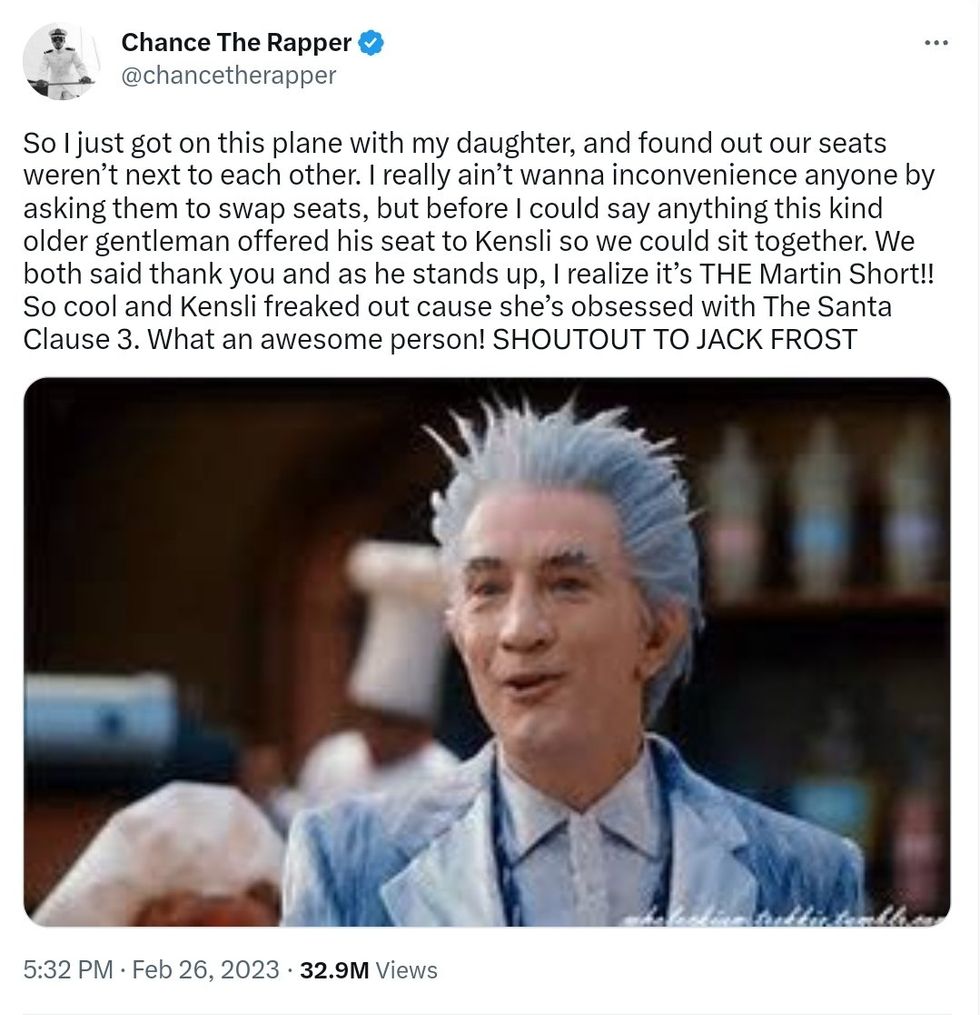 @chancetherapper/Twitter
Twitter users loved the story.
Many sang Short's praises in the comments.

While it's definitely not unexpected for a 7-year-old to have recognized Short for his role in The Santa Clause 3, adults likely recognize him from one of his many, many other roles.
Especially one of his most recent projects, Hulu exclusive Only Murders in the Building, which stars Short alongside Steve Martin and Selena Gomez as a trio of true crime enthusiasts who accidentally find themselves right in the middle of their own true crime mystery when someone in their apartment building is killed.
Chance has also been busy lately, releasing a collaborative project earlier this month featuring artists such as Twista, Childish Gambino, Action Bronson, Ab-Soul, BJ The Chicago Kid.
The album is available for free download here: https://www.datpiff.com/Chance-The-Rapper-Acid-Rap...