In a statement made to People yesterday, Hallmark's former "Queen of Christmas" Candace Cameron Bure responded to backlash she received following a Wall Street Journal (WSJ) interview.
Bure stated her new channel with former Hallmark Channel CEO Bill Abbott—Great American Family (GAF)—will tell "more meaningful stories" and "keep traditional marriage at the core."
Bure was publicly called out by many...

@AlessandraVaron/Twitter
...including fellow Hallmarkactor Hilarie Burton who tweeted:
"I don't remember Jesus liking hypocrites like Candy. But sure. Make your money, honey."
"You ride that prejudice wave all the way to the bank."
Burton since deleted the tweet, but did post a follow-up tweeting:
"Now they're just openly admitting their bigotry."
"I called this sh*t out years ago when Abbott was at Hallmark. Glad they dumped him."

She added about Bure:
"That guy and his network [GAF] are disgusting."
"You too Candy. There is nothing untraditional about same-sex couples."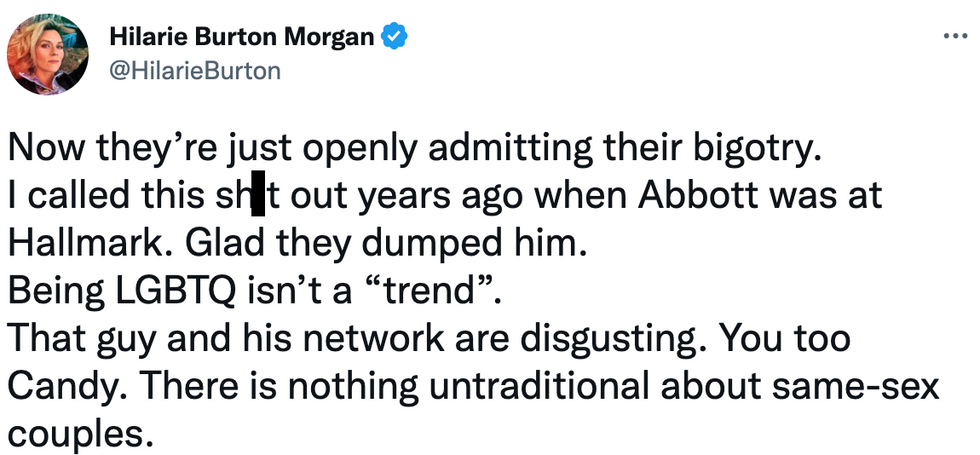 @HilarieBurton/Twitter
Dancer, singer and actor JoJo Siwa also took to Instagram to share her dismay. Bure and Siwa previously had a falling out after Siwa referred to Bure as "the rudest celebrity [she'd] met."
In her post, Siwa wrote Bure's comments were "rude and hurtful to a whole community of people."
Now Bure has addressed her latest controversy.
Bure unsurprisingly claimed she loves everyone.
"All of you who know me, know beyond question that I have great love and affection for all people."
"It absolutely breaks my heart that anyone would ever think I intentionally would want to offend and hurt anyone."
She continued, blaming the media for sharing her own words.
"It saddens me that the media is often seeking to divide us, even around a subject as comforting and merry as Christmas movies."
"But, given the toxic climate in our culture right now, I shouldn't be surprised."
"We need Christmas more than ever."
Bure also claimed her faith "calls [her] to love all people."
She went on to again claim the media sharing her comments—from an interview she gave to the media—was to blame for everything.
"To the members of the media responsible for using this opportunity to fan flames of conflict and hate, I have a simple message: I love you anyway."
"To those who hate what I value and who are attacking me online: I love you."
"To those who have tried to assassinate my character: I love you."
"To everyone reading this, of any race, creed, sexuality, or political party, including those who have tried to bully me with name-calling, I love you."
Bure said in her statement she wanted to "find a home for more faith-based programming."
She also claimed WSJ omitted part of her interview which seemed to address the other elephant in the room with her history of homophobia.
Great American Family CEO Bill Abbott's Hallmark Channel tenure was also criticized for racial bias, use of steretyped cariacatures for the few POC characters and the lack of POC leads and interracial couples.
Hallmark's pledge to be more diverse and inclusive lead to Bure's departure to a network with less diversity and more "faith-based," "meaningful" and "traditional" marriage and families.
In the published version of her WSJ interview, neither Bure nor Abbott specified if the GAF vision would continue the almost exclusively White casts their films on Hallmark were known for.
Bure claimed the WSJ cut her comments on that subject from their published article.
"I had also expressed in my interview, which was not included, that people of all ethnicities and identities have and will continue to contribute to the network in great ways both in front of and behind the camera, which I encourage and fully support."
"I've never been interested in proselytizing through my storytelling, but in celebrating God's greatness in our lives through the stories I tell."
Many took to Twitter to express their thoughts on Bure's response with most not buying her blame game.

@beaugbowden/Twitter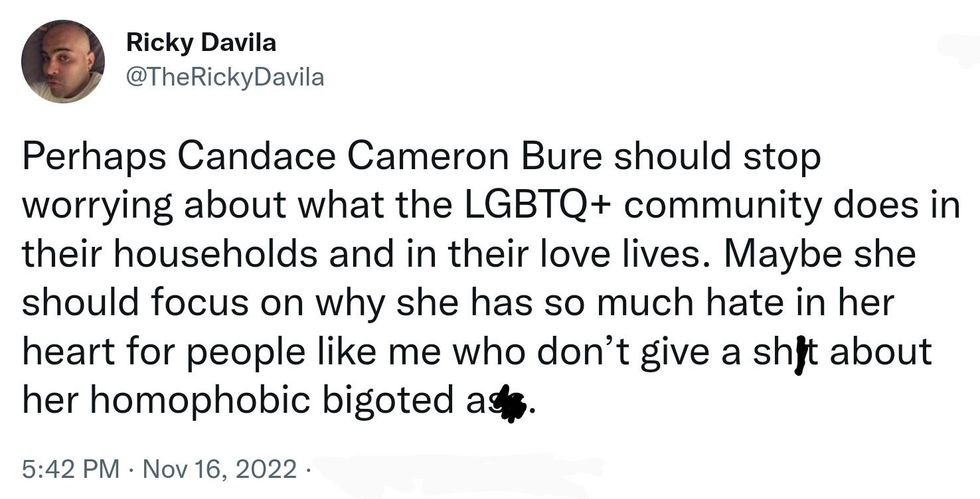 @TheRickyDavola/Twitter
Bure concluded her statement:
"And in the sole motivation of pure love, I hope you'll join me in sharing God's hope for all the world this Christmas season. Call that my Christmas wish."
Though Bure claimed she told WSJ "people of all ethnicities and identities...will...contribute to the network" she did not directly address the LBGTQ+ community.