Full House alum Candace Cameron Bure spilled the tea on the situation surrounding reality star and influencer Joelle Joanie "JoJo" Siwa calling Bure the "rudest celebrity" she's met.
On Sunday, Siwa–who appeared on two seasons of Dance Moms with her mother–made a non-verbal TikTok video in which she answered prompts describing her interactions with celebrities.
When one of the prompts asked who she thought was the "rudest celebrity I've met," she quickly showed that the person on her smartphone was Bure.
At the time, Bure–who is a conservative Republican Christian–shared a Bible verse from Isaiah 26:4, "Trust the Lord always," on her Instagram Stories.
While social media users were unsure if Bure's post was a direct reaction to Siwa snubbing her, it was confirmed Bure did learn about it as she addressed the situation the following day.

"Honestly, I was shocked when I saw the TikTok on Sunday, and I had no idea where it came from," she said in an Instagram video post.
Bure said she reached out to Siwa through a mutual friend, contacted her via DM through her publicist, and then eventually called her.
When Bure asked Siwa what prompted the unkind description in the TikTok video, Siwa downplayed it as a silly clip that she didn't know was going to be viral.
Siwa added that she didn't think it was a "big deal."
Bure thought otherwise and asked what she might have done that upset Siwa enough to dub Bure the "rudest" celebrity.
To demonstrate why she was so thrown, Bure mentioned the two had met as guests on The Kelly Clarkson Show in December 2019 and recalled having a fun time then.
Siwa resisted explaining at first because she thought it was silly, but eventually, she told Bure the first time they actually met was on the red carpet for the 2016 premiere of the Full House reboot series, Fuller House.
"She said, 'I met you at the Fuller House premiere, and I was 11 years old, and we were all on the red carpet," continued Bure.
"And when I had come up to you and I said, 'Can I have a picture with you?' you said to me, 'Not right now' and then proceeded to do what you were doing and take pictures with other people on the carpet.'"
When Bure–unaware that her interaction with Siwa had left such an indelible impression–apologized for that interaction, Siwa said it was fine and that, as an adult, she understood all the mayhem that accompanies being a celebrity on the red carpet, with various interviewers pulling them in different directions.

@candacebure/TikTok
But Bure acknowledged that Siwa was 11 at the time and that she broke her "11-year-old heart."
She added:
"As a mom, it breaks my heart that I made you feel that way, and I'm sorry to your mom, too, that I did that to her daughter."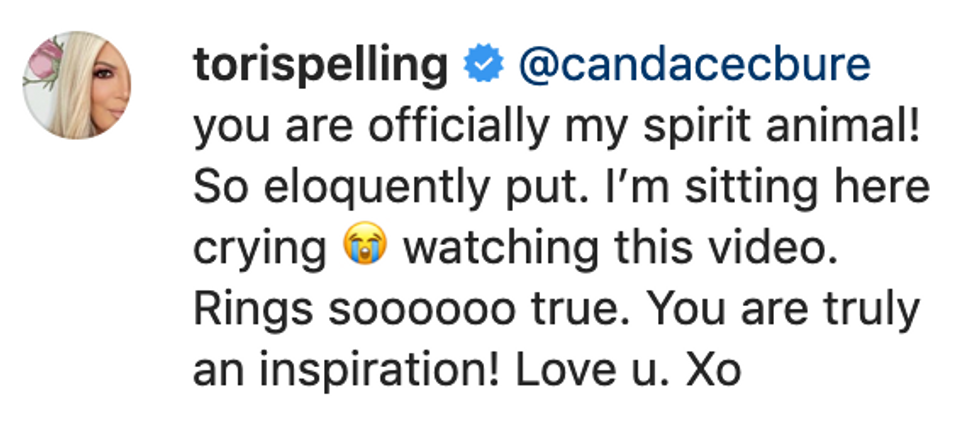 @candacebure/TikTok
The actress said the two had a "really great discussion" and confirmed that everything was "all good on the JoJo front."
Both fans and colleagues in the industry were moved by Bure's post and called her a "class act."

@candacebure/TikTok

@candacebure/TikTok

@candacebure/TikTok

@candacebure/TikTok

@candacebure/TikTok
She said the takeaway, in this case, is that "No matter how many followers you have, even a 10-second trending TikTok could do damage, because our words matter and our actions matter ... We all influence the people around us."
Bure said it was important to be mindful of what to post on social media even if it doesn't seem to be a big deal in the moment.
"We had all the feels and it was all good," she maintained, assuring, "there's no drama. That's the tea."
On a side note, Bure apologized to fans who may have caught her on a bad day.
"If you ever personally run into me, and I was not the person you were hoping for or expecting, I just want to say I'm sorry — sorry in the sense that I get asked for photos and autographs often."
"Ninety-nine percent of the time, it is my joy to do that, it is my joy to talk to people. ... I'm still a human being."