Self-isolating is doing something funny to some of our celebrities.
For a goofy, adorable couple like Blake Lively and Ryan Reynolds, that's saying something.
---
Lively and Reynolds have been up to all kinds of antics while self-isolating together with their children.
Last month, they joked Reynolds was "emotionally distancing" from Lively's mother, and in turn, they donated $1 million to feed the hungry in Lively's native United States and Reynold's native Canada.
Later, they donated $400,000 to the New York City hospitals.
Reynolds has also been teasing old co-stars from his Green Lantern and Paper Man days, vying for donations of additional funds and much-needed equipment.

But Lively has been having a little fun of her own on the side.
At least so to speak, since she's been pretending to have a little tryst on the side.
While looking through Instagram stories, Lively came across Reynolds' current Instagram story, in which he shares his personal trainer Don Saladino's offer to give away the same fitness program he used to help Reynolds transform into the incomparable Deadpool.
Lively shared Reynolds' post to her own Instagram stories and joked:
"I keep swiping right. This thing isn't working."
Lively was referring to the dating app, Tinder, on which you swipe right for individuals you might be interested in.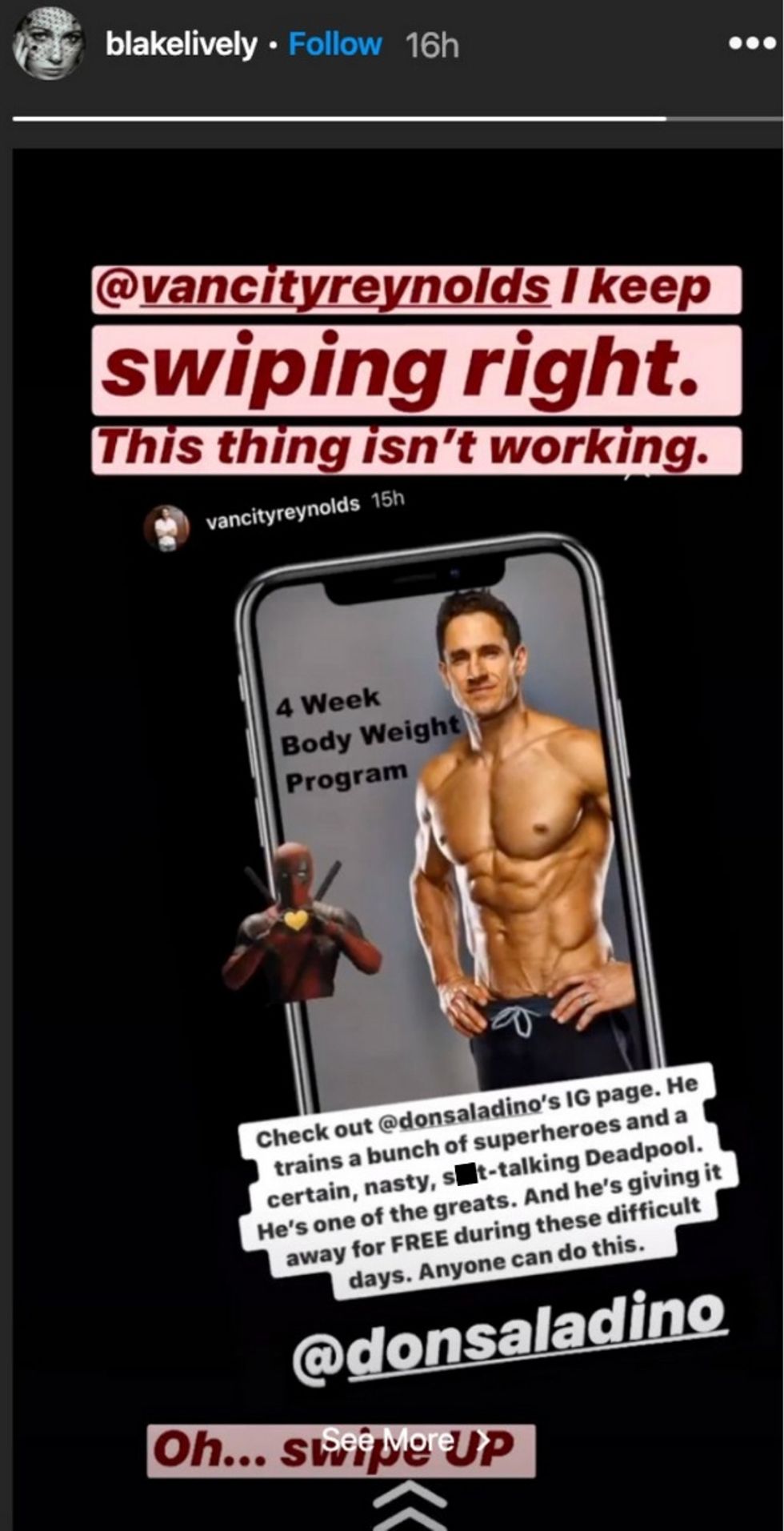 @blakelively / Instagram
Obviously, Lively isn't really looking for something on the side.
She even tagged Reynolds in the story, teasing him directly about her desire to swipe right.
Reynolds and Lively have been one of those celebrity power couples for a long time who are just as funny together as they are attractive.
But the couple also has a great relationship with Saladino, as he's worked with both of them to whip them into shape.
Reynolds, of course, worked with him to prepare for his roles in the Deadpool franchise, but Lively also utilized his efforts when she was working to get her pre-baby body back.
Lively was candid about the experience:
"Turns out you can't lose the 61 lbs you gained during pregnancy by just scrolling through instragram and wondering why you don't look like all the bikini models. Thanks Don Saladino for kickin my A double S into shape. 10 months to gain, 14 months to lose. Feeling very proud."
All of this joking around just continues to give their fans more reasons to love them.
Though jokes like these are business as usual for the couple, it's cool to see how they're promoting a colleague's work.

Hopefully some of their fans will be able to put the promotion to good use while they're inevitably feeling cooped up at home for a little while longer.
Lively's action film The Rhythm Section is available here.