In these terrifying times, it's nice to know some things are remaining consistent, such as access to food and Blake Lively's and Ryan Reynolds' propensity to roast each other.
---
Lively—who starred on the classic teen soap Gossip Girland most recently headlined the film The Rhythm Section—recently took to her Instagram feed to announce that she and husband Reynolds were donating $1 million dollars to food banks in the US and Reynolds' native Canada.
The money will be split between the organizations Feeding America, which operates a network of 200 food banks across the United States, and Food Banks Canada, which supports food distribution networks and charities all across our neighbor to the North.
In her Instagram post, Lively addressed the current pandemic and the urgent need for support for the elderly and low income individuals.
As she put it:
"Covid-19 has brutally impacted older adults and low income families. Ryan & I are donating $1 million to be split between FEEDING AMERICA and FOOD BANKS CANADA."
"If you can give, these orgs need our help."

Lively then went on to advocate for that buzzphrase for our time—social distancing—before reminding us to reach out to the most vulnerable.
"Remember the lonely and isolated. Facetime, Skype, make a video. Remember the love that can travel through all this."
But, of course, this being Blake and Ryan, that was quite enough of the touchy-feelies, thank you very much.
In the hilarious fashion that has become something of a trademark for the couple, Lively made an abrupt left turn into lifting our spirits—by roasting her husband.
"Now can someone please tell Ryan that "emotional distancing" from his mother in law [sic] is not a thing. Nothing can save him."
Score one for Blake.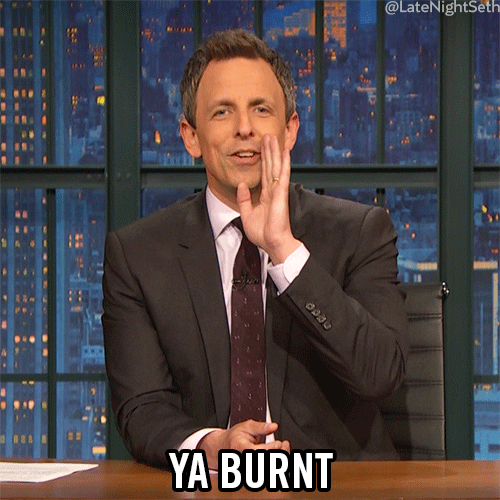 Giphy
The couple, of course, has a proud tradition of good-naturedly raking each other over the coals.
Like when Reynolds wished Lively a Happy Birthday last year by mercilessly trolling her with unflattering photos on Instagram.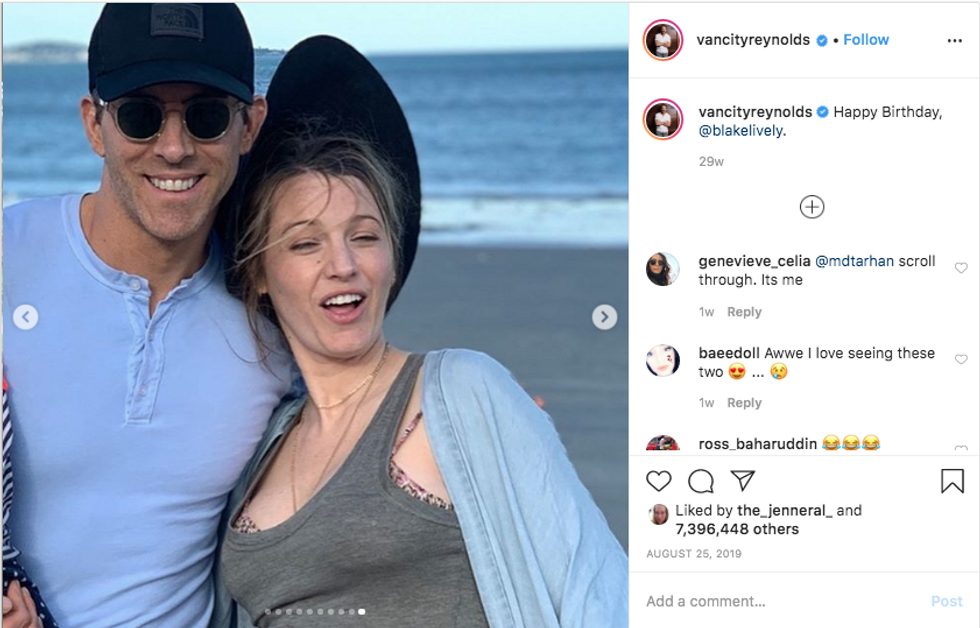 @vancityreynolds/Instagram
Don't you just love their love?
Online, folks were definitely loving the charitable side of this roasty-toasty love affair.
when I say eat the rich I specifically dont mean blake lively and ryan reynolds https://t.co/KVLzD4pefs

— luc (@luc) 1584406935.0
my favourite couple strike again, need more millionaires like these two https://t.co/RO5g8RaT6H

— tilly (@tilly) 1584445210.0
THANK YOU @VancityReynolds and @blakelively Food scarcity is so real. I work in a school feeder pattern with 100%… https://t.co/U9pBcF2HDB

— jween (@jween) 1584447462.0
Perfect example of how rich celebrities can help https://t.co/r7fYY49HfI

— farhana (@farhana) 1584503842.0
A great example of the rich doing good. Thank you!❤️ https://t.co/oOnPAoIOXd

— richwarrior (@richwarrior) 1584447719.0
Serena van der Good-sen 🤗 https://t.co/rS2ET3JV3D

— Courtney Aki ♚† (@Courtney Aki ♚†) 1584402333.0
This is why everyone loves them 🥺 https://t.co/0CM8QNnPpO

— Maddi Travaglione (@Maddi Travaglione) 1584551116.0
Protect @blakelively and @VancityReynolds at all costs 😭😭😭😭😭😭😭 https://t.co/g6nzN93qsy

— GUN CONTROL NOW (@GUN CONTROL NOW) 1584410929.0
God bless these amazing people who make this world a safer/better place! Mad respect !!💕❤️💕❤️💕💪🏻 https://t.co/11LOMx6BMg

— Melonie's Palace (@Melonie's Palace) 1584497811.0
Look at these celebrities supporting people in need. As grocery stores are sucked dry there are people doing what t… https://t.co/xI3Wg9fM9C

— Jaz (@Jaz) 1584488110.0
Love reading this; with all the other news out there, was nice to see something to brighten our days and remind us… https://t.co/zrCU3Xsfmf

— Dawn Sheppard (@Dawn Sheppard) 1584479752.0
For his part, Reynolds' post about the donations let his wife off easy.
After calling COVID-19 "an as*hole" (which, accurate!), Reynolds employed his razor-sharp mockery on another fellow A-lister: Hugh Jackman.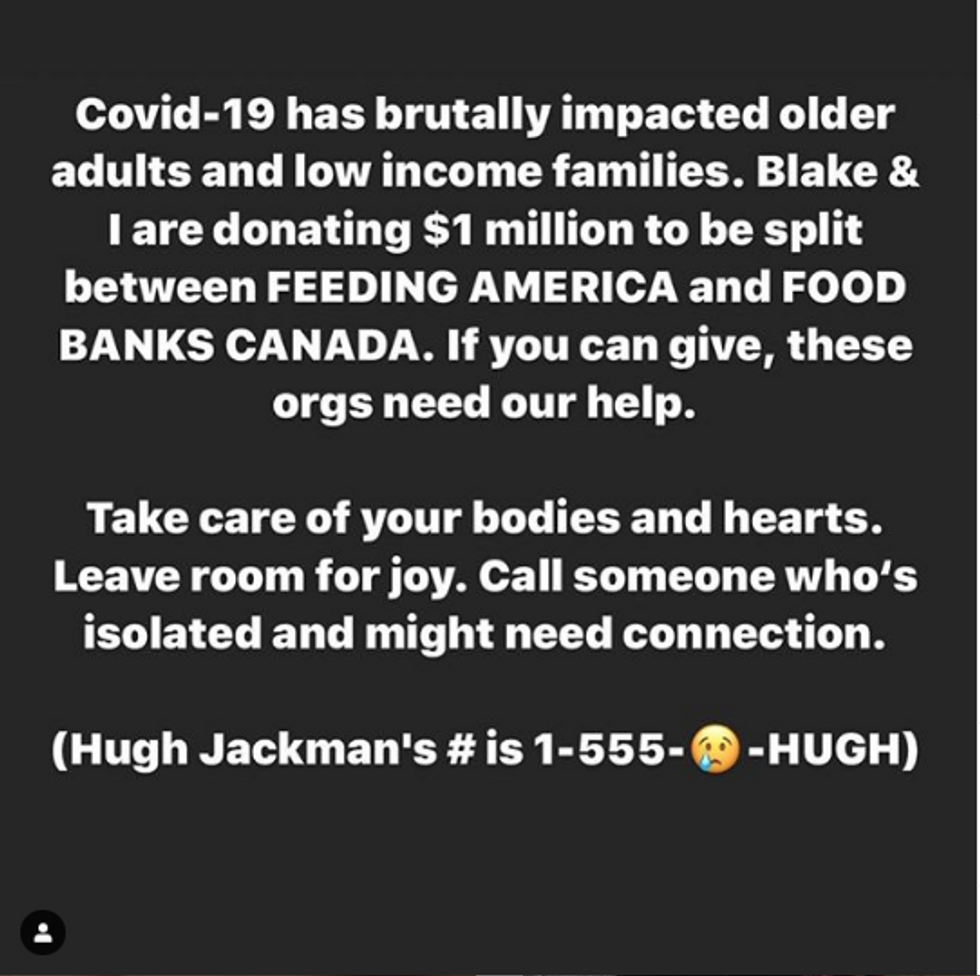 @vancityreynolds/Instagram
So, Blake is spared this round.
But if we know anything about this couple, this means that next time Reynolds gets ready for an internet prank, his wife is gonna get roasted to a crisp.
Can't wait!
You can get The Rhythm Sectionhere.