A recently deceased Sheriff's Deputy in Louisiana was denied burial in his cemetery of choice due to the color of his skin.
Yes, you read that correctly. Yes, it is still 2021.
As KPLC 7 News reported, Deputy Darrell Semien died Sunday after a month-long battle with cancer. In his final days, Semien told his family he hoped to be buried in Oaklin Springs Cemetery, a resting place close to home.
But when the family reached out to Oaklin Springs, they were told Semien could not be buried there because he isn't White.
Semien's widow, Karla Semien, explained what it was like to encounter cut-and-dry racism embedded deep within the cemetery's policies:
"It was in their by-laws that the cemetery was 'white's only.' I just kinda looked at her and she said 'there's no coloreds allowed.'"
Semien's daughter, Kimberly Curly echoed her mother's shock:

"Just blatantly, with no remorse, I can't sell you a plot for your husband."
KPLC 7 News caught up with the President of the Oaklin Springs Cemetery Association, Creig Vizena.
He explained the by-law dates back to the 1950s and explicitly gives people "the right of burial of the remains of White human beings."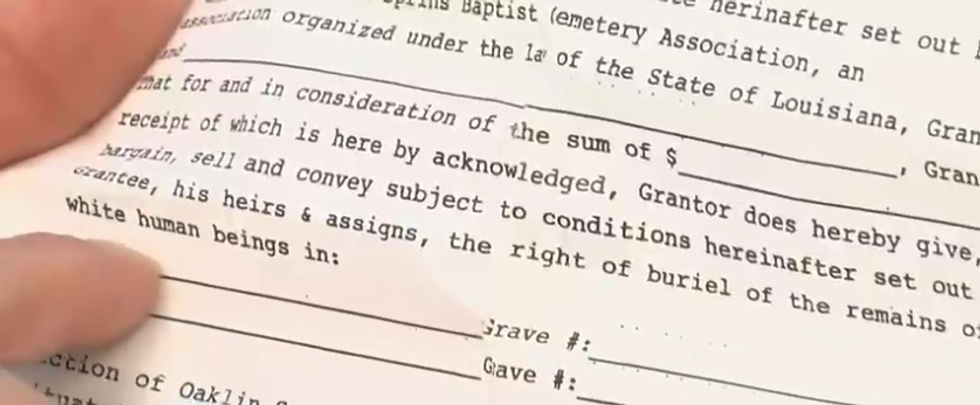 KPLC 7 News
Vizena regretted he missed such a discriminatory policy.

"It never came up."
"I take full responsibility for that. I've been the President of this board for several years now. I take full responsibility for not reading the by-laws."
Cemetery board members told KPLC they plan to make a decision to resolve Semien's case and the by-laws themselves.

But for Karla Semien, the damage was already done.
"There was nothing none of us could do, but we did it. And to be told this is like we were nothing. He was nothing? He put his life on the line for them."
Curly also expressed outrage.

"Everybody dies. They bleed the same. You die. You're the same color. Death has no color, so why should he be refused?"
People who came across the story on Facebook were angered too.

Connie Durio/Facebook
Donna B. Mouton/Facebook
Brandi Fontenot/Facebook
Ginger Black/Facebook
Vizena said he offered to give the family one of his plots since the existing by-laws forbade selling them a plot.

"I even offered them, 'I can't sell you one, but I can give you one of mine'. That's how strongly I feel about fixing it!"
Hopefully the Semiens' unfortunate experience does result in the right changes being made so nobody has to experience the same in the future.